Conservative students at the University of Texas at Austin got a dose of mob justice Tuesday when they set up a table and held signs in support of embattled Supreme Court nominee Brett Kavanaugh, who has denied accusations of sexual assault and misconduct.
Young Conservatives of Texas members held up signs that read "#MeToo Gone #TooFar," "KavaNotGuilty," and "No Campus Kangaroo Courts in Congress," the College Fix said, adding that their "Change My Mind" sign called for respectful debate.
But detractors weren't so respectful.
What else happened?
"We did want people to talk to us, but unfortunately it's hard to do that when you have an angry mob ripping our signs and screaming in our faces," student Anthony Dolcefino, vice chairman of the group, told the outlet, adding that his fellow members also were called "rape apologists."
Amid chants of "we believe survivors!" "f*** YCT!" and "YCT off UT!" the College Fix said Kavanaugh supporters were surrounded by furious counterprotesters, who at one point reportedly shoved a conservative student while grabbing her sign.
"At the peak we had 150 people out there recording, screaming, rioting," Dolcefino added to the outlet. "The UTPD got involved, making sure people were not coming behind us."
Here's a fun little excerpt. (Content warning: Language):
More from the College Fix:
Numerous videos posted Tuesday show the large crowd flank the handful of pro-Kavanaugh students. Most of the questions coming at the conservative students were shouted in angry and accusatory tones, while the YCT students responded in calmer voices. Intermittently throughout the chaos chants of started up.

One student told the conservatives if they did not want their signs ripped up they should not have written such offensive things. Another video shows a protester violently grab signs out of the conservative students' hands and rip them up before coming around their table and getting in their faces. Dolcefino said at one point one of their members was shoved as she had her sign snatched away.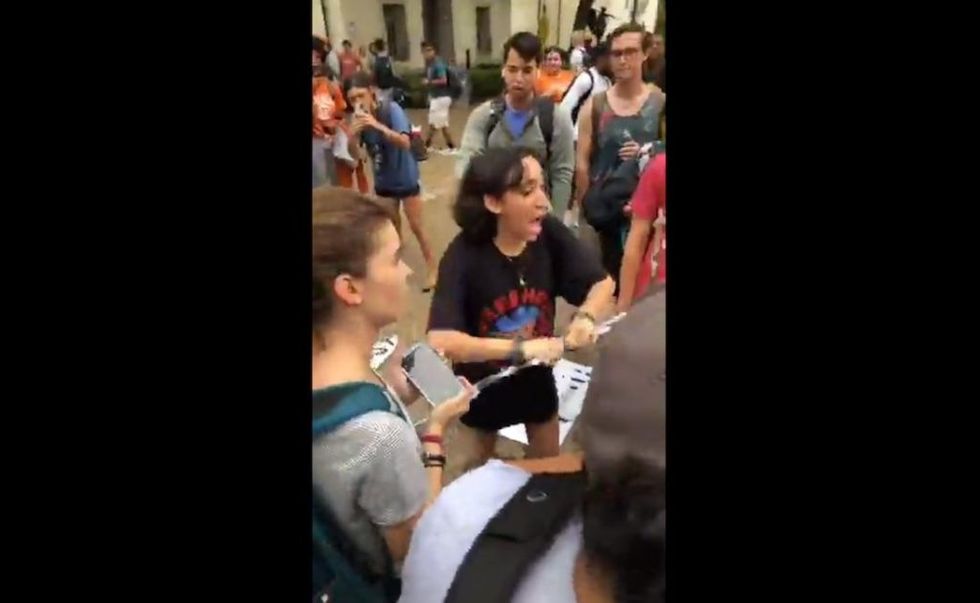 Image source: Facebook video screenshot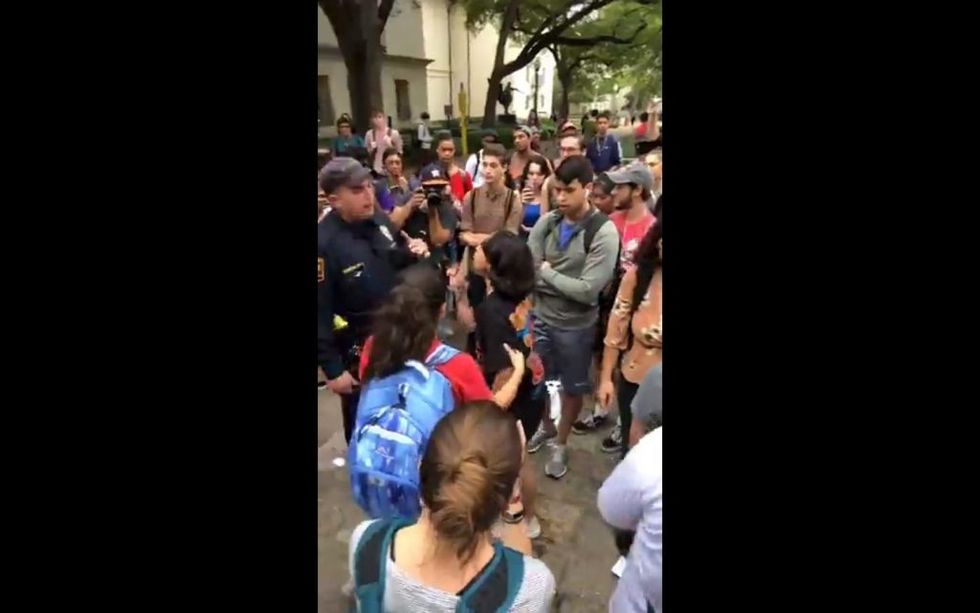 Image source: Facebook video screenshot
How did it end?
After two hours, campus police escorted the Kavanaugh supporters to safety, the outlet said.
"It is despicable and wrong for people to be here trying to uplift a man who is clearly a perpetrator of assault," student and counterprotester Elizabeth Boone told the Daily Texan. "It just really shows that even on a campus like this there are people who truly do not care about women, and they don't care about people who have been assaulted."
Sara Kennedy, UT director of strategic and executive communications, told the paper that the school supports free speech by safe means.
"All of our students have a right to free expression and the university takes that right very seriously," Kennedy added to the Daily Texan. "Our main concern is about safety and that students have the right to express themselves."
Here's a longer clip of the festivities. (Content warning: Language):