It's easy to find examples of left-wing college students shutting down conservative speech and events on campuses around the country.
Indeed, First Amendment-denying kids have been invading spaces, chanting, and often resorting to violence over the last several years with ongoing, frequently chilling attempts to dictate what their peers say, see, and hear.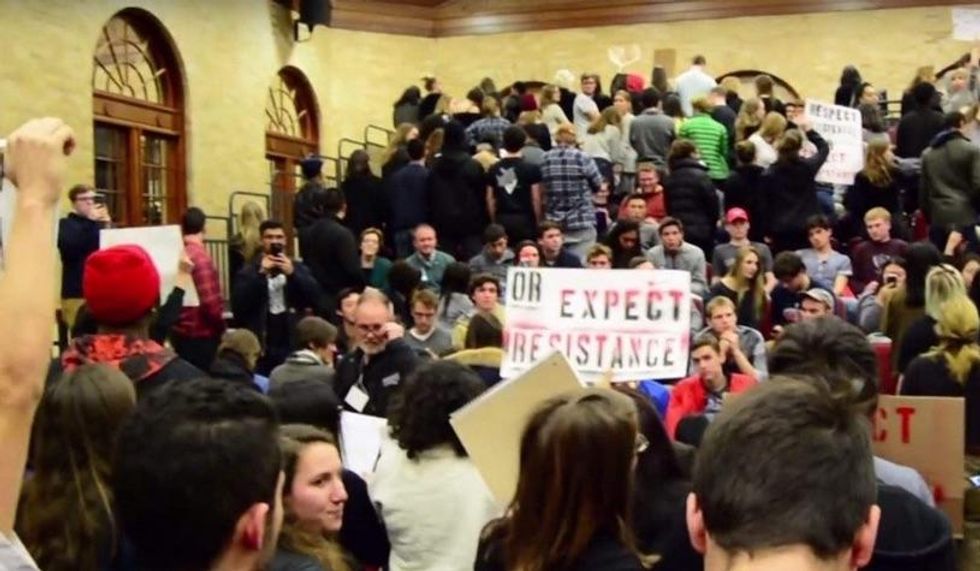 Left-wing students shut down a speech at Vermont's Middlebury College in 2017 featuring conservative writer Charles Murray — and a liberal professor, who agreed to engage Murray onstage, was injured by a mob outside the lecture hall. (Image source: YouTube screenshot)
Heck, if they could pull it off, many even might put the smack down on what conservative students think.
But all that hopefully begs a rather inconvenient question:
What about all those times conservative students rallied the troops and stormed into lectures by liberal speakers, started chanting "the people...united...will never be divided!" (or "defeated"; feel free to chose your own lyrics) and kept up the shenanigans until liberals had to close up shop?
That's exactly what was on the mind of Campus Reform's Cabot Phillips, who showed up at the University of Georgia recently and offered students $100 if they could name just one example of conservative students shutting down liberal speakers on any campus.
How did the students respond?
Let's put it this way: That $100 bill wasn't about to be, um, redistributed, to reference a recent commander in chief.
"No, I don't think I can," one student answered, laughing. "I wish I could, but no."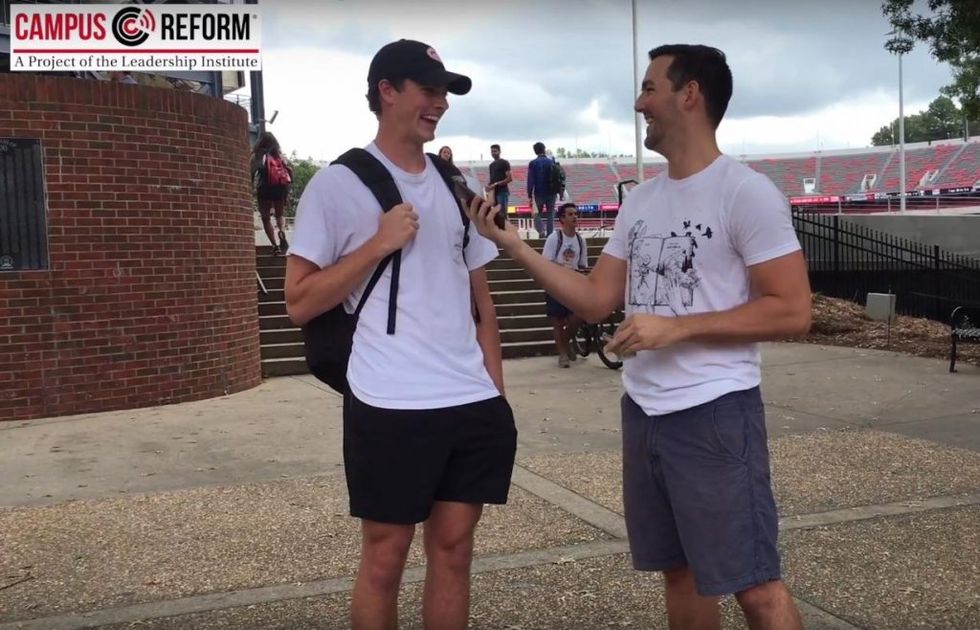 Image source: YouTube screenshot
"I don't think I'm going to get that $100," another student replied. "I haven't heard of one yet."
Givin' it the ol' college try
Not that some didn't attempt to make a case.
"I don't know, I just think that people are more open on the liberal side," one student began saying.
But Phillips jumped in: "Wouldn't you say it's the conservative side that's more open minded if they're not rioting and trying to shut down events from liberal speakers?"
"Um, yeah," the student replied before catching himself being persuaded. "I mean, I think it's both sides."
Phillips asked another student if the utter lack of examples of conservatives shutting down liberal speech actually means conservatives are more tolerant.
"I think so," the student replied. "I think if they did it they'd know there'd be more backlash."
Another student decked out in a nifty bow tie — and who clearly needs more time in philosophy class — tried telling Phillips his argument was a "red herring" but seemed to have difficulty proceeding from there.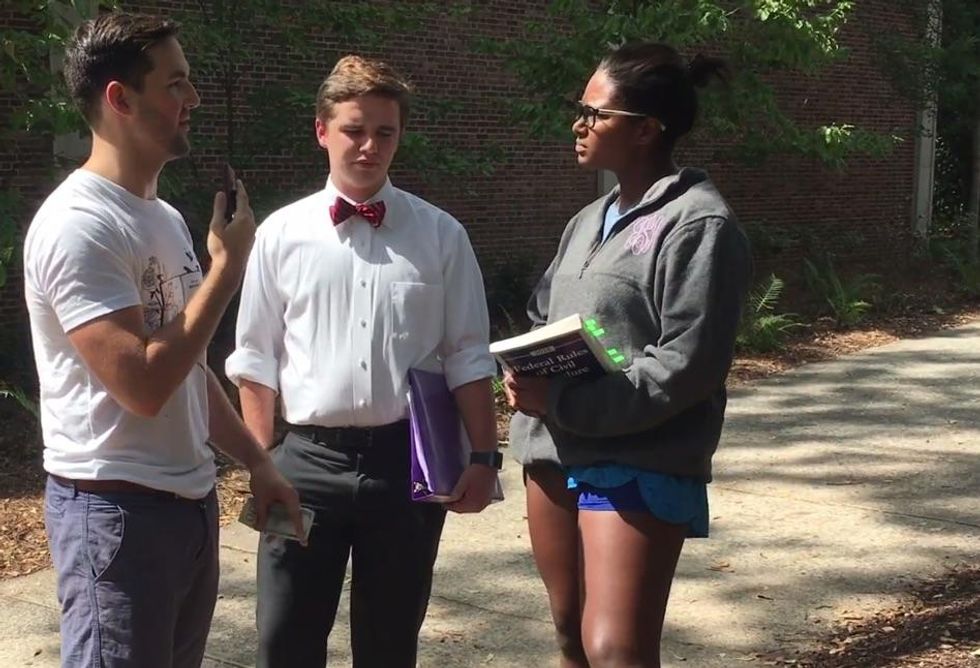 Image source: YouTube screenshot
Yet another student similarly had trouble formulating a counterargument when Phillips suggested that liberal speakers can be divisive with the content of their speech.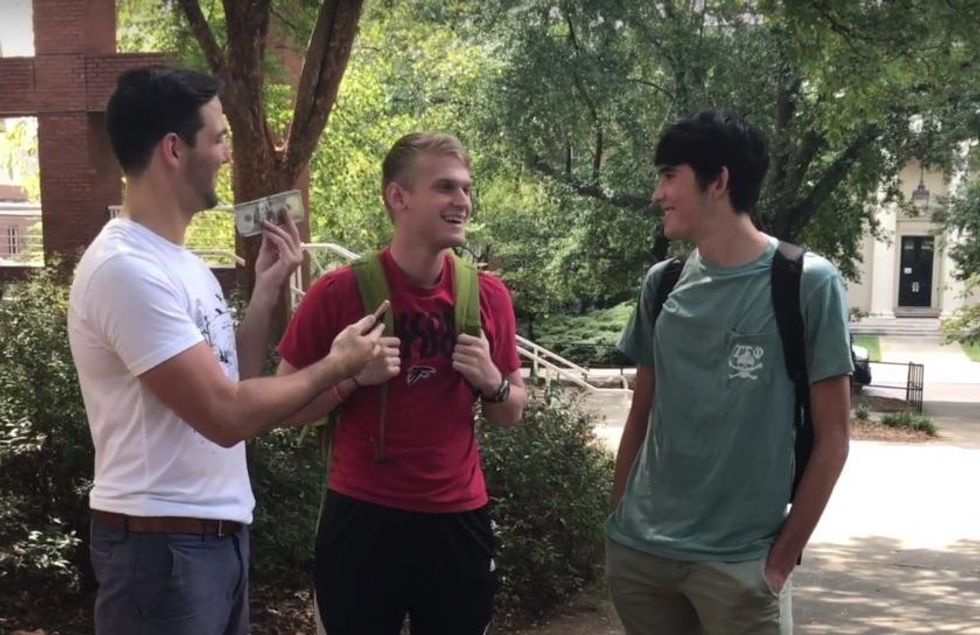 Image source: YouTube screenshot
Campus Reform said not one student was able to cite an example of conservative students shutting down liberal speakers on any campus.
Check out the clip:
(H/T: Campus Reform)