The wife of the former head of Interpol is under the protection of French police after she reportedly received threats.
Her husband resigned from his post after he was detained without explanation by the Chinese government.
What's the background?
Meng Hongwei had been president of Interpol since 2016. Interpol is an international police organization that boasts 192 member nations.
When Meng was first named to the post, some human rights groups objected, worrying that the Chinese government could take advantage of one of their citizens helming the investigatory body. His term as president of Interpol would have ended in 2020.
On Sunday, Meng resigned as head of Interpol while still in Chinese custody, and the agency accepted his resignation. The agency will elect a new president in November during its General Assembly Session in Dubai, according to a statement posted by Interpol Headquarters.
In late September, Meng left France and headed to China. Then he disappeared. The South China Morning Post reported that he had been "taken away" for questioning "as soon as he landed in China." The Chinese government admitted on Sunday that it had detained him and accused him of multiple crimes, including bribery.
Grace Meng first reported her husband's disappearance on Sept. 29. She said that on Sept. 25 he had messaged her the words "Wait for my call." Shortly afterward, he sent her an emoji of a knife. She has not heard from him since.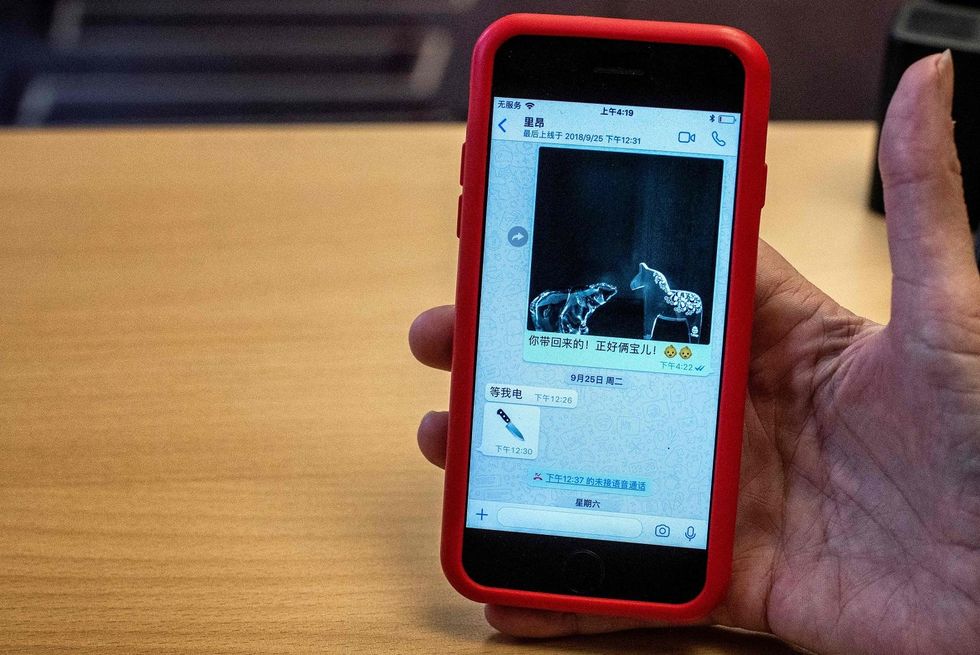 Grace Meng's phone, revealing what she asserts is the last text she ever received from her husband. (JEFF PACHOUD/ AFP/ Getty Images)
Grace Meng told The Associated Press that after her husband's disappearance she received a threatening call. A man's voice told her, "You listen but you don't speak,'" and then threatened, "We've come in two work teams, two work teams just for you."
The man did not identify himself but said that he used to work for her husband. In addition to being head of Interpol, Meng Hongwei was also the vice minister of public security in China. According to observers, the unidentified caller was implying that he worked for the Chinese government.
At a news conference during which she refused to show her face, Grace Meng said:
From now on, I have gone from sorrow and fear to the pursuit of truth, justice, and responsibility towards history. For the husband whom I deeply love, for my young children, for the people of my motherland, for all the wives' and children's husbands and fathers to no longer disappear. Even though I can't see my husband, our spirits are always connected. I believe he will support what I'm doing. This issue is about fairness and justice, it is about international society and about my motherland and its people whom I love.
What else?
French authorities have reportedly put Grace Meng under police protection. An unnamed French judicial official told the AP that French authorities were investigating the matter, but had not yet determined if Chinese teams had entered the country.
According to the AP, Grace Meng said that talking about what she knew regarding her husband's disappearance had put her "in great danger."
In a statement, France's embassy to the United States said, "France took note of yesterday's announcement by Interpol of the resignation of its president, Meng Hongwei, effective immediately. It reiterates its full support for the work of Interpol, the international organization for police cooperation whose headquarters is in Lyon."