A 74-year-old Long Island, New York, man was arrested Friday for allegedly threatening two U.S. senators because they supported Justice Brett Kavanaugh's rise to the Supreme Court, CNBC reported, citing federal authorities.
Ronald DeRisi of Smithtown phoned more than 10 "threatening voice-messages" to the home-state offices of the unnamed senators, the network said, citing the federal complaint.
DeRici was accused in court Friday of calling Kavanaugh as well, the New York Post reported.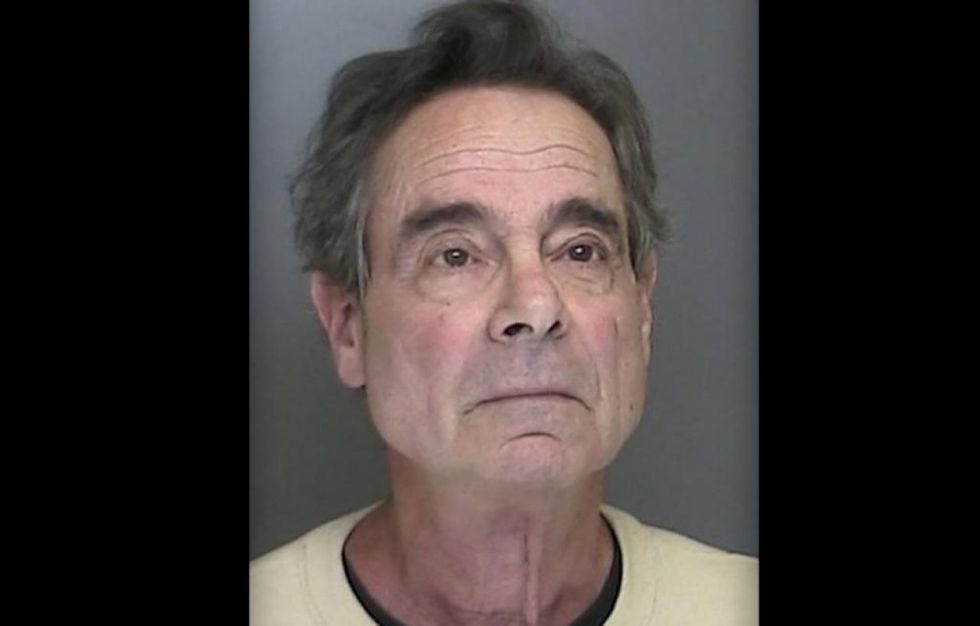 Ronald DeRisi (Image source: Suffolk County police)
"He made phone calls to Judge Kavanaugh directly," prosecutor Justina Geraci told a federal courtroom in Central Islip, the paper said.
Sources told the Post that Republican senators Chuck Grassley of Iowa and Susan Collins of Maine were targeted.
What was said on the phone calls?
DeRisi allegedly said he had a "present" for the first senator in a Sept. 27 call, Politico reported: "It's a nine millimeter." The outlet said another message allegedly told the same senator, "A dead man! Side of the [expletive] head!... Nine millimeter, side of the head, you [expletive] old bastard!"
DeRisi allegedly warned the second senator, "I'm gonna get you!" in an Oct. 6 voice mail, Politico said, adding that another call the same day reportedly included the threat, "We'll be in touch, see ya soon, see ya soon."
CNBC said an Oct. 6 call to the second senator noted, "You better pray this guy don't get in." Kavanaugh was confirmed to the high court that day.
How was DeRisi identified?
The complaint said DeRisi used a prepaid cellphone to make the calls from or around his home, CNBC reported, adding that DeRisi was identified through phone records, voice exemplars, and the debit card he used to buy the cellphone phone.
But the prosecutor said Friday over a dozen rounds of ammunition were found in DeRisi's home alongside a BB gun, the Post reported.
DeRisi previously pleaded guilty to a state charge of aggravated harassment in connection to phoning a victim's home and office more than 15 times in 2015 and leaving threatening messages, CNBC said. He also was charged in 2011 with felony tampering after allegedly cutting about a dozen cables at a cell tower construction site, the network added, causing damages estimated at $100,000.
What does his attorney have to say?
Peter Brill, DeRisi's lawyer, told CNBC his client was diagnosed after his 2015 arrest with "cerebral atrophy which has led to progressive dementia." Brill characterized it as "a degenerative brain disease that unfortunately affects certain areas of the brain, but doesn't affect others... We're trying to get him the help that he needs," Politico reported.
"He's not a violent person, although his disease has led to an increased lack of impulse control," Brill added to CNBC. "We know this story was scary to the people he called, but he's not a violent person, and I'm just going to continue to hope that he gets the help that he needs."
Magistrate Judge Gary R. Brown ordered that DeRisi undergo a psychiatric evaluation, the Post reported, adding that he was held without bail.