Pittsburgh's school board barred district employees and its schools from officially participating in a kids' run sponsored by Chick-fil-A in a resolution passed Wednesday — and that's left organizers of the Pittsburgh Marathon dumbfounded, KDKA-TV reported.
What's the background?
Once word got out last month that Chick-fil-A was the title sponsor for next year's Kids Marathon in Pittsburgh — a mile race that comes the day before the Pittsburgh Marathon — some folks got upset.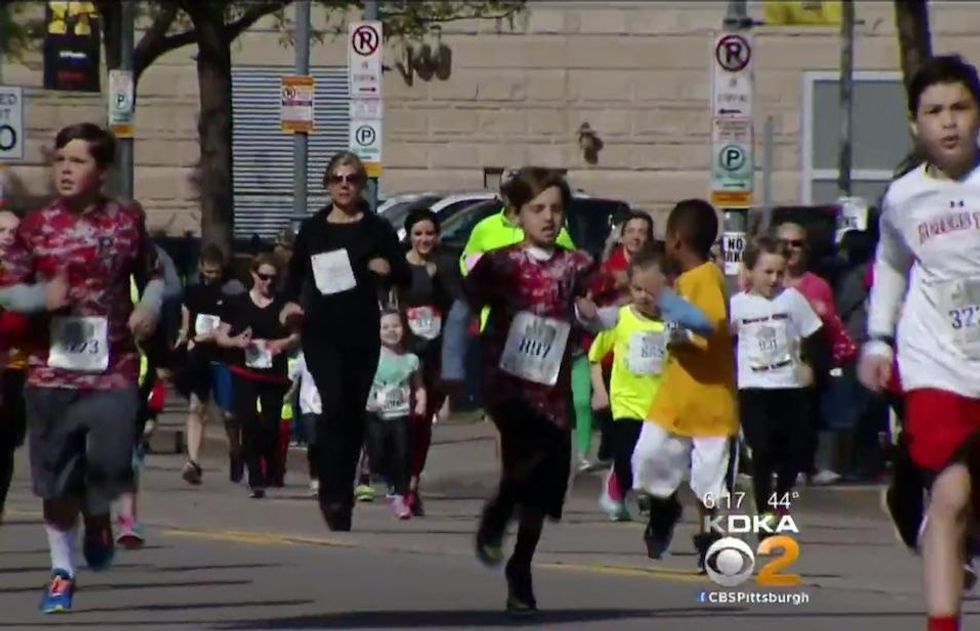 Pittsburgh Kids Marathon (Image source: KDKA-TV video screenshot)
The Post-Gazette reported that all nine city council members signed a letter asking the marathon to trash the deal — one that puts the fast-food franchise's name on the kids' race, WESA-FM said.
Pittsburgh Public Schools traditionally puts together teams for the kids' run, the station said. But several members opposed the Chick-fil-A sponsorship over statements the founder's son has made in support of traditional marriage, which has long irked LGBT and gay-rights advocates.
"They have several beliefs, which they've expressed officially, largely through religious basis, that are quite discriminatory and are quite inconsistent with the district's policies regarding discrimination on the basis of gender, race, etc.," Ira Weiss, the school solicitor, told the Post-Gazette.
What did the Pittsburgh Marathon have to say?
"We were very surprised to see that they opposed Chick Fil-A as a sponsor for us," marathon CEO Patrice Matamoros told KDKA Thursday.
She added to the station that the school's stance hurts city children whom the marathon wants to train in healthy running and nutrition: "We have 150 different schools involved in our program in 13 different counties," Matamoros told KDKA.
Most curious of all? She told the station no one from the school board contacted her.
"Nobody's reached out to us," Matamoros added to KDKA.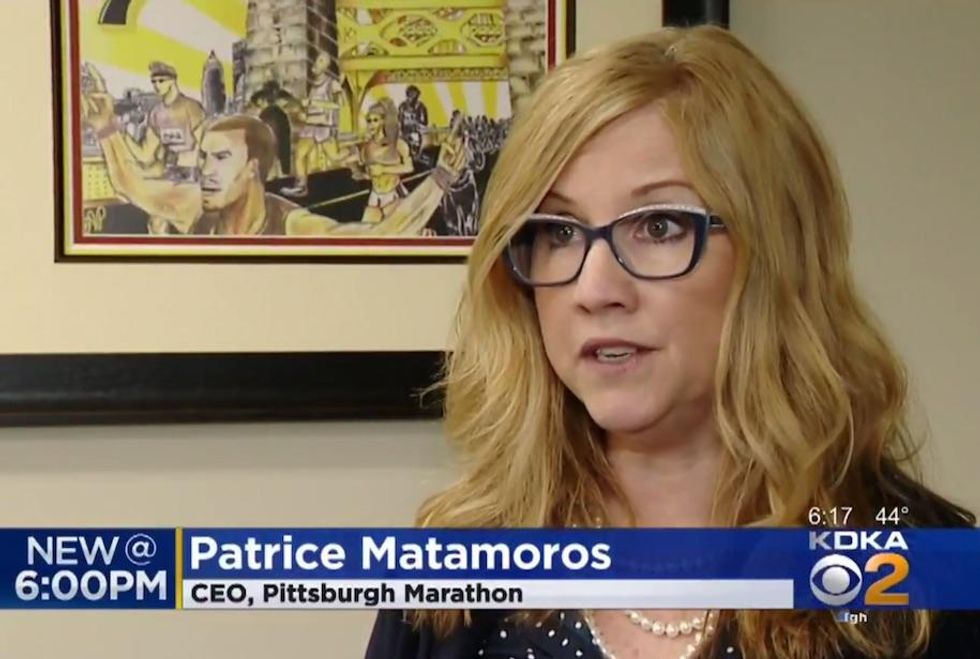 Image source: KDKA-TV video screenshot
The station's reporter pressed: "The school board passes a resolution about the marathon, and they've never talked to you?"
Matamoros answered, "No."
Apparently unsure of what he just heard, the reporter inquired again: "Nobody's called you?"
"No," Matamoros repeated to the station.
Pittsburgh Marathon officials added to KDKA that Kids Marathon funding comes from local franchisees that have signed non-discriminatory agreements.
The school board noted that "nothing in this resolution is intended to interfere with an individual employee's right or rights of students and their families to participate in these programs and races on an individual basis unrelated to the District or its schools."
What does Chick-fil-A have to say?
The chicken fast-food corporation told the station that "our restaurants welcome everyone, and we have no policy of discrimination against any group. We do not have a political or social agenda."
KDKA added that Chick-fil-A has awarded $535,000 in local scholarships and donated nearly $1 million to Pittsburgh philanthropic events so far this year — and that's in addition to $105,000 in sponsorships for the Pittsburgh Kids Marathon.

Anything else?
Oh, let's see: