A  possibly illegal Facebook political ad, apparently from Democrats, warns North Dakota hunters that they may lose their out-of-state hunting licenses if they vote — a claim that is almost certainly false.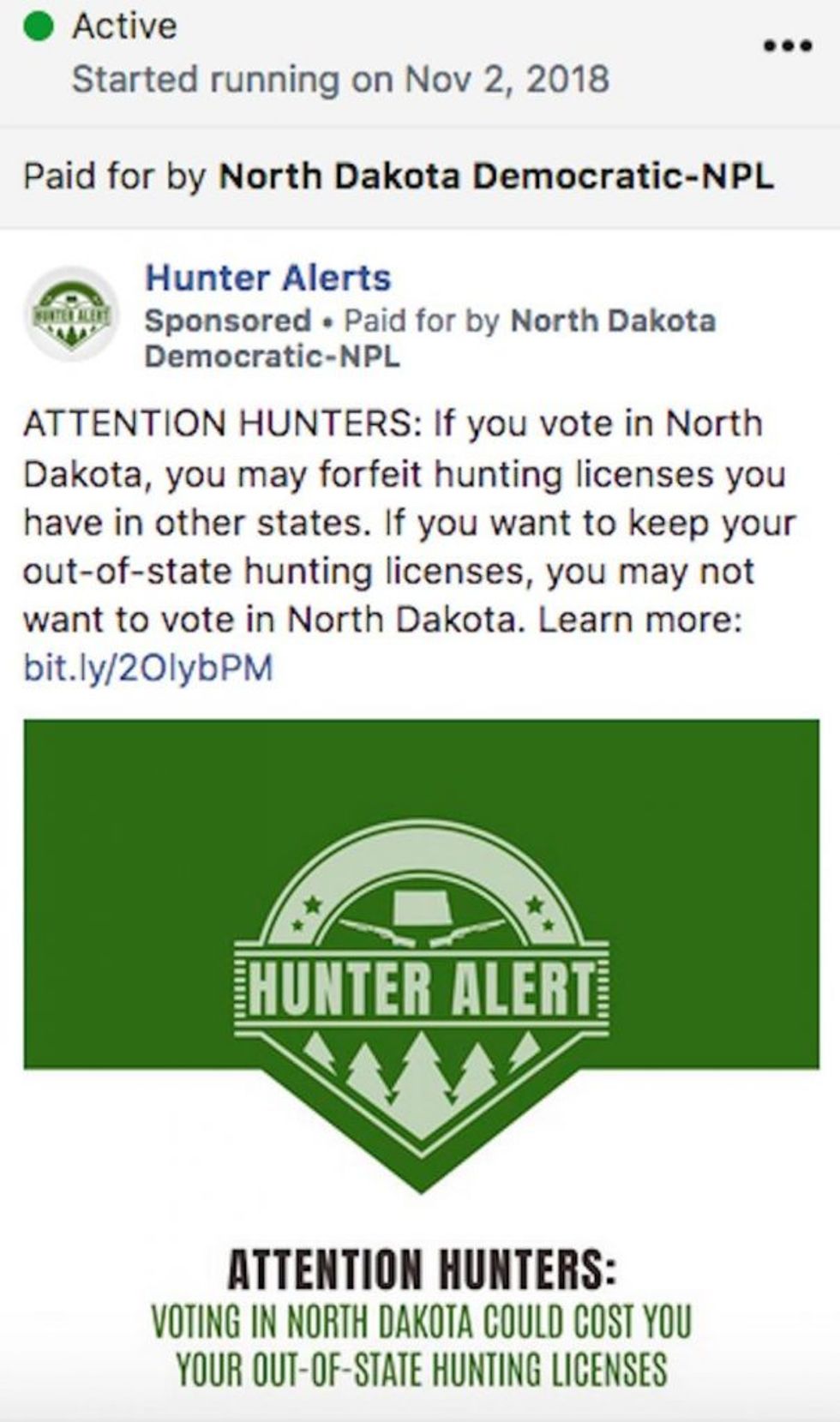 Image source: Facebook
The North Dakota Democratic-Nonpartisan League party — listed on the ad as the group that paid for and sponsored it — didn't respond to TheBlaze's multiple requests for comment and further information.
The ad caught the eye of North Dakota journalist Rob Port, who noted Facebook keeps a searchable database of its political ads — and he verified its existence. The ad appeared to be deactivated Thursday, but it was active Friday.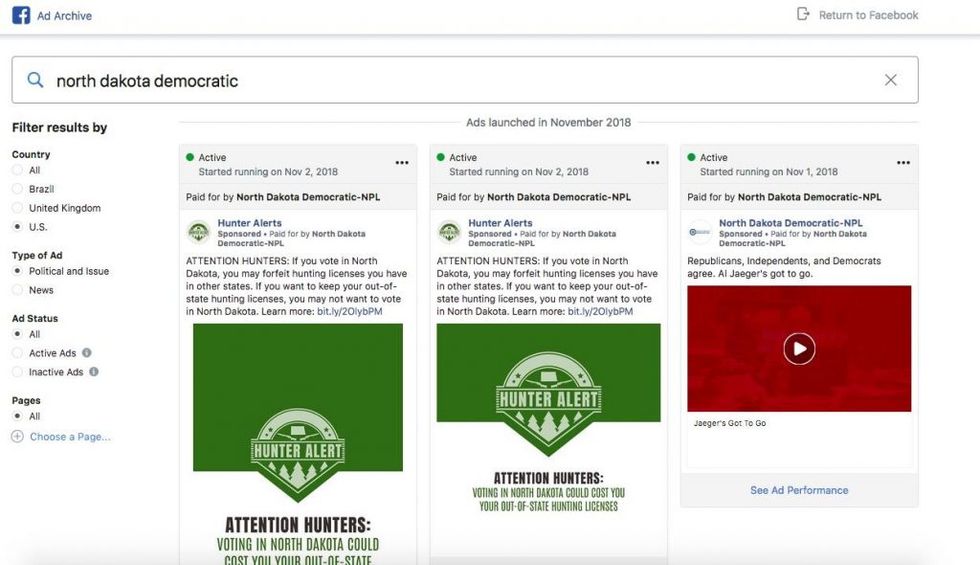 Image source: Facebook
Clicking on the link in the ad brings you to a landing page on the ND Democratic-NPL party's website, which offers a similar message, and warns hunters to think twice before voting in Tuesday's midterm elections: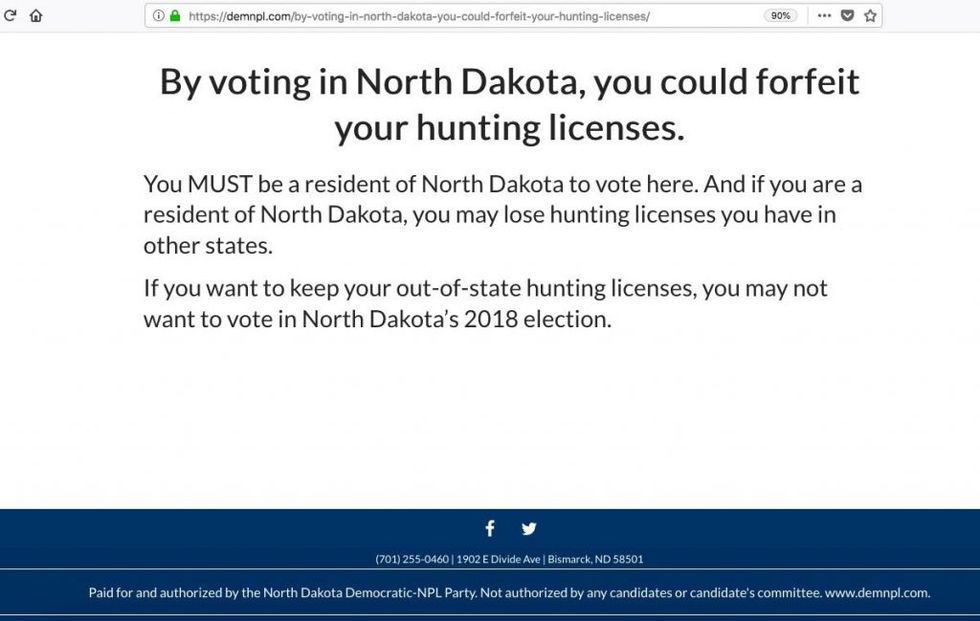 Image source: North Dakota Democratic Nonpartisan League party website
While the landing page contains the federally required political ad disclosure, the "Hunter Alert" ad itself lacks the portion of the disclosure that indicates candidate authorization, thus making the ad at least possibly illegal.
The ad is connected to Facebook page called Hunter Alert, which was created Wednesday and has no content apart from ad-related images — but it does boast quite a few comments from irate observers crying foul: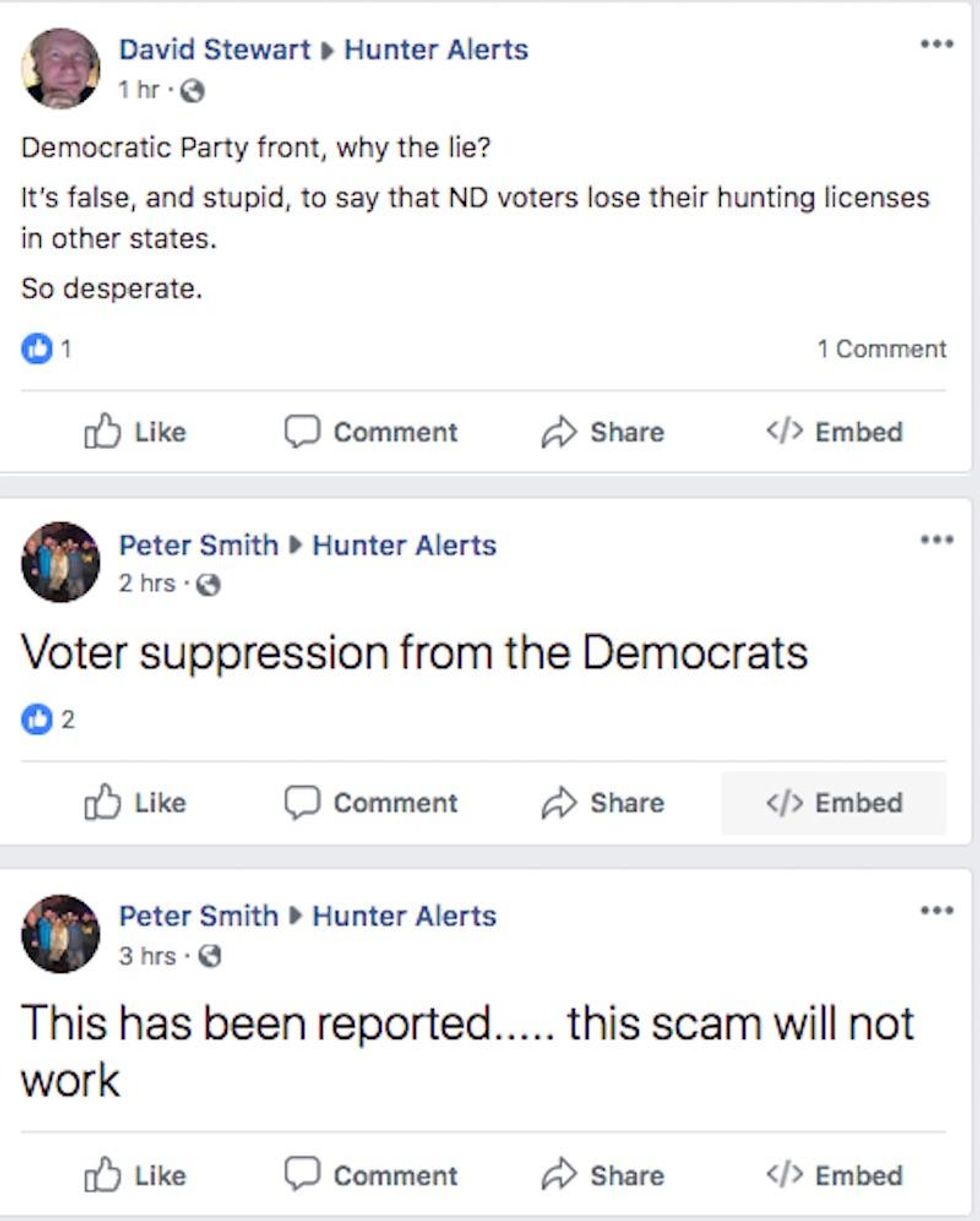 Image source: Facebook
What did authorities have to say?
Port said he contacted Secretary of State Al Jaeger and asked if he'd ever heard that voting can cost hunters their out-of-state licenses — and that Jaegar said no.
Randy Meissner, licensing manager for North Dakota Game & Fish, added to Port that he hasn't heard of such a claim, either, and that he would run it by his administration.
What did Sen. Heidi Heitkamp have to say?
North Dakota Democratic Sen. Heidi Heitkamp — who trails Republican U.S. Rep. Kevin Cramer in the race for her Senate seat by over 11 points — said on camera that she didn't know about the ad but "it's really important that people understand the consequences of voting."
She added that if a North Dakota resident wants "a residential hunting license in Minnesota, you aren't gonna get that if you vote here."
Which seems to make sense, except that the "Hunter Alert" ad says North Dakota hunters who vote could lose their out-of-state licenses — not residential licenses in another state.