Democrat Steve Sisolak defeated his Republican opponent Adam Laxalt in a Nevada gubernatorial race that saw both candidates trade razor-thin advantages in the polls leading up to Tuesday's midterm elections.
The latest numbers showed Sisolak — the Clark County Commission Chairman — with 48.8 percent of the vote and Laxalt with 45.9 of the vote as of 4:30 a.m. Wednesday, the Las Vegas Review-Journal reported, adding that Sisolak became Nevada's first Democratic governor in two decades.
"Today, people from every corner of the state stood up and turned out to say it's time to bring people together. It's time to prioritize our schools, our jobs and our health care. It's time to stop the petty politics and get things done," Sisolak said in his victory speech from Caesars Palace, the paper noted. "I want all of you to know that, no matter who you voted for, I will work my heart out for you."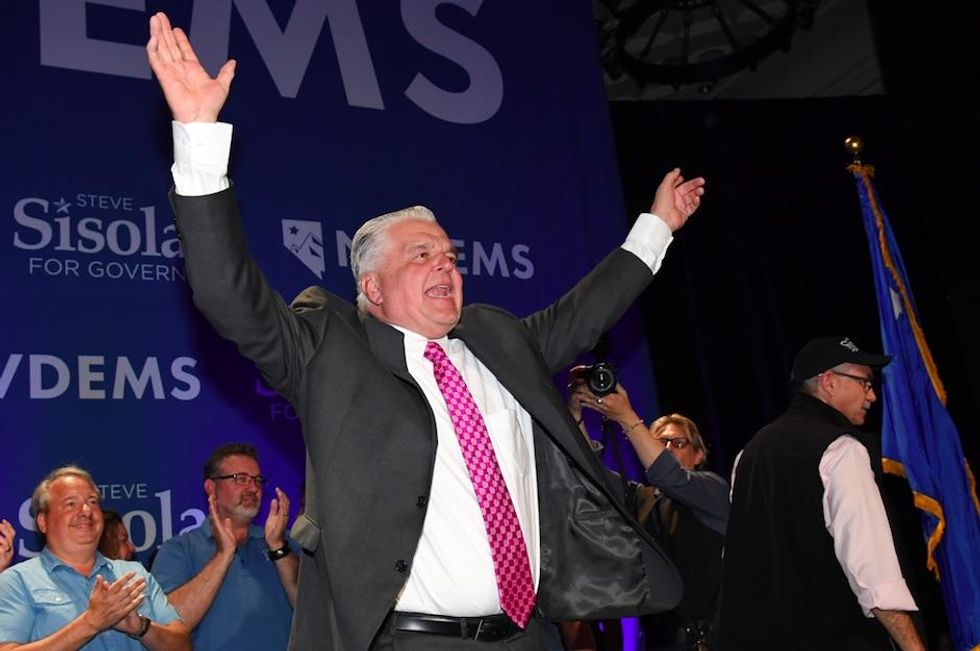 Steve Sisolak celebrates his victory over Adam Laxalt. (Photo by Ethan Miller/Getty Images)
A teary-eyed Laxalt conceded to Sisolak just before midnight Nevada time, the Review-Journal reported, and the state's attorney general said he'd help his opponent however he can.
"This was all of our campaign, not just my campaign," Laxalt said, according to the paper. "We can certainly take heart that we left it all on the field. We fought as hard as we could. To come up short is always difficult."
Laxalt's recent poll lead
Laxalt, 40, led Sisolak by a point in an October poll after having fallen behind the Democrat by 2 points in September — but Sisolak, 64, won enough voter support by the time Tuesday rolled around.
Laxalt's obstacles
Laxalt, 40, endured his share of hits in the closely contested race, including popular GOP Gov. Brian Sandoval's refusal to endorse him — or any other candidate — a scathing op-ed from 12 of Laxalt's relatives opposing his candidacy and backing Sisolak, and a TV ad skewering him that was deemed "false" by PolitiFact, which was significant because the outfit had been accused of its share of anti-Republican bias.
Sisolak survives
Sisolak survived a number of speedbumps on his to road to the governor's office, including criticism for remarks against then-Supreme Court nominee Brett Kavanaugh while an upside-down American flag was held aloft behind him. U.S. Flag Code prohibits such a display except for "dire distress in instances of extreme danger to life or property":
#ShadySteve Sisolak, running for #nvgov against Iraq War veteran @AdamLaxalt, campaigns with an upside down America… https://t.co/RFG6nhA9gT

— Robert Uithoven (@Robert Uithoven) 1531247673.0
Laxalt's campaign also characterized Sisolak as "corrupt" and an ally to the radical left.
Former President Barack Obama endorsed Sisolak recently, along with other Democrats running for office.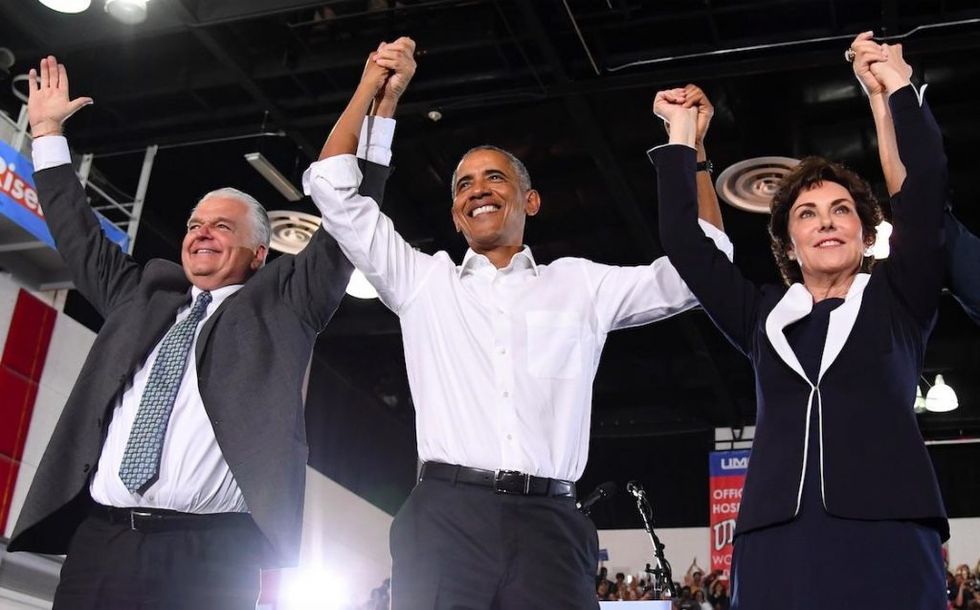 Clark County Commission Chairman and Democratic gubernatorial candidate Steve Sisolak (from left), former U.S. President Barack Obama, and U.S. Rep. and U.S. Senate candidate Jacky Rosen (D-NV) raise their arms after speaking at a get-out-the-vote rally at the Cox Pavilion as Obama campaigns for Nevada Democratic candidates on Oct.22 in Las Vegas. (Photo by Ethan Miller/Getty Images)
And the fact that Hillary Clinton beat Donald Trump in Nevada by just over 2 percentage points in the 2016 presidential election — or by about 27,000 votes — certainly was no disadvantage for Sisolak.
President Donald Trump threw his support behind Laxalt at a September rally, along with other Nevada Republicans running in the midterms.
Campaign spending
Sisolak spent about $13.7 million on his bid for the governor's seat since 2017, KRNV-TV reported, adding that Laxalt spent $9.9 million in that same time frame.
But political action committees spent their share as well, the Nevada Independent reported. PACs supporting Laxalt raising just over $9.9 million from June through October and spending $11.9 million, the paper said, while those supporting Sisolak spent $13.3 million and raised $15.2 million. At least seven PACs reported spending more than $1 million over the four-month period, including two supporting Laxalt and four backing Sisolak, the Independent added.
This is a developing story and will be updated.