The campaign for Nevada's Republican gubernatorial nominee, Adam Laxalt, said it isn't concerned that sitting GOP Gov. Brian Sandoval won't endorse Laxalt — or any candidate — for his seat, KSNV-TV reported.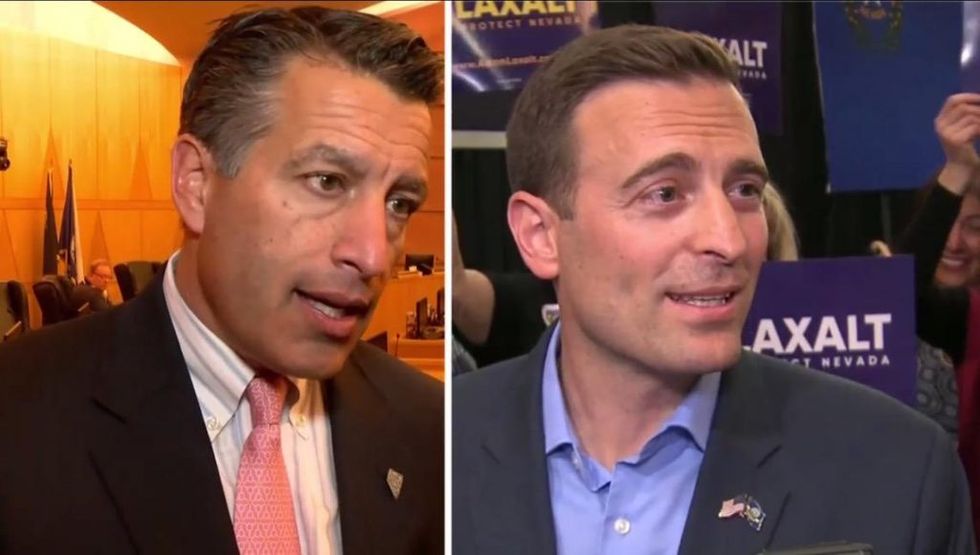 Nevada Republican Gov. Brian Sandoval (left); Nevada's GOP gubernatorial nominee Adam Laxalt (right). (Image source: KSNV-TV video screenshot)
"I don't think it has any effect one way or the other," former Nevada Gov. Robert List, chairman of Laxalt's campaign, told the station regarding Sandoval's snub of his fellow party member.
"I can see that he's sort of maintaining a nonpartisan posture. Might be a good thing from the standpoint of his future," List continued to KSNV regarding Sandoval, noting the governor could vie for the presidency of University of Nevada Las Vegas or go back to being a federal judge.
"And, of course, the last thing he would want to do is get precluded by engaging in active politics," List added to the station.
Only last week, List said the relationship between Laxalt and Sandoval appeared to be "softening."
More from KSNV:
Politically, the two were never close: Sandoval is more of a moderate; Laxalt is much more a conservative. The distance between them grew after Laxalt said he'd repeal, if elected, the governor's education centerpiece: the 2015 tax hike that pumped billions into Nevada schools.
Among the other sore spots between the two was Laxalt joining a federal lawsuit challenging land-use regulations to protect the sage grouse, the Las Vegas Sun reported.
Sandoval also wasn't on board with Laxalt joining 25 other state attorneys general in a lawsuit against then-President Barack Obama's executive orders on immigration, List told the Sun.
The popular Sandoval is limited by state law to two terms in office. Laxalt — Nevada's attorney general — will face Democratic gubernatorial nominee Steve Sisolak, chairman of the Clark County Commission, in November's election.
Laxalt and Sisolak are in a virtual tie, according to a recent poll. KSNV said Sisolak's campaign declined to comment on Sandoval's non-endorsement statement.