Rock legend Neil Young lost the Malibu home he shares with his wife, actress Daryl Hannah, in the devastating California wildfires, according to Variety — and the singer-songwriter put the blame on President Donald Trump.
"It really is time for a reckoning with this unfit leader," Young wrote Sunday regarding Trump on his website, Neil Young Archives.
Young — also an outspoken environmental activist — took issue with Trump's assertion that poor forest management was to blame for the wildfires and instead pointed toward climate change, as well as the commander in chief.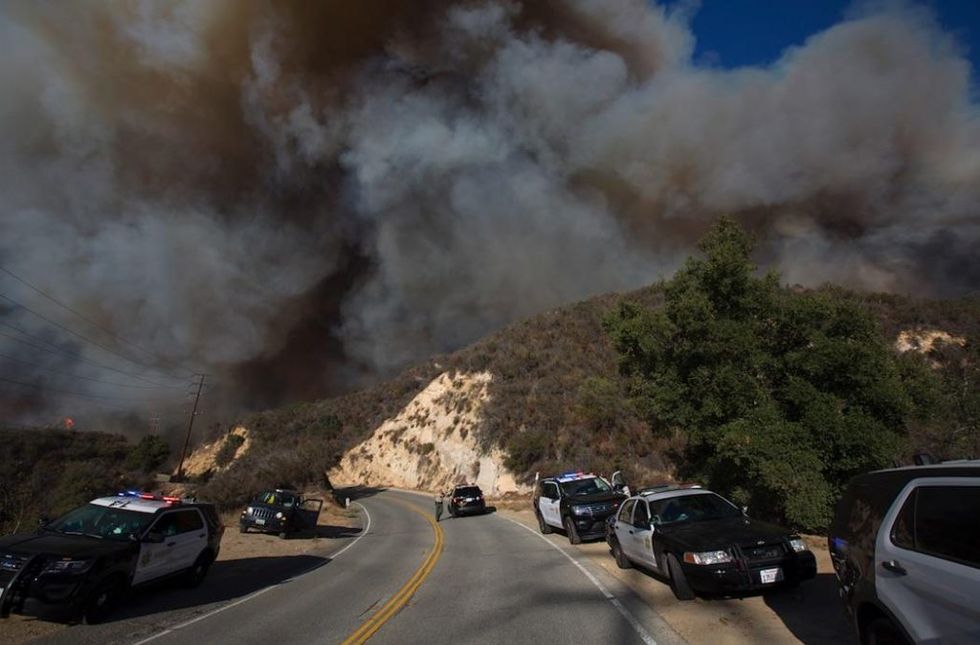 Wind-driven flames move across Malibu Creek State Park during the Woolsey Fire on November 9, 2018, near Malibu, California. (Photo by David McNew/Getty Images)
"California is vulnerable — not because of poor forest management as DT (our so-called president) would have us think," Young wrote. He added that the state is "vulnerable because of Climate Change" and cited "extreme weather events," an "extended drought," as well as high temperatures "in our hottest summer on record."
"DT seems to be the Denier. (I'm holding back and not using the word liar just because it rhymes with denier.)," he added. "It really is time for a reckoning with this unfit leader. Maybe our new Congress can help. I sure hope so."
Young — who turned 73 on Monday — ended his essay calling Trump a "leader who defies science":
Imagine a leader who defies science, saying these solutions shouldn't be part of his decision-making on our behalf. Imagine a leader who cares more for his own, convenient opinion than he does for the people he leads. Imagine an unfit leader. Now imagine a fit one.

Look around.
Other celebrities blast Trump
Other celebrities hit social media to attack Trump after the president's tweet blaming the wildfires on poor forest management:
This is an absolutely heartless response. There aren't even politics involved. Just good American families losing t… https://t.co/wHkmRRiKak

— KATY PERRY (@KATY PERRY) 1541839856.0
FYI, .@realDonaldTrump! "...guess who owns much of the forest land in CA? Your federal agencies. CA only owns 2%.… https://t.co/vTWRgUo4UN

— Alyssa Milano (@Alyssa Milano) 1541877017.0
Honestly thought this one was from a parody account. The city is on fire and people and animals are dying. https://t.co/qjuaSheDJe

— Zach Braff (@Zach Braff) 1541843003.0
If only we had a LEADER capable of grasping what the events in California mean and guiding us to solve them! Mass s… https://t.co/RbdENxZPDN

— bettemidler (@bettemidler) 1541867268.0
Mr. President, while people's homes are burning, while lives are being lost & while firefighters are risking their… https://t.co/f4T6RBL2bi

— Sir Rod Stewart (@Sir Rod Stewart) 1541884463.0