An angry activist got in U.S. Sen. Ted Cruz's face at a Houston restaurant after his address Friday at the National Rifle Association convention; the activist had to be restrained before he was dragged out of the establishment.
What are the details?
The activist asked the Texas Republican for a photo, and the two were smiling and arm in arm: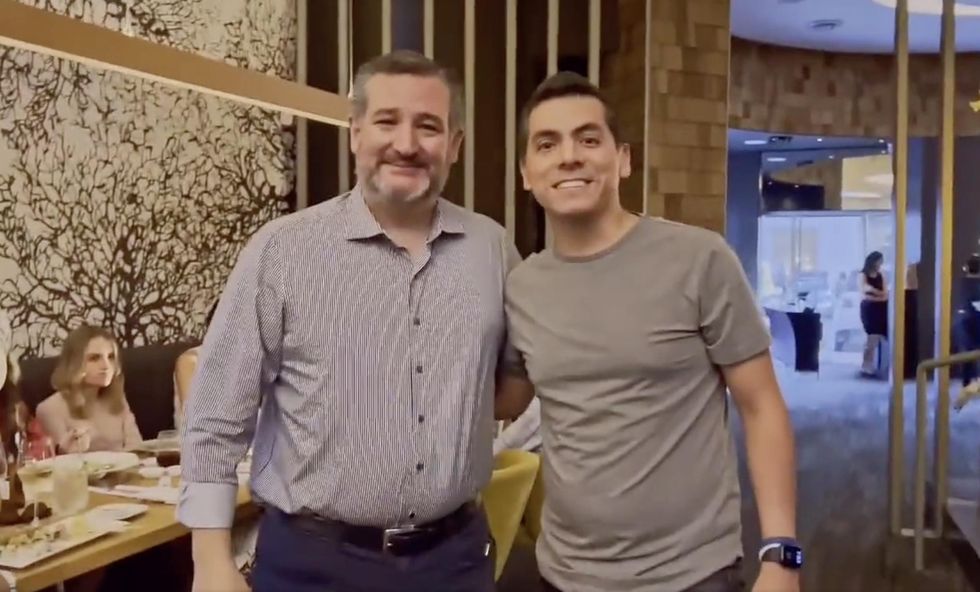 Image source: Twitter video screenshot via @indivisibleHOU
But the activist — identified by Insider as Benjamin Hernandez — quickly turned the photo op into an ambush and lit into Cruz over Tuesday's massacre of students and teachers at Robb Elementary School in Uvalde, Texas: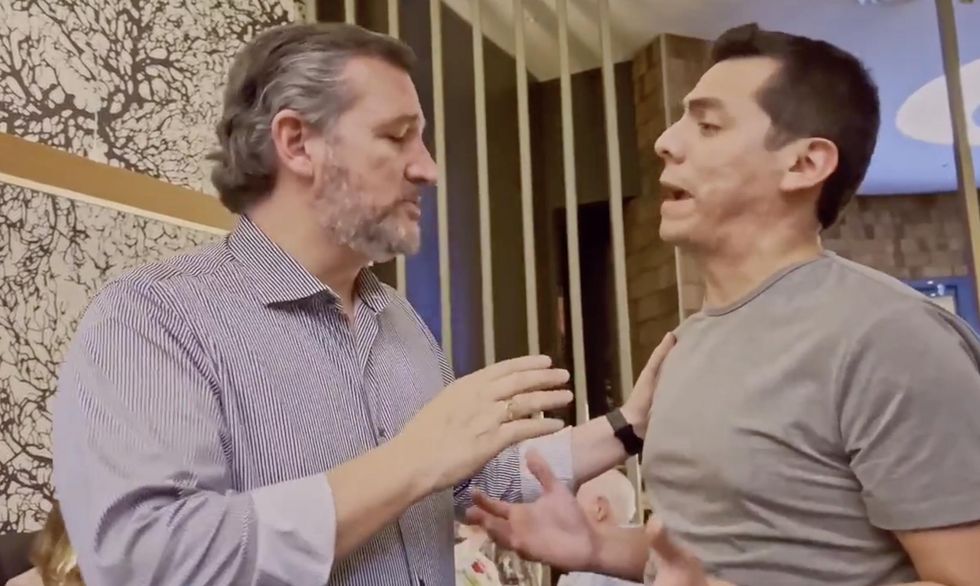 Image source: Twitter video screenshot via @indivisibleHOU
Hernandez asked Cruz to talk to him about "background checks," kept speaking when the senator tried to answer, and after Cruz finally was able to say "background checks wouldn't have stopped the shooter," Hernandez got more animated, waving his hands in the air as he said with a raised voice, "We can make it harder for people to get guns in this country!"
Cruz told the activist "you combine ignorance with hatred," and "you don't know what you're talking about." Soon a few men who appeared to be security stepped between Cruz and Hernandez; but the activist began to resist and lunge forward as they slowly dragged him from the eatery.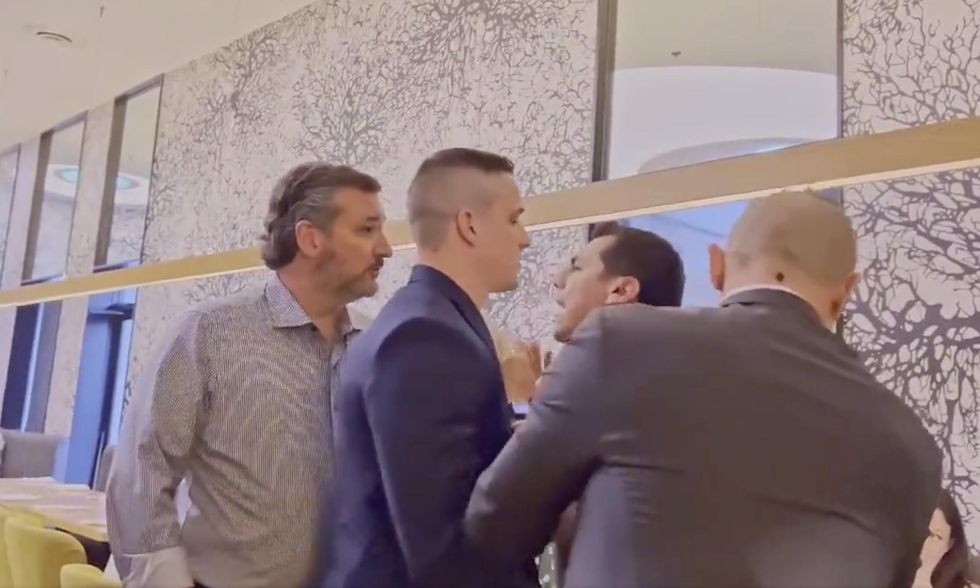 Image source: Twitter video screenshot via @indivisibleHOU
It's quite a thing to see how close angry people can get to an elected official like Cruz, especially in times like these. One wonders if Democratic senators like Nancy Pelosi and Chuck Schumer would have minded such treatment from a conservative.
As he was dragged away, Hernandez hollered, "Why did you speak tonight? Why did you come here to the convention to take blood money? Why, when 19 children died? Nineteen children died! That's on your hands! That's on your hands!"
Here's the clip:
The activist speaks
Hernandez — an independent who ran for Congress in 2018 — is a board member of Indivisible Houston, a political advocacy group, which posted the Twitter video of him confronting Cruz, Insider reported.
Hernandez told the outlet he was in the restaurant when he saw Cruz walk in and added that he asked Cruz if he would pose for a photo after the senator finished his dinner — but Cruz got up right away.
"As a constituent, you know, he refuses to allow us to engage him in open public forums. So this is one of the ways we can reach him," Hernandez told the outlet. "I'd never done anything like this before."
Hernandez added to Insider, "In that moment, I'm like, 'I have to do this because there are people that are really suffering.' And if it takes ... making Ted Cruz uncomfortable while he's having dinner, I mean, that's just the price of it."
The activist also told the outlet that while confronting Cruz, he was thinking of the parents of the slain children, as well as his own child.
"I'm a new father. I have a child. This hits different. Like, I just want to know what are you doing as a senator? And what things can you support?" Hernandez told Insider. "I'm like, 'Can you just answer the question? Like, where do you stand? What do you bring to the table?"
Hernandez added to the outlet that if politicians continue to avoid action on mass shootings, "we have to confront them."
"The moment is now," Hernandez told Insider. "They're always gonna say, 'Now is not the time'... But you know what, it is the time. Now is the time to stop the next one."
The outlet said a Cruz spokesperson on Saturday didn't immediately respond its request for comment and that an automated message from Cruz's senate office said his voicemail was full.
Remember when?
This wasn't the first time Cruz felt the left's wrath in a restaurant. In September 2018 a leftist mob made headlines by harassing Cruz and his wife in a Washington, D.C., restaurant. Afterward a left-wing group posted video of the incident with a chilling promise to Cruz, then-President Donald Trump, then-Supreme Court nominee Brett Kavanaugh, and "right-wing scum" in general: "You are not safe. We will find you."
Ah, but it was the season of such behavior, as other conservative figures were kicked out of restaurants and heckled and even punched. Then-Senate Majority Leader Mitch McConnell and his wife were accosted at a restaurant, too, but other patrons stood up for the couple.
Some might conclude that U.S. Rep. Maxine Waters of California got the ball rollling in June 2018 by infamously ranting to supporters to "create a crowd" and "push back on" members of Trump's cabinet if they're seen "in a restaurant, in a department store, at a gasoline station." She added in her speech — fueled by anger over Trump's immigration stances — "You tell them they're not welcome anymore, anywhere."