It's getting scarier out there for conservatives.
A pair of Republican candidates in Minnesota said they were punched over politics in separate incidents over the weekend, KMSP-TV reported.
State Rep. Sarah Anderson told the station she confronted a man Sunday for kicking her campaign sign when he charged at her car and punched her. Shane Mekeland, a first-time candidate for the state House,  told KMSP he sustained a concussion after a man punched him in the face at a restaurant Friday.
Law enforcement agencies told the station investigations into both incidents were underway.
'Out of nowhere'
Mekeland told KMSP he stopped at a restaurant to ask if he could hold a campaign event there when a man,  who was part of a group he was talking to around a high-top table, punched him "out of nowhere."
"The last thing I heard is him say — I'll keep out the colorful language — 'You bleepin' people don't give a bleep about the middle class,'" he recounted to the station.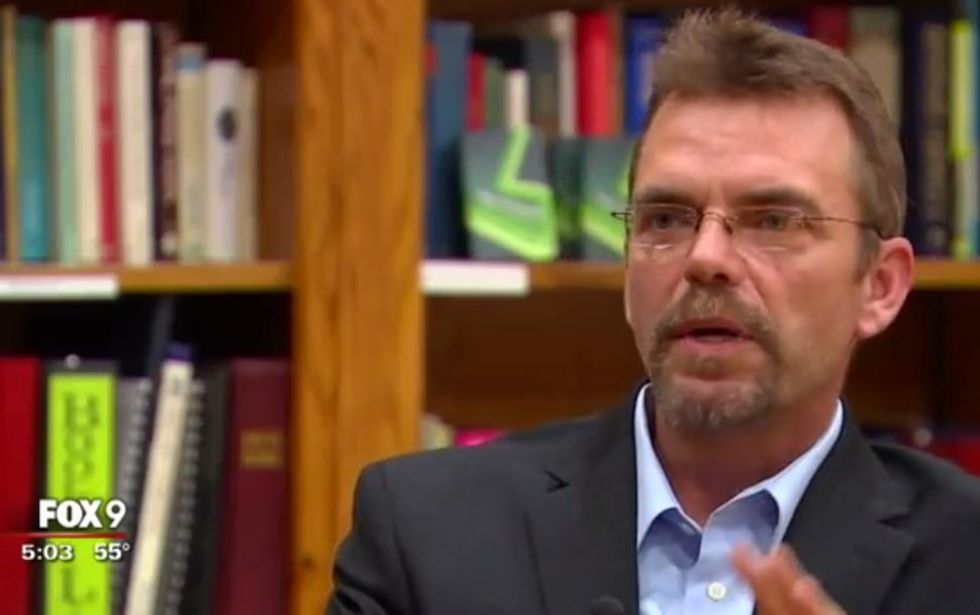 Shane Mekeland (Image source: KMSP-TV video screenshot)
With that Mekeland told KMSP he fell backward, hit the floor, and blacked out. The strange twist is that he told the station he'd been discussing health care and taxes with the man who appeared to agree with his positions at first.
Benton County Sheriff Troy Heck told KMSP he expected his office to take 7 to 10 days to do an investigation. Mekeland — who had a medical document confirming his concussion diagnosis, the station said — told KMSP that police have interviewed his assailant.
'He just hauled off and punched me'
Anderson told the station the man kicking her campaign sign said he was an anarchist and that Anderson should kill herself. She added to KMSP that she drove to a nearby gas station where she tried to take a photo of him while he walked down the road.
With that, Anderson told the station, he charged at her and prevented her from shutting her car door.
"That's when he just hauled off and punched me in the arm," she told KMSP. "Then I put the car in reverse to just get out of there."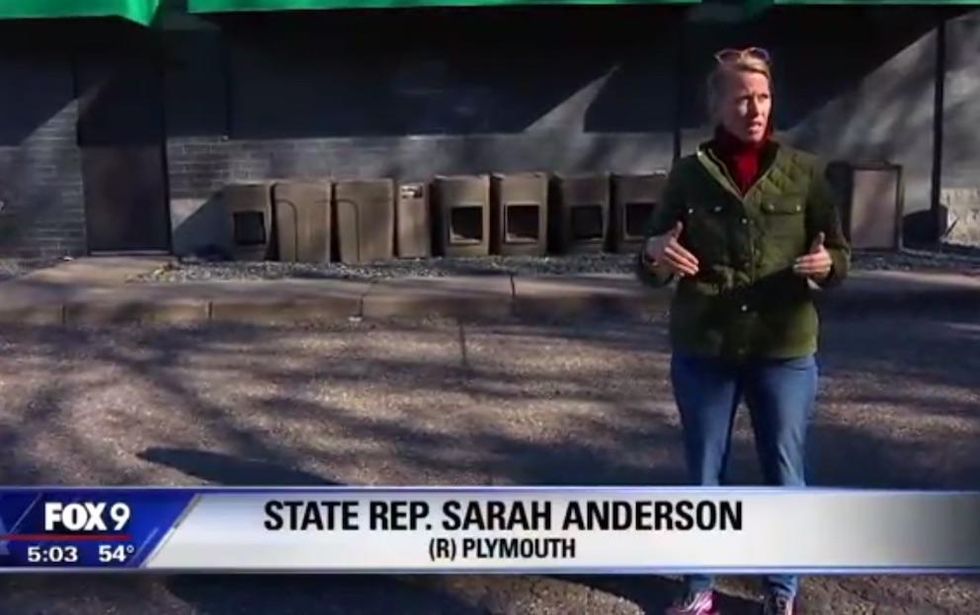 Image source: KMSP-TV video screenshot
Plymouth Police declined comment on its investigation, but Anderson told the station police had set up a Tuesday interview with the man.
What's next?
Anderson and Mekeland told KMSP they planned to continue campaigning — but with some precautions.
Mekeland told the station he won't go door-to-door alone anymore, and Anderson noted she's campaigning with volunteers and keeping her husband informed regarding her whereabouts.
"Three weeks from now, I don't want this to be the defining moment of my campaign," Anderson told KMSP. "I refuse to allow this to change me as a person."
She added to the station that "the idea that they will physically attack me, that is un-Minnesotan, that is not how we operate, and that's not how we solve problems in the state."
In a Facebook comment, Mekeland blamed his attack on the media and dangerous rhetoric by key Democratic figures: "Left, right or in between, civil discourse is needed. The media and the likes of Maxine Waters, Hillary, and Eric Holder as of late is driving this behavior. As far as resolve, this is exactly the type of thing that will push me, you and other like minded people to fight harder."