It's tough being a grown-up. Apparently.
But don't worry strugglers because there's a calendar for adults that can help with all those pesky tasks that come with being an independent grown-up person.
The 16-month wall calendar comes with a load of stickers to use as a reward every time you do something that, well, an adult would do.
Now, many of you are probably wondering, "Where can I get one of these treasures?"
Just head on over to Amazon and search for the "I Adulted 2019 Wall Calendar." For $16.99, you can reward yourself all year long.
It comes with 100 stickers that will be all yours. No sharing required.
Among the stickers are: "I ate a salad," "I didn't tell my boss off," "I emptied the litter box," and "I took a shower today."
But the most troubling one reads, "My parents don't pay my rent!"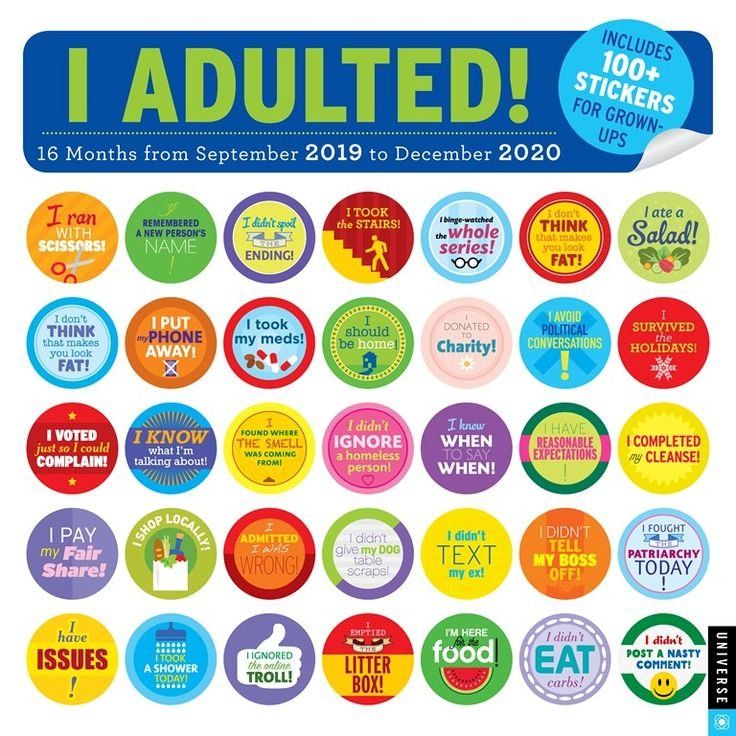 I Adulted! 2019-2020 16-Month Wall Calendar | Dark & Funny Adult/Childrens Picturebooks | Calendar stickers, Wall, Calendar www.pinterest.com
Are there customer reviews?

One can only assume there wasn't a sticker for writing a customer review since there was only one at the time of this story.
"Received a baby blanket in place of this. I just want my calendar," Trevor wrote.
Way to go, Amazon worker.
Is the calendar available now?
The September 2018 to December 2019 version is available now.
But since some from the younger generation need extra direction, this is your reminder that the September 2019 to December 2020 calendar comes out next month.
Sorry, but I don't have a sticker to send you for remembering to buy one.
What else?
Calm down. We know it's supposed to be tongue-in-cheek.