Most of you recall comic Kathy Griffin not letting her pearl-clutching crisis go to waste by using her hospital stay this week to rail against President Donald Trump's response to the coronavirus pandemic. Because if you remember, Griffin was worried she had COVID-19.
Incensed by Trump's newest boast — this time saying the U.S. surpassed South Korea on coronavirus testing — Griffin replied on Twitter that the president was "lying."
She added, "I was sent to the #COVID19 isolation ward room in a major hospital ER from a separate urgent care facility after showing UNBEARABLY PAINFUL symptoms. The hospital couldn't test me for #coronavirus because of CDC (Pence task force) restrictions."
He's lying. I was sent to the #COVID19 isolation ward room in a major hospital ER from a separate urgent care facil… https://t.co/SqzJAqNyPZ

— Kathy Griffin (@Kathy Griffin) 1585164176.0
What were those symptoms, exactly?
While Griffin left out that not-so-minor detail in her post, she revealed to the Los Angeles Times that she woke up one morning after a trip to Mexico in pain and sick.
Griffin was eventually directed to the COVID-19 area in the emergency department of Cedars-Sinai in Los Angeles, the paper noted — where staffers see patients who are sicker and may require more testing or hospitalization.
Turns out a test revealed she had an abdominal infection, the Times said.
More from the paper:
Griffin wound up getting a chest X-ray that showed clear lungs and an abdominal CT scan that revealed the infection. Her temperature was around normal. But nausea and diarrhea, along with the severe chills and sore throat she had, are all COVID-19 symptoms. The urgent-care doctor told her she should get tested. And the ED doctor seemed to want to test both Griffin and her husband but could not, the comic said.
"The doctor was going through the boxes and going through the boxes [on a form], and she kept saying, like, 'Ugh, because of the lungs, the fever, and the kind of cough ... you don't meet the CDC requirements,'" Griffin recalled to the Times.
While she was given the option to be admitted to the hospital which might be more likely to test her, the paper reported that Griffin chose instead to self-isolate at home after talking to staff.
But Griffin still found time to complain to the Times about the coronavirus testing rules: "The realization when they told me the guidelines was, 'Wow ... I now know not to come back unless my lungs are full with what [feel] like pieces of shattered mirror, unless I can't breathe, and unless my fever is 103 ...' They're not making the rules at all. That's a frightening feeling."
And she took another shot at Trump, too, telling the paper, "it's so obvious that those tests have to be accessible to everybody. A lot of people — when they hear the president saying everyone who needs a test should get one — then shouldn't have to then go to a hospital where, frankly, they may be exposing themselves or exposing others. Hopefully sooner than later you can either go to a pharmacy and get one or they could deliver one at home, something like that."
How did folks react?
Griffin tweeted the Times story along with some of her own commentary, but a number of observers weren't letting her get away with the inconvenient truth that her symptoms didn't warrant a coronavirus test — or else she would've received one:
"Fraud!!!!!"
"What this woman will do for attention...sad. In the ER, in 'excruciating pain' but still manages to take selfies and be on Twitter. I call bulls**t."
"Kathy Griffin. Diverting critical and limited medical resources to a publicity stunt fueled by Stage 4 TDS during a pandemic is despicable."
"I love karma."
"Because you didn't have COVID-19 symptoms. A stomach bug treated and released the same day. Drama!!!"
"So...your MD did not think symptoms warranted a test? And your symptoms are listed abdominal, no mention of breathing difficulties. But you 'needed' one anyway? Not everything is virus related."
"So in other words you didn't have the coronavirus symptoms and asked for a test you didn't need and were denied that test and are bitching about it. Got it."
Oh, and: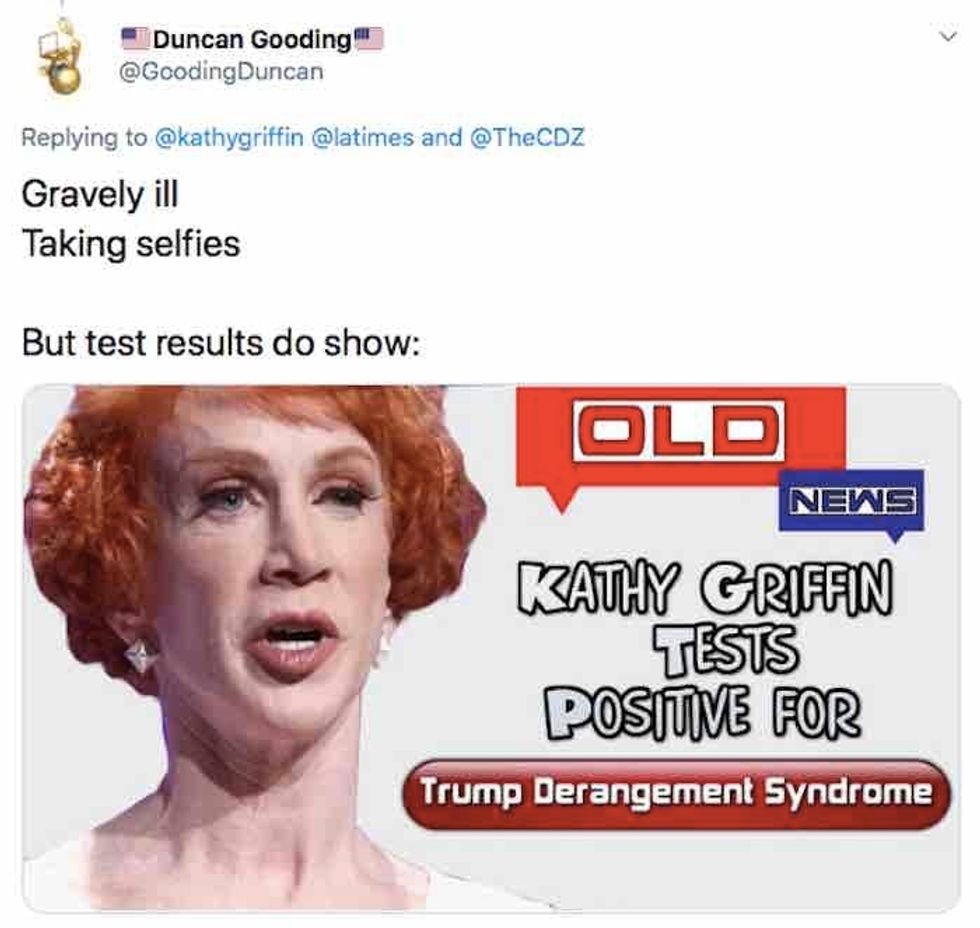 Image source: Twitter
(H/T: BizPac Review)