An armed leftist who was part of a mob that chased down a rifle-toting male on a Kenosha street — and was badly wounded by close-range gunfire — allegedly told a friend he regrets "not killing the kid" accused of shooting him and "emptying the entire mag."
What are the details?
Gaige Grosskreutz, 26, was one of three people shot Tuesday night allegedly by 17-year-old Kyle Rittenhouse, an Illinois resident who arrived in Wisconsin armed with what police said was a Smith & Wesson AR-15 style .223 rifle. Rittenhouse said in video interviews prior to the incident that he was in Kenosha to help protect property, keep the peace, and administer medical aid.
Tensions were high as rioters squared off with others who, like Rittenhouse, gathered in the city with rifles.
According to a probable cause narrative in the criminal complaint against Rittenhouse, at one point 36-year-old Joseph Rosenbaum confronted Rittenhouse — and the teen apparently didn't want anything to do with him and tried getting away. But Rosenbaum chased the 17-year-old and appeared to try to take Rittenhouse's gun away — after which the teen fatally shot his pursuer.
It should be noted that video recorded earlier allegedly caught Rosenbaum antagonizing the gun-carrying group, glaring at them, and daring them to "shoot me!"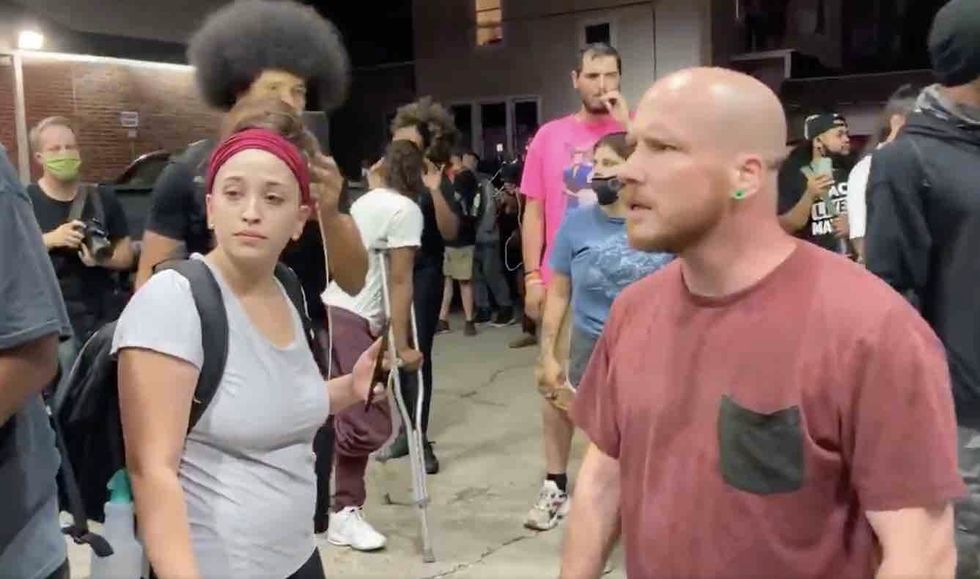 Image source: Twitter video screenshot via @Julio_Rosas11
He even uttered the N-word while black people stood feet away. (Content warning: Language, racial slurs):
Rioters are getting into confrontations with armed citizens who are out here to prevent looting and destruction to… https://t.co/waOikRHEn7

— Julio Rosas (@Julio Rosas) 1598415475.0
After Rosenbaum was shot, a mob chased Rittenhouse down a street. One of the pursuers was Anthony Huber, who hit Rittenhouse with his skateboard and, police say, tried taking Rittenhouse's rifle away — at which point Rittenhouse fired a fatal shot at Huber's chest.
Also in the thick of the chase was Grosskreutz who was seen in video screenshots and photographs seeming to point a handgun at Rittenhouse: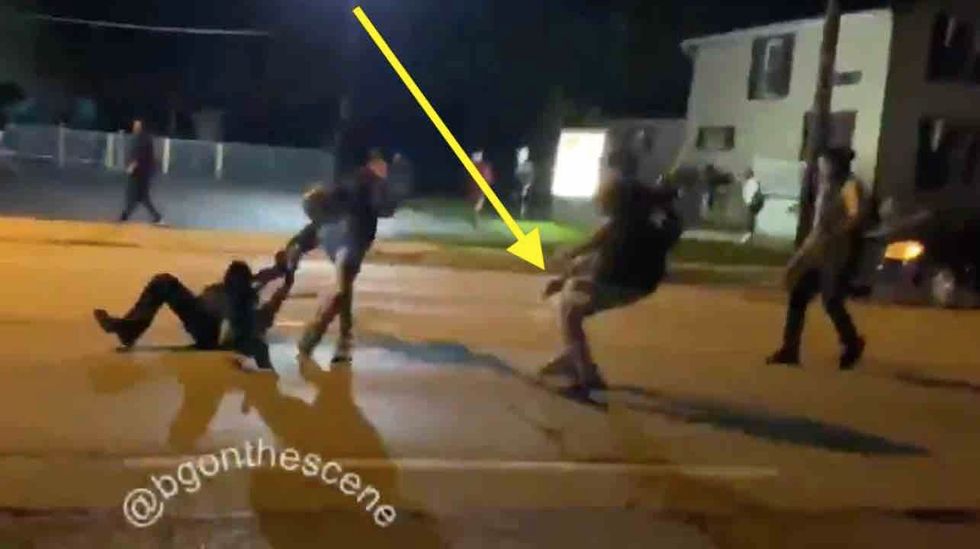 Image source: Twitter video screenshot via @bgonthescene
According the criminal complaint: "When the defendant shot Huber, Grosskreutz freezes and ducks and takes a step back. Grosskreutz puts his hands in the air. Grosskreutz then moves towards the defendant who aims his gun at Grosskreutz and shoots him, firing 1 shot. Grosskreutz was shot in the right arm. Grosskreutz appears to be holding a handgun in his right hand when he was shot."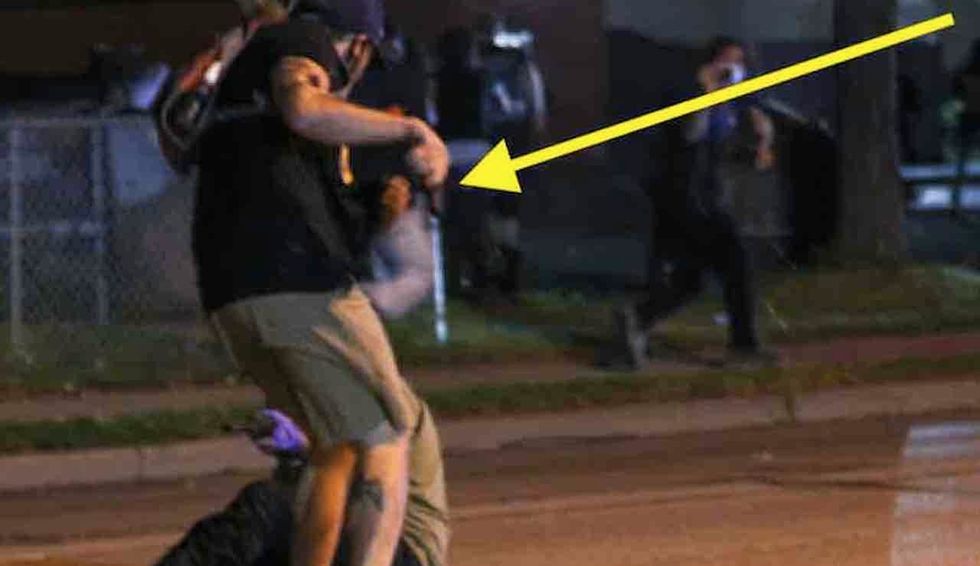 Photo by Tayfun Coskun/Anadolu Agency via Getty Images
Here's video of second and third shootings. (Content warning: Language):

(Warning, Graphic/Violent) A crowd chases a suspected shooter down in Kenosha. He trips and falls, then turns with… https://t.co/vxBAmOy0TK

— Brendan Gutenschwager (@Brendan Gutenschwager) 1598422068.0
Grosskreutz even was holding his handgun after a bullet took out a large chunk of his right arm: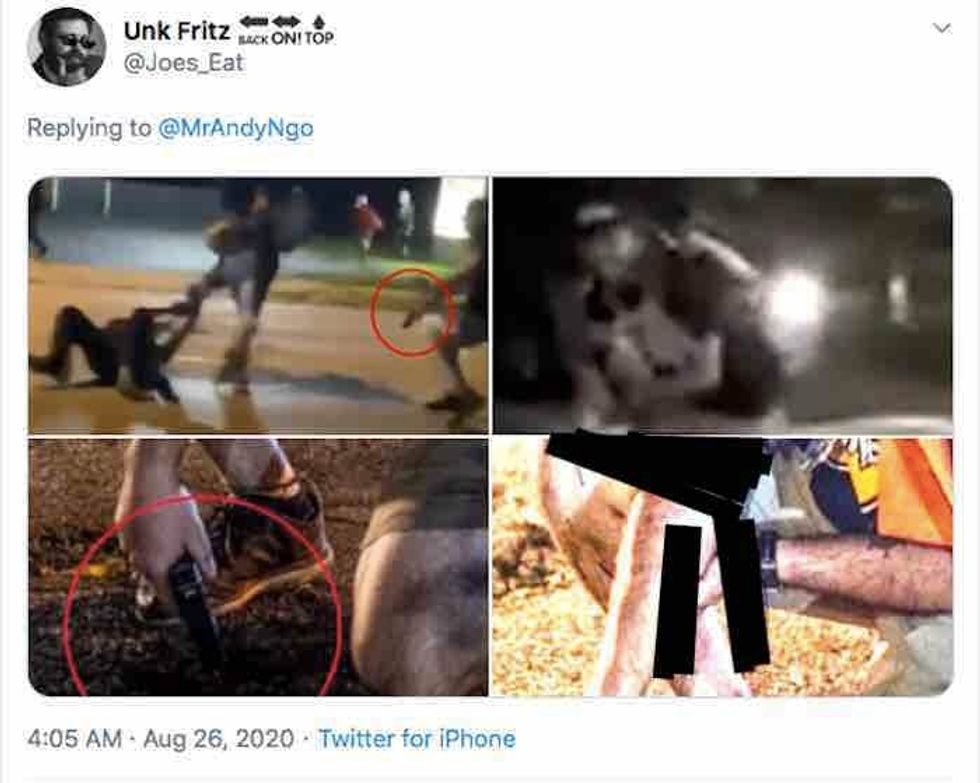 Image source: Twitter
What allegedly happened afterward?
Grosskreutz survived the shooting but reportedly will require multiple surgeries on his arm.
Journalist Andy Ngo then happened upon a Facebook comment allegedly from Jacob Marshall, a friend of Grosskreutz. According to Marshall's alleged comment, Grosskreutz told him he wished he'd killed his shooter.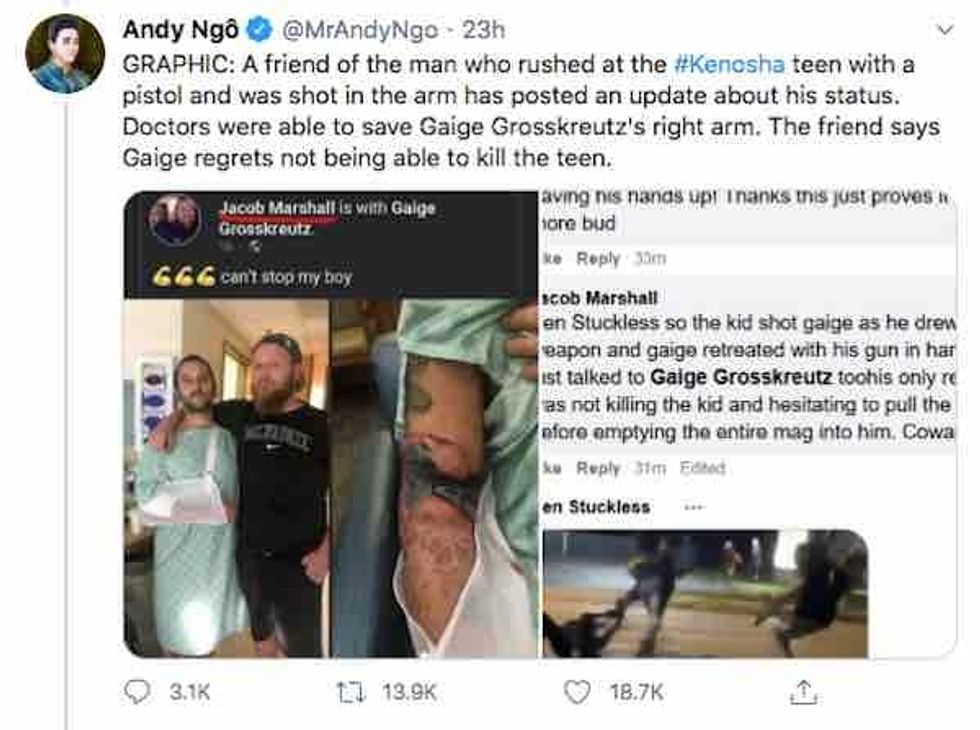 Image source: Twitter
The screenshot of the comment reads, "I just talked to Gaige Grosskreutz too" and "his only regret is not killing the kid and hesitating to pull the gun before emptying the entire mag into him." The alleged comment also reads that "the kid shot Gaige as he drew his weapon and Gaige retreated with his gun in hand."

Neither Grosskreutz nor Marshall on Friday immediately responded to TheBlaze's request for comment on what Grosskreutz allegedly said to Marshall.
But an Internet archive screenshot from Wednesday shows a Facebook post from Marshall taking issue with conclusions being drawn about Grosskreutz: "There's a narrative saying Gaige was chasing this kid with a gun...no. Gaige did try pulling his gun right after this, because clearly his life was in danger and then the kid shot him...but after being shot wasn't able to release his gun because of the muscle damage. So all these pictures and post[s] of how the kid did it in 'self defense' is bulls**t. If you don't agree we can personally meet up and talk 'self defense' policies cuz I'm over this bulls**t narrative that's being passed around that Gaige was attacking the shooter."
Grosskreutz is a member of a social justice group, the People's Revolution Movement of Milwaukee, and a friend of his told the Chicago Sun-Times that his "whole reason for being out here was to provide medical services to protesters in Kenosha, and when Gaige tried to detain [the active shooter], he got shot in the arm."