A speaking event for black mayoral candidates in Savannah, Georgia, that allowed only black journalists to attend forced white journalists to wait outside Wednesday, Savannah Now reported.
'Black Press Only!': White reporters not allowed at Ga. mayoral race event https://t.co/kHpsfPIsUW https://t.co/QpbqDqX75z

— The Washington Times (@The Washington Times)1553803778.0
What's the background?

The event at the Bolton Street Baptist Church was coordinated by the Rev. Clarence Teddy Williams, owner of the consulting firm The Trigon Group, the outlet added — but the outlet said Williams declined to discuss the "black media only" stipulation.
An event announcement said the meeting was about supporting one black candidate for mayor.

Black reporters for at least two television stations were permitted inside, Savannah Now added.
WSAV-TV said black mayoral candidates Regina Thomas and Van Johnson received invitations, but Thomas did not attend. Louis Wilson — who said he's running again after an unsuccessful mayoral bid in 2015 — also spoke at the meeting, Savannah Now said.
What did the candidates have to say about the 'black media only' restriction?

"I had no malice intent or anything," Johnson told WSAV. "I came to give a statement as I was invited to do and again, in retrospect, I probably would've told those who were outside to come in with me."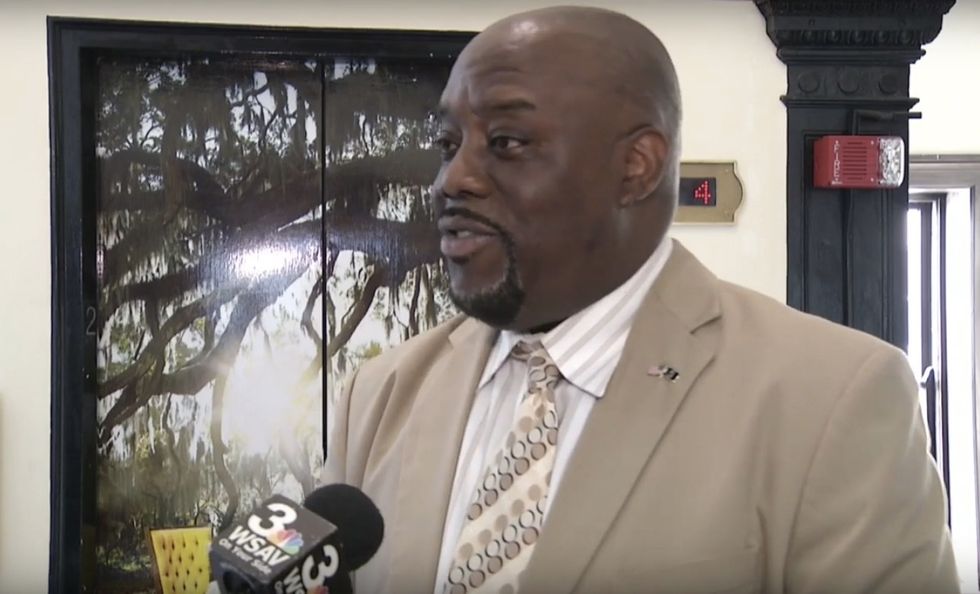 Van JohnsonImage source: WSAV-TV video screenshot
Thomas told the station she believes the meeting was premature and her campaign will focus on "everybody's vote" and not just those of one skin color.
Wilson declined to discuss the press restriction, Savannah Now said: "I didn't plan the meeting so I can't comment on that part. I came to say what I had to say."
Johnson on Thursday offered a formal statement on his decision to attend the meeting, WSAV said:
I was invited as a 2019 Savannah Mayoral Candidate to give a candidacy statement to a gathering of African American community leaders. I accepted this invitation as an opportunity to share my vision for a progressive Savannah, as I have with business, civic, labor, neighborhood, veteran, political, Latino/Hispanic and LGBTQ groups in private and public settings.

I did not coordinate or schedule this event and did not participate in any of the discussions beyond giving my statement.

I was made aware that the organizers restricted this event to "Black Media" only. I chose to give my statement as scheduled and afterwards made myself available to the media gathered outside. I have expressed my concerns to the organizers of this event as my history of service in this community has ALWAYS been one of inclusion, of partnership and of communication.

While this decision of this group is unfortunate, I work toward the day when we trust each other enough to be inclusive in all of our gatherings.

Savannah must be open for everyone and as Mayor, I hope to lead that effort.

Alderman Van R. Johnson, II
What did others have to say?
The station said some attendees said the event wasn't discriminatory and was positive for the community.
"Why make an issue out of it? Oh, I know why you make an issue of it, because they no longer have control," Amir Jamal Toure, a Savannah State University professor and a community advocate, told WSAV.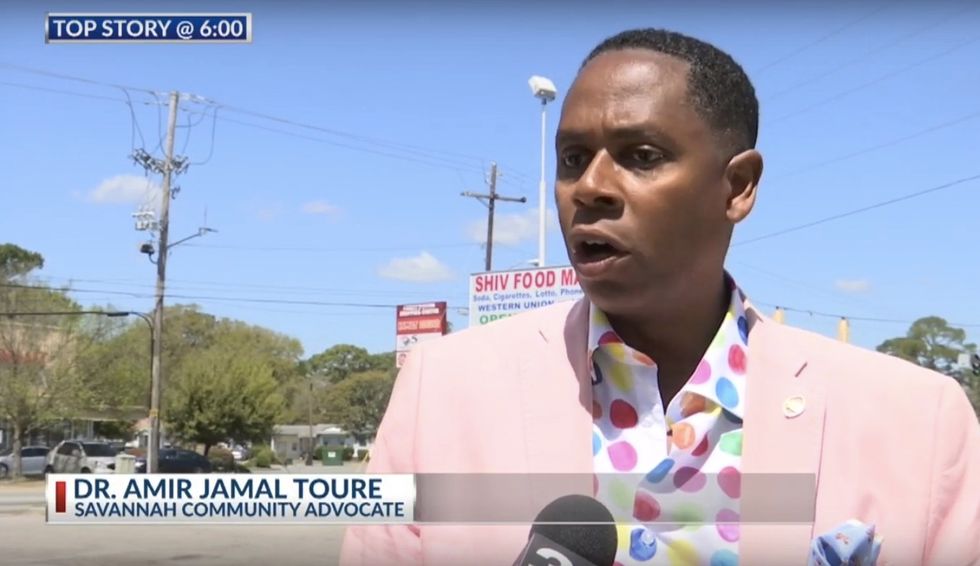 Image source: WSAV-TV video screenshot
"There's a new day in Chatham County and in Savannah, Georgia. Folks are understanding they need [to] retain their community and their leadership they must be the voice for themselves."
Others weren't as forthcoming.
Former Savannah Mayor Edna Jackson declined to comment before going inside, Savannah Now reported, and Chatham County Commissioner Chester Ellis said, "This is not my idea."
More from the outlet:
Savannah Alderman Estella Shabazz, who also attended, said that she had once owned a newspaper and she was a member of the black press, but she declined to comment — when repeatedly pressed — on the policy barring white reporters from going inside.

While notes were allowed, photos, video and audio recordings were prohibited during the event, according to Stephen Moody, an African-American reporter with WJCL who was allowed entry. Another reporter from WSAV who attended the meeting was told she could stay because she was black, Moody said.

Shirley James, the African-American publisher of the black-owned Savannah Tribune, was also seen going into the meeting.
Anything else?
Savannah Now said an editorial from the black-owned Savannah Herald titled, "United We Win, Divided We Lose," was distributed at the meeting. Written by former Mayor Otis Johnson, the piece calls on the black population to organize itself to increase its influence over what happens in the community, starting with the mayor and council, the outlet said.
"If we come together and decide what we want and who we believe will work best for us to get it, then we have a chance to advance," Johnson wrote in the editorial, Savannah Now said.