A refreshing surprise was seen in yet another video of a physical attack taking place in front of a crowd of bystanders — a couple of men actually intervened and held the suspect until police arrived.
What are the details?
Surveillance video inside a Thai restaurant in Berkeley, California — the owner asked KGO-TV to not name it — shows a man at the bottom of the screen who had asked for free food around 5:15 p.m. Wednesday.
When the man was told no, the restaurant owner told KGO her nephew went over to see what was wrong.
With that, the man is seen knocking the nephew over a table to the floor and kicking him multiple times.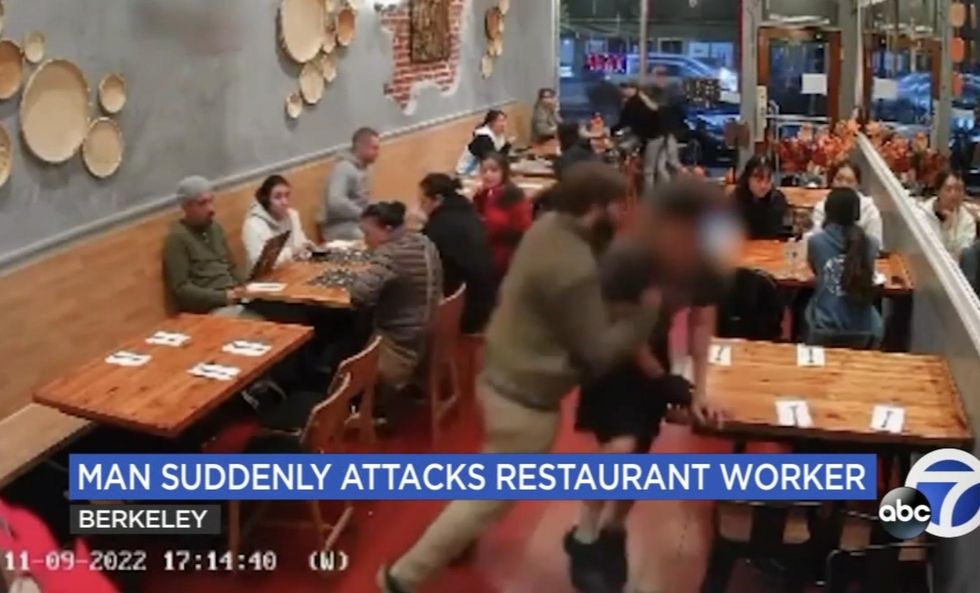 Image source: KGO-TV video screenshot
But the attacker didn't get a chance to do much else.
The clip shows two men who were dining at separate tables inside the restaurant getting up from their seats and grabbing and restraining the attacker.
According to Sarah, one of the owners of the family-run establishment, other customers ran from the scene and hid in the restroom and the kitchen, KGO reported.
"It was quite a shock, and everyone was scared," Sarah added to the station.
What happened next?
The two men helped restrain the attacker until Berkeley police arrived a short time later, KGO said.
Sarah extended a "thank you" to them during the interview with the station: "Just want to say thank you so much for your help, and you're very kind. You didn't hesitate to help us on that day. If that day nobody did anything, the man could have gotten away. Really, really appreciate you being our customer and being a Good Samaritan."
Certainly intervening in this type of situation isn't completely unheard of, but as readers of TheBlaze know all too well, it seems as though there have been a growingnumber of cases in which onlookerschoose to just watch the attacks or, worse yet, record them on video for laughs.
Anything else?
Berkeley police told KGO the attacker was arrested for serious felony assault.
Sarah added to the station that the suspect later said his behavior was due to a death in the family.