A Kansas City Chiefs football player wore a sweatshirt with the image of President Donald Trump meeting rapper Kanye West during a news conference just ahead of the Super Bowl.
Defensive end Frank Clark was immediately asked about the sweatshirt, and he smiled as he explained that a friend had given him the garment.
"Never forget, man!" he responded. "Y'all know the moment when Donald Trump met Kanye, a very historical moment in our history!"
The comment elicited laughter from the sports journalists, and Clark laughed along with them.
The sweatshirt read "never forget" over the famous image. The photograph was taken after the iconic rapper met then-President-elect Donald Trump at Trump Tower in December 2016.
Here's a screenshot of the image: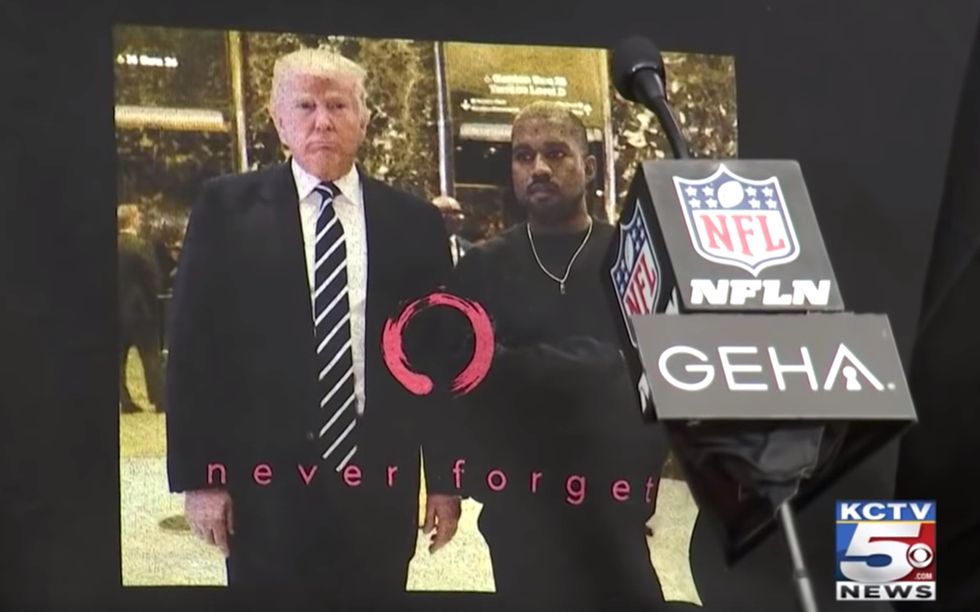 West later made headlines when he wore a "Make America Great Again" hat and encouraged African Americans to question their political allegiance to the Democratic Party.

The president was a vocal critic of the NFL over the protests taken up by many players who kneeled during the playing of the national anthem at games.
The Kansas City Chiefs will face the San Francisco 49ers in Super Bowl LIV on Sunday in Miami.
Here's the video of the news conference: