Kellogg Community College this week welcomed Dr. Adrien L. Bennings, who now leads the institution of higher learni… https://t.co/D28sKRYLuS

— Kellogg Comm College (@Kellogg Comm College) 1578689721.0
Eric Greene, KCC's chief communications, told the Battle Creek Enquirer that the move had nothing to do with Zeballos' controversial actions: "I don't think it would be fair to say that had anything to do with this. It had to do with the college being fiscal stewards of its resources, within any position at the college, there needs to be a clear demonstrated need."
A5. We celebrate @Kellogg_CC for recently appointing Jorge Zeballos as their Chief Equity and Inclusion Officer! Jo… https://t.co/JOC62PRBTk

— United Way BCKR (@United Way BCKR) 1568313423.0
But last month, the college released a statement emphasizing Zeballos expressed personal opinions on his own time and not as a representative of the school, WWMT said, adding that he was still working at KCC.
"However, this matter is a teachable moment and healthy reminder for all KCC employees that our actions as individuals can have an impact on the institution," the statement said, the station reported. "Whether that impact affects an individual's employment status at KCC, positively or negatively, is a determination made via KCC's ongoing performance management process"
What's the background?
Zeballos took part in the Dec. 18 protest — and he later posted the photo in question to his Facebook page, which is no longer publicly accessible, WWMT-TV reported.
But screenshots still exist: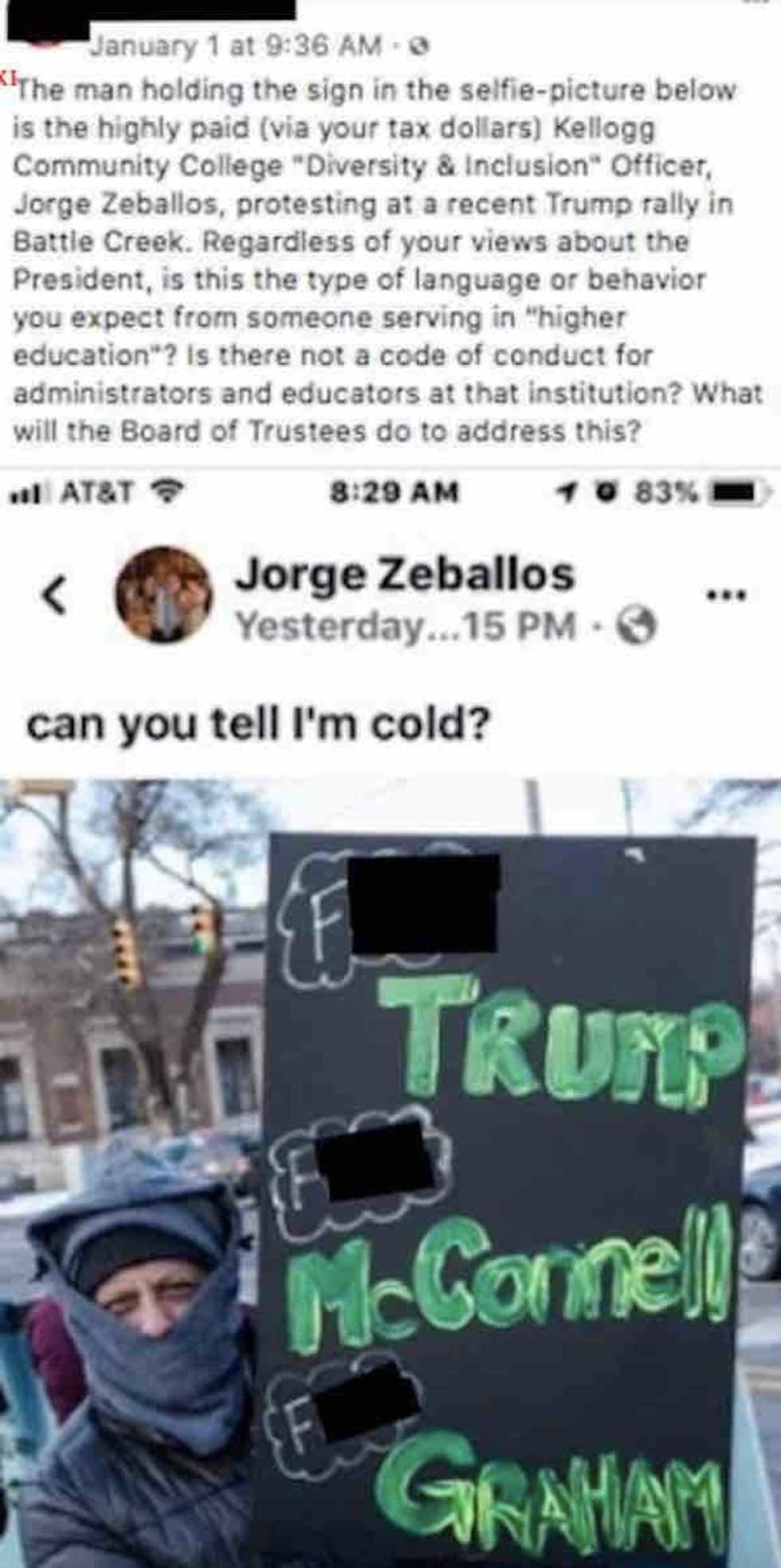 Image source: Facebook, redacted
'A sincere apology'
Zeballos recently addressed the KCC board of trustees and apologized for his actions, Campus Reform reported.
"The first thing I want to say is that the last couple of weeks have been really challenging for the institution and for me personally," Zeballos said. "This set of events has given me the opportunity to go into some deep reflection about my actions and the impact on the institution, so I want to offer this tonight: a sincere apology to the Board, my colleagues, Dr. Bennings, to students, to the community for the impact that my actions have had and the reactions that they have generated. I commit to moving forward, being much more mindful of any actions that I take and the impact that they might have on this institution. And I also firmly commit to taking any steps necessary to repair any trust that has been broken. Thank you."
After Zeballos spoke, KCC student Kimberly Towski addressed the board and said Zeballos has the right to free speech under the First Amendment, Campus Reform reported.
But Hal Longman argued that "somebody who's in the upper echelon of education using that kind of ... language just exposes [their] ignorance ..." the outlet noted.
Community member Joni Jones called Zeballos' actions "below the dignity of the office" of chief equity and inclusion officer and asked, "Is this the type of language that we taxpayers or you board members expect from a public higher education administrator? Is there not a code of conduct fo KCC employees?" Campus Reform added.
But one attendee noted to the outlet that "people ... found a way to attack and say, 'Hey, we want to get one of you brown people out of a position of power,' it's just white privilege. It's just that white entitlement piece straight across the board."