Update Sept. 11, 2020 2:25 PM ET: A spokesperson for Netflix tells TheBlaze, "There is no underage nudity in this film."
Original story continues below ...
Hordes of streaming viewers are calling to "cancel" Netflix after the company recently debuted the film, "Cuties," insisting that the project — which tells a story of a young "sensual dance" troupe — is nothing more than pedophilia.
Clips of the film have begun circulating on social media, showing varying degrees of apparent, inappropriate sexualization of young girls.
What's a very brief history here?
In August, the streaming giant came under fire after a trailer and poster for the award-winning French film sexualized the young girls acting in the project.
In a statement, Netflix issued an apology, saying, "We're deeply sorry for the inappropriate artwork that we used for Mignonnes/Cuties. It was not OK, nor was it representative of this French film which won an award at Sundance. We've now updated the pictures and description."
What are the details?
So far, nearly 600,000 people have signed a Change.org petition titled, "Cancel Netflix Subscription."
The film has also prompted hashtag #CancelNetflix to trend on social media.
Earlier Thursday, IMDB's film page for "Cuties" described a moment in the film as "lawfully defined as pedophilia."
One of the parental warnings on the film read, "During one of the many highly sexualized & erotic dance scenes that purposefully exploit & objectify numerous scantily clad under age [sic] girls, one of the female child dancers lifts up her cropped top to fully display her bare breast. This is lawfully defined as pedophilia and can be extremely distressing to many viewers."
Further, another warning noted, "An 11 year old [sic] girl watches a female rap music video where naked women role play through dance, both heterosexual & lesbian sex acts. An 11 year old [sic] female dance group then mimics these sexual moves on themselves and on each other while the camera zooms in on their sexual body parts as they erotically writher [sic]. This can be highly distressing to many viewers."
"Female breast nudity of a minor during an erotic dance scene and lengthy & excessive closeup shots of breasts, bums, and spread crotches of scantily clad 11 year old [sic] girls during numerous sexualized dance routines," another warning added.
Internet archive website Wayback Machine captured the following shot of the IMDB page at 1 p.m. EST on Thursday: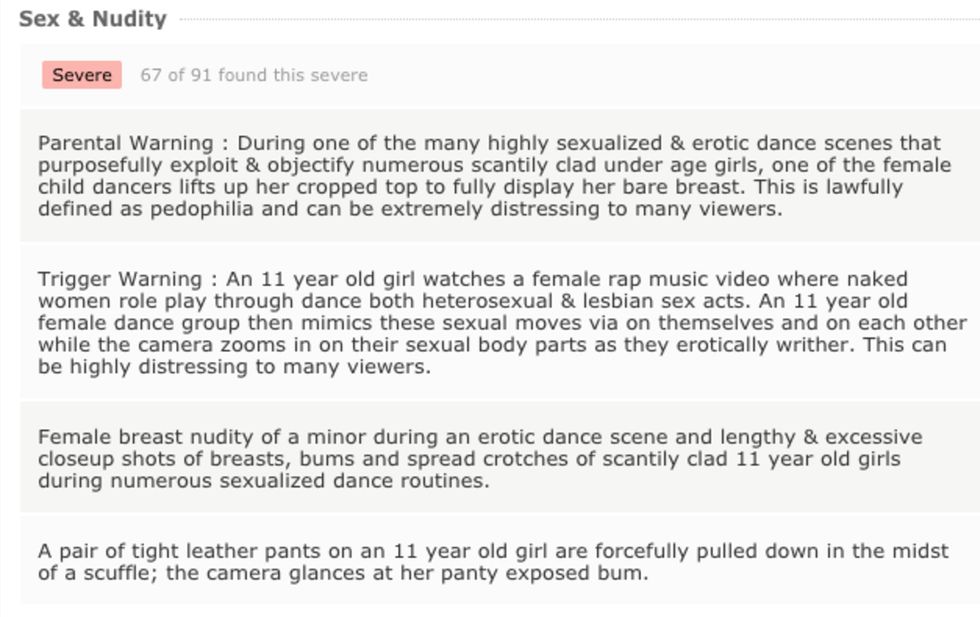 Image source: Wayback Machine IMDB screenshot
Less than an hour later, the page appeared significantly different, and warned only that the movie "consists of 11 year old [sic] girls dancing very suggestively."
It also adds, "A girl watches a female rap music video where naked women role play through dance."
At the time of this writing, the IMDB page is significantly different: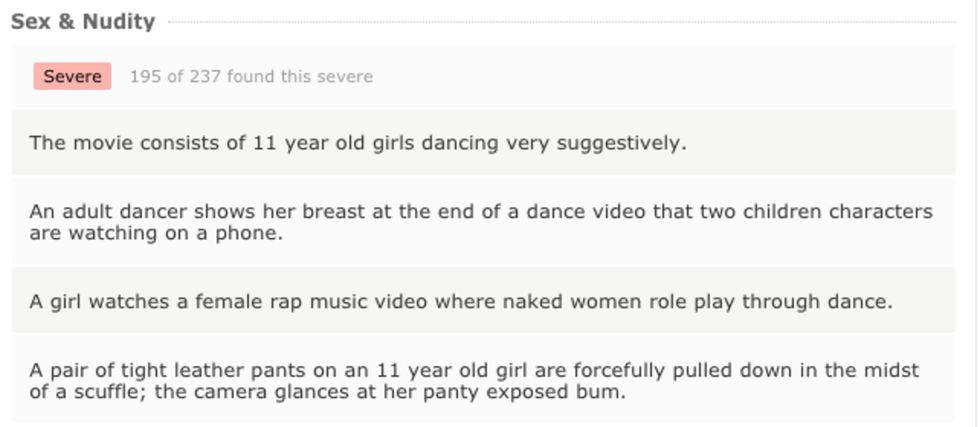 Image source: IMDB screenshot
What else?
Review aggregator Rotten Tomatoes currently ranks the film as 90% fresh.
The site declares that the film takes a "thoughtful look at the intricacies of girlhood in the modern age," and is a "coming-of-age film that confronts its themes with poignancy and nuance."
Decider's John Serba wrote, "Cuties is nuanced and gripping, a powerful and meritorious drama that doesn't deserve the type of ignorant condemnation it's endured."
Monica Castillo at RogerEbert.com added, "With Cuties, Doucouré announces herself as a director with a keen visual style who's unafraid to explore these cultural and social tensions."
Cuties | Official Trailer | Netflix www.youtube.com