A Democratic Party official in DuPage County, Illinois, has resigned following intense backlash to insensitive comments she made on social media about the tragic Christmas parade massacre in Waukesha, Wisconsin, that has left at least 5 dead and 40 injured.
What are the details?
Mary Lemanski, who formerly served as the social media director for the local Democratic Party, was hammered online over the weekend for seemingly shaming victims in the incident, which involved an SUV ramming through a crowd of people, including children and the elderly.
According to Fox News, in multiple since-deleted tweets, Lemanski belittled the tragedy by using it to express her anger over the verdict reached in the Kyle Rittenhouse case, at one point even calling their deaths "karma" for the teenager's acquittal.
"I'm sad anytime anyone dies," she reportedly wrote. "I just believe in Karma and this came around quick on the citizens of Wisconsin."
Elsewhere, Lemanski stated, "It was probably just self-defense," attempting to mock Rittenhouse's claims of self-defense in the trial.
"Living in Wisconsin, he probably felt threatened," she added in reference to the suspected driver, 39-year-old Darrell Brooks. "I'm sure he didn't want to hurt anyone ... He came to help people."
At one point she wrote, "The blood of Kyle Rittenhouse's victims is on the hands of Wisconsin citizens, even the children," and added, "You reap what you sow, Wisconsin."
Rittenhouse was acquitted of multiple counts, including felony murder, last week after a jury agreed that he had in fact acted in self-defense when he fatally shot two men and wounded a third during the Black Lives Matter Riots in Kenosha, Wisconsin last summer.
What else?
In a tweet posted Monday morning, the DuPage Democratic Party condemned Lemanski's tweets as "incredibly insensitive."
We are deeply saddened by the tragedy in Waukesha.We are aware of statements made by a former member of our organization and find them to be incredibly insensitive and not in alignment of who we are as an organization. Our organization does not support hate in any form

— DuPage Democrats (@DuPage Democrats) 1637593764
Lemanski, too, shared a statement she made on the DuPage Democrats page on her own Twitter account, in which she mustered up some form of an apology. Lemanski's account has since been made private, but a screenshot of her post can be seen below.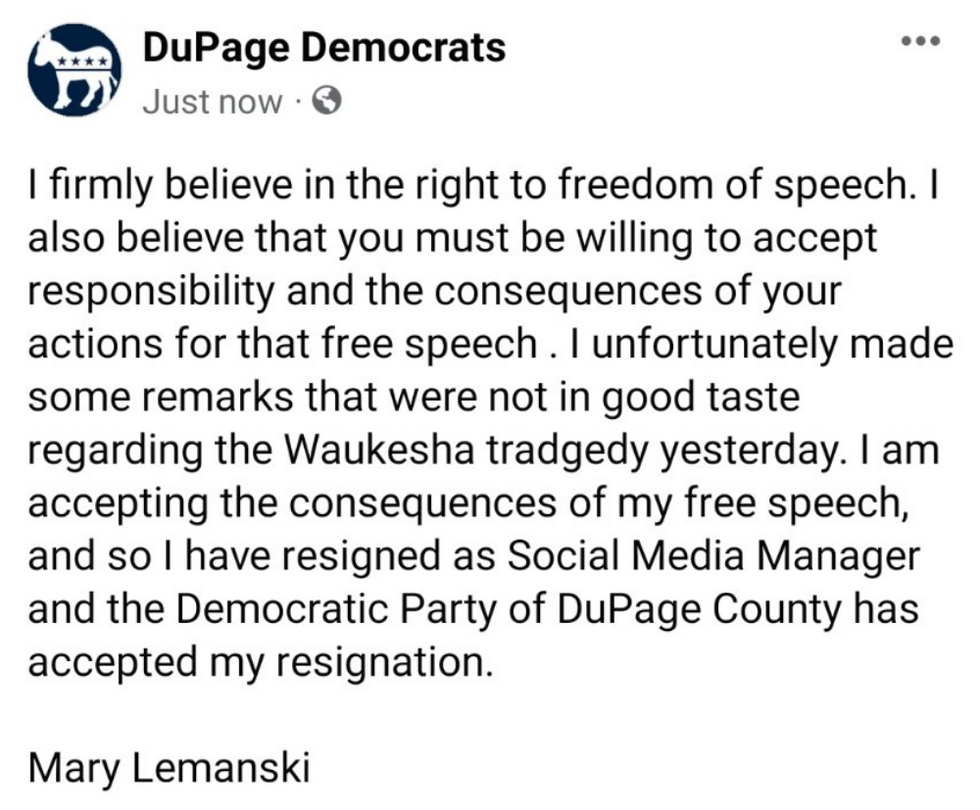 Image Source: Twitter screenshot
In another post, Lemanski complained about people being outraged over what she characterized as just a "stupid remark."

Image Source: Twitter screenshot
Anything else?
Commenters online roasted Lemanski for her incredibly insensitive remarks, the New York Post reported. Here are a few examples gathered and published by the news outlet:
"Seriously how does it feel to completely flush your career down the toilet via tweet? Was it fun?" one user wrote.

"What career. She's yeah and will always be. The entire country will see her tweets tomorrow and she will never recover," another said.

A third user wrote: "I hope you never know the pain of losing a child. I hope the parents of those lost today in Waukesha never know you. I feel sad for both you and them."

And yet another one said: "I don't understand how you can be this hateful and glib. I was going to pray for the families of those who were killed tonight. But I will add you into my prayers as well. I think you could use some."
"For those that don't believe Demonic Possession exists, think again and have a look at Mary Lemanski," Illinois Senate candidate Bobby Piton wrote.
"And she's gone," another commenter added after Lemanski's Twitter account went private. "Let's pour a 40 oz bottle of bug-b-gone on the decrepit remains of Mary Lemanski's Twitter account."