Earlier this month, the New York Times published a story saying "experts" suggested that President Joe Biden's administration should set up a "truth commission" and appoint a "reality czar" to battle "disinformation and domestic extremism."
Now a Democratic congresswoman also is touting a "truth commission."
Freshman U.S. Rep. Sara Jacobs on Sunday told CNN's Brian Stelter on his "Reliable Sources" program that we need a "truth commission" to put down "extremist ideology" so Americans can all have a "common narrative" about what is true and what isn't.
What are the details?
Before her "truth commission" declaration, Jacobs defined an "extremist" as one who's "unable to take in competing ideas and reflect the truth."
Not that such a condition isn't an issue with the left, but whatever — Stelter seemed to enthusiastically agree with her take.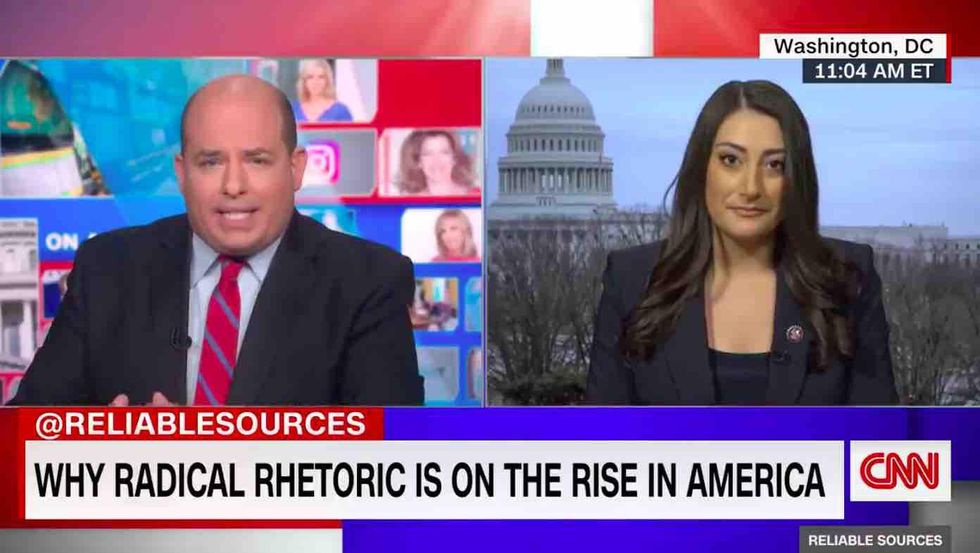 Image source: Twitter video screenshot via @ReliableSources
Jacobs added that extremists believe their "sense of identity" is being threatened and lack "critical thinking skills" — and have this oh-so-problematic access to "common social networks" with those who share their views.

Stelter seemed to love what he was hearing. After all, a few weeks back he said he wanted the influence of "liar" Fox News reduced — and yet claimed his wish somehow wasn't "censorship."

So he took Jacobs words farther, invoking problems such as the "impact of cellphones and this constant connectivity, social networks and far-right television networks" — all of which are "fueling a fire" of extremism.
Jacobs replied by saying "we know the violence on [Jan. 6] was predicated on the idea of the 'big lie' — the fact that this election was stolen despite the fact that Donald Trump's own Department of Homeland Security says it was not. You need to be able to perpetuate that kind of lie in order to get the kinds of reactions that you did. I think we need to look at far-right media — which I know, Brian, you have been such a leader on calling out — and also the role of social media and the whole ecosystem of social media where the kinds of information and the kinds of posts that get the biggest reactions are the ones that are prioritized by their algorithms."
Soon Stelter added that for the United States "it's about a 'whitelash,' about a white Christian America reaction, backlash, to a changing country personified by Trump. But ... none of this is going away now, even though the [second impeachment] trial is over and even though one phase of Trumpism is over. You also said in an interview with the 19th News website this week that the country needs a truth commission. What exactly would a truth commission be?"
Jacobs explains what her 'truth commission' would look like
"Because we haven't really done the reckoning with the racial injustice and white supremacy of our past that we need to do," Jacobs replied. "And so ... a truth commission — a lot of people will think of South Africa --- we've used them in countries around the world. And basically ... it's communities all the way up to the national level having conversations about both the gory and the glory of our history and what happened — both throughout the history of our country and leading up to and on January 6 — so that we can come to a common narrative, moving forward, of what we want our country to be."
"We define an extremist ideology as one that is unable to reflect the truth. I think that's exactly what we're seei… https://t.co/iCA15rtKWX

— Reliable Sources (@Reliable Sources) 1613321371.0