Leave it to a Florida pizzeria with New Jersey roots to turn an off-the-cuff middle finger at President Joe Biden into a hit that may become a boon to the end-of-the-year bottom line.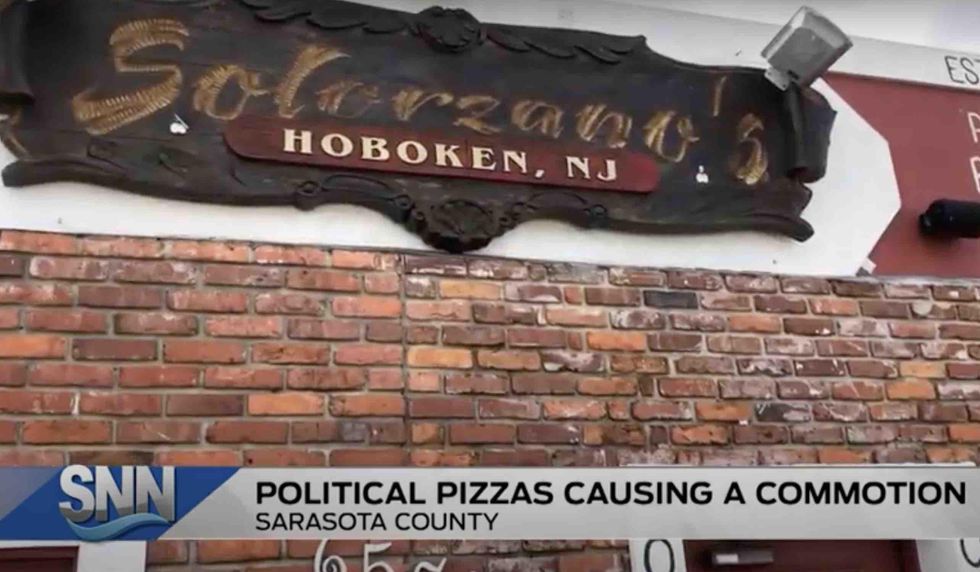 Image source: YouTube screenshot
What are the details?
Phil Solorzano — the outspoken founder and owner of Solorzano's Pizzerias, which boast six locations in Sarasota County — was at his wit's end with the supply chain slowdown last month, Patch reported.
And Solorzano placed the blame on rising costs and item unavailability squarely on Biden's shoulders, the outlet said.
"Pepperoni more than doubled. Most products have doubled," he told Patch. "Kenny [Palin, general manager and franchise owner] has been telling me for months there are products you can't find, that are out for two to three weeks. It's just a pain in the butt."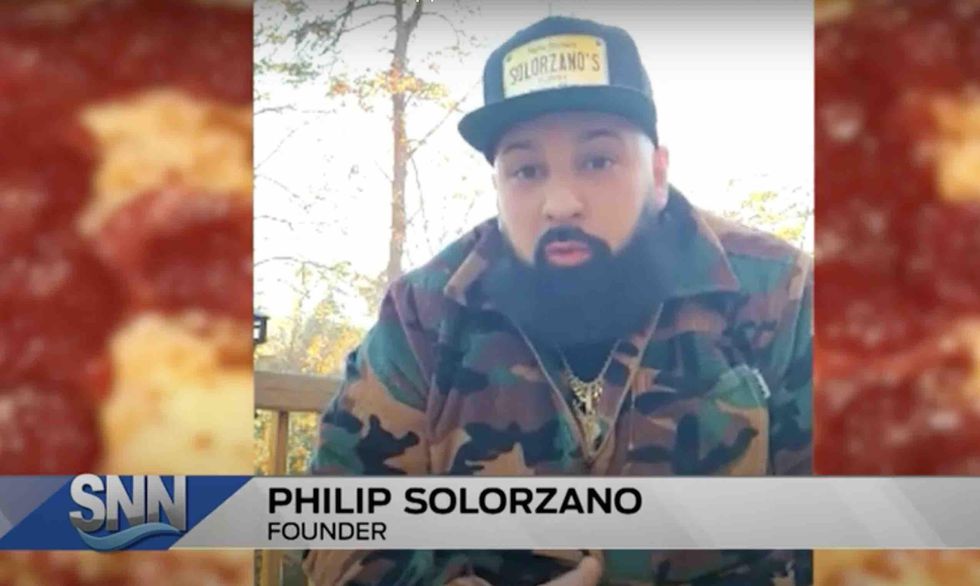 Image source: YouTube screenshot
With that, Solorzano called up Palin and said, "Yo, Kenny, put 'FJB' — 'F*** Joe Biden' — on a pizza," the outlet said, adding that Solorzano noted it was a "jab" at the president.
Palin — who worked with Solorzano's for seven years as general manager before purchasing the Gulf Gate/Siesta Key and Longboat Key locations Nov. 1 — told Patch the supply chain problems are right in his face, but they do what they can for customers.
"It costs more to make, but we sell it at the same price," Palin added to the outlet.
'It's taken on a life of its own'
During the first couple of days in the life of the 'FJB' pepperoni pizza, Solorzano's sold only sold a handful of them, Patch said.
But last week, Suncoast News Network reported that 10 pies were sold on Monday, then another 20 on Tuesday. And now they're flying out the door.
The "FJB" has "really blown up," Palin told Patch. "It's taken on a life of its own."
With all the attention they're getting, Solorzano's is rolling out "FJB" T-shirts, which sold out before the first shipment arrived, according to SNN. What's more they're adding "LGB" pizza Thursday — the infamous initials for "Let's Go Brandon," the Patch reported.
How have folks reacted?
And the pizza joint has seen its share of positive and negative responses to its "FJB" pizza.
"We're getting both reactions, obviously," Solorzano told Patch. "People know who we are, and who I am on social media. I kind of show no mercy, and people know my opinion. They agree with us, or if they don't agree with us, they laugh at us and know we're joking around most of the time. That's how I am."
Palin added to SNN that "business owners have also reached out to us and said, 'Hey, listen, we wish we were in a position to where we could be true to ourselves and say what we really want to say.'"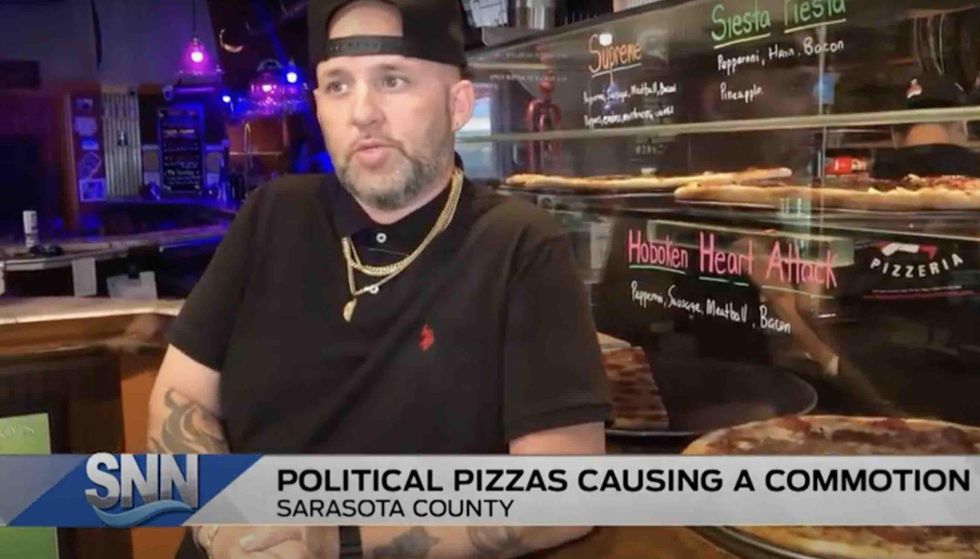 Image source: YouTube screenshot
As far as dealing with angry comments from "some real haters," Solorzano noted to Patch that most of them "live out of the state or even out of the country. They've never been to Florida. They've never been to our restaurant. They were never going to eat here in the first place."
But what about potential boycotts? "I love it," he told SNN. "Please, please boycott us. That would be like the 500th boycott which does nothing but bring us more business."
"I love ruffling those feathers. I love pressing those buttons. And you know why? Because why not," Solorzano also told SNN.
He added to Patch: "I'm from Jersey, and the best way I explain it is real Jersey pizza equals real Jersey people. We're honest people. This is how I feel. Just because I own a business doesn't mean I signed away my freedom of speech."
What about Trump?
Oh, and for those who think Solorzano's isn't an equal opportunity offender, know that those who want their special toppings to spell out the same profane message to former President Donald Trump are in luck.
"If you wanna walk in here and order an 'FDT' pizza, we'll make it now, happily," Palin told SNN. "So it's just business. It's good fun. It's lighthearted humor. It's politics. And it's not meant to be the end all be all."
SNN: Solorzano's Pizza - Political Pepperoni youtu.be