San Francisco's far-left Mayor London Breed — who last year jumped on the "defund the police" bandwagon after the death of George Floyd and proposed $120 million in cuts to police budgets over two years — now suddenly is getting tough on "bulls**t" crime "that has destroyed our city."
What are the details?
Breed on Tuesday launched an emergency police intervention in the city's high-crime Tenderloin neighborhood over rampant drug use and related gun violence, KPIX-TV reported.
"It's time, the reign of criminals who are destroying our city, it is time for it come to an end," she said with an angry tone at a press conference, the station said. "And it comes to an end when we take the steps to be more aggressive with law enforcement. More aggressive with the changes in our policies and less tolerant of all the bulls**t that has destroyed our city."
Breed also said she's looking to fight other headline-grabbing crimes plaguing San Francisco, such as "brazen robberies and car break-ins," KPIX said, adding that the planned tools to combat crime will include:
Securing emergency police funding for needed resources;
Amending the city's surveillance ordinance so law enforcement can interrupt crime in real time;
Disrupting the illegal street sales of stolen goods.
She added that such crime "has become far too normal and cannot continue to be tolerated," the station said.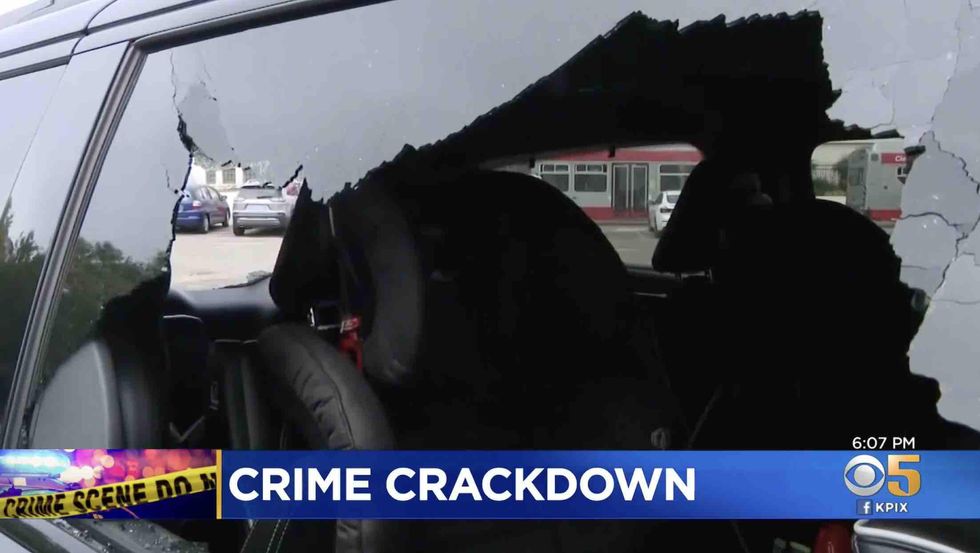 Image source: KPIX-TV video screenshot
"We're not a city where anything goes," Breed said, according to KPIX, adding that "all of our residents, our workers, and everyone who visits our city should feel safe no matter what part of town they are in."
The central district of the city's police department encompasses tourist destinations such as Fisherman's Wharf and Chinatown — and it also sees the highest number of smash-and-grabs, the station said. KPIX said there were 876 reports last month — almost 30 per day — compared with 442 last November.
"To be clear, what I'm proposing today, and what I will be proposing in the future, will make a lot of people uncomfortable, and I don't care," she also noted, the station said, adding that "we are past the point where what we see is even remotely acceptable."
What a difference a year makes
Just weeks after Breed's $120 million proposed cutback to the city's law enforcement budgets in July 2020, it was reported that San Francisco police were leaving the department in record numbers due in large part to what many have seen as the city's soft-on-crime approach.
Still, in February 2021, Breed called the law enforcement fund transfer to budgets for underserved communities a necessary reparation for city policies that she said led to "decades of disinvestment" in black communities, KQED-TV reported.
Board of Supervisors President Shamann Walton added to the station that the financial move was a "first step in righting the wrongs of history" and a "first step toward true reparations for the black community here in San Francisco."
However, in June 2021 Breed proposed increasing the 2021-22 police budget to $661 million in 2021-22 — a rise by $5.9 million over the budget the board approved last year, the San Francisco Examiner said.
What's more, also in June SFWeekly reported that the city's police budget was projected to rise by $28 million in 2022-23.
What changed?
Maybe it was the viral videos of brazen, organized looting that changed Breed's mind, or perhaps it was the report that some residents resorted to hiring private security to protect themselves from out-of-control crooks. Then again, maybe it was the city's Chamber of Commerce poll conducted over the summer that found 40% of residents are planning to leave the city over the next few years due to a rapidly deteriorating quality of life.
(H/T: The Daily Wire)