But that changed on Friday at the Class S state championship when Mitchell beat Miller in a 55m event.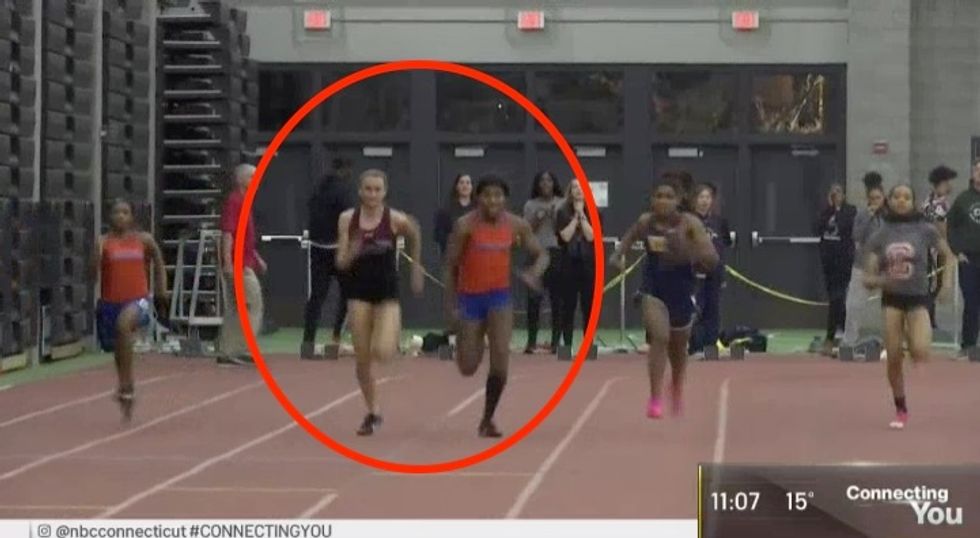 Image source: WVIT-TV screenshot
According to the Hartford Courant, Mitchell of Canton High bested Miller of Bloomfield by just .02 seconds, clocking in at 7.18 seconds to Miller's 7.20 seconds.

The race was Mitchell's first ever victory over Miller in the event, according to WVIT-TV.
"I try to just clear everything out of my mind, this is just track, you know, it's just running, just focusing on myself, not trying to think about anything else that's been happening," Mitchell told WVIT after the race.
When asked if her victory would hurt her lawsuit, Mitchell said, "I don't think it could go against, there's still tons of girls that lose on a daily basis."
There was no interaction between the two athletes after the race, the Courant reported. However, Miller, who clapped after the race, appeared to take a subtle jab at Mitchell in her post-race comments.
"I clapped because, for me, I'm not a hater," Miller said. "When you take a win, you take the win. And even if you don't respect me, I'll respect you."

The CIAC contends their policy of allowing boys to compete in girls' sports follows federal anti-discrimination laws. Meanwhile, ACLU has called the lawsuit "a dangerous distortion of both law and science in the service of excluding trans youth from public life."