Andraya Yearwood — a 17-year-old biological male who identifies as female — took second-place earlier this month at Connecticut's indoor track girls' 55-meter sprint. Yearwood's time was 7.01 seconds; the third-place sprinter — who is not transgender — hit the tape at a distant 7.23 seconds.
Terry Miller of Bloomfield High — who, like Yearwood, is transgender — won the event with a state record time of 6.95 seconds, the Associated Press reported.
Yearwood can be seen in the far left in the following photo:
The latest The Sport Daily! https://t.co/ofVHEwwZaD Thanks to @EAFIFAesports @GCHSbuffs @Clarenceonyeks #india #sixstarfinisher

— IPL Live Streamings (@IPL Live Streamings) 1551116184.0
TheBlaze in 2017 first covered Yearwood — then a freshman at Cromwell High School — after winning the girls' 100-meter and 200-meter dashes at the Connecticut high school Class M state championships. In 2018, Miller crushed the competition in the girls' 100-meter and 200-meter dashes at the state meet with Yearwood coming in second in the 100.

But despite the controversy surrounding Miller and Yearwood's overwhelming success, Yearwood — who acknowledged a strength advantage over many competitors, the AP reported — said biological females may have other advantages.
'Perfect form' and 'so much money' for training
"One high jumper could be taller and have longer legs than another, but the other could have perfect form, and then do better," Yearwood told the AP. "One sprinter could have parents who spend so much money on personal training for their child, which in turn, would cause that child to run faster."
Miller declined an interview for the outlet's story, but the AP noted that Miller "has said that if she felt a competitor had an unfair advantage, it would simply push her to try to improve."
A biological girl speaks out
Selina Soule is a biological female who finished eighth in the 55-meter sprint — and missed qualifying for the New England regionals by two spots, the outlet said.
The Glastonbury High School junior told the AP had Miller and Yearwood not run, she would be in the regional race and showing her abilities to more college coaches.
"We all know the outcome of the race before it even starts; it's demoralizing," Soule told the outlet. "I fully support and am happy for these athletes for being true to themselves. They should have the right to express themselves in school, but athletics have always had extra rules to keep the competition fair."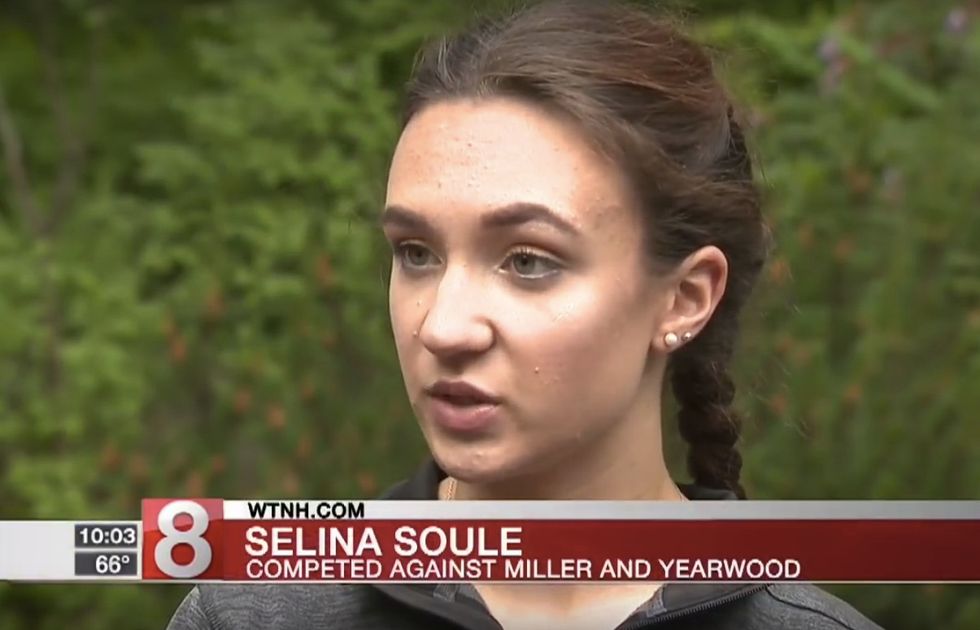 Image source: YouTube screenshot
Jon Forrest's daughter is a teammate of Soule and told the AP the "disparity" is all too visible.
"The facts show Glastonbury would be the state champion based on cisgender girls competing against cisgender girls," he told the outlet. "You don't realize it until you see it in person, the disparity in the ability to perform."

What do state officials say?
The Connecticut Association of Schools-Connecticut Interscholastic Athletic Conference told the AP its policy follows a state anti-discrimination law that says students must be treated in school by the gender with which they identify.
"This is about someone's right to compete," executive director Glenn Lungarini told the outlet. "I don't think this is that different from other classes of people, who, in the not too distant past, were not allowed to compete. I think it's going to take education and understanding to get to that point on this issue."
What does another transgender athlete have to say?
Joanna Harper is a medical physicist and transgender runner from Portland, Oregon, and told the AP that biological males have advantages over biological females until hormone therapies begin to work — and how they work in each athlete is different.
"The gender identity doesn't matter, it's the testosterone levels," Harper, who studies transgender athletes, told the outlet. "Trans girls should have the right to compete in sports. But cisgender girls should have the right to compete and succeed, too. How do you balance that? That's the question."
For Yearwood, any opposition is incentive to compete harder.

"I have learned a lot about myself and about other people through this transition. I always try to focus most on all of the positive encouragement that I have received from family, friends and supporters," Yearwood told the AP. "I use the negativity to fuel myself to run faster."
Here's a profile on Yearwood and Miller from last year: