Editor's note: This story has been updated with a new statement from SDG&E and a link to a petition in support of Emmanuel Cafferty.
A San Diego man lost his job recently after being accused on social media of making a racist gesture, but he says he was just cracking his knuckles. Now his accuser has backed off and said it might have all be a big mistake.
What in the world happened?
Emmanuel Cafferty lost his job with San Diego Gas and Electric last month after a stranger took a photo of him with his arm hanging out the window of his company pickup while he happened to be near a Black Lives Matter rally. The photographer then posted the image to Twitter, KNSD-TV reported.
The poster accused Cafferty, who is Hispanic, of making a "white power" hand gesture that has been made popular by many white supremacists. The gesture resembles the "OK" sign that includes the thumb and forefinger in a circle and the three other fingers extended.
The original tweet said, "[J]ust passed a bunch of kids walking on the sidewalk holding BLM signs, honked to say I am with them and this guy in the #SDGE truck pulls along side and flashes this at me for the next couple blocks."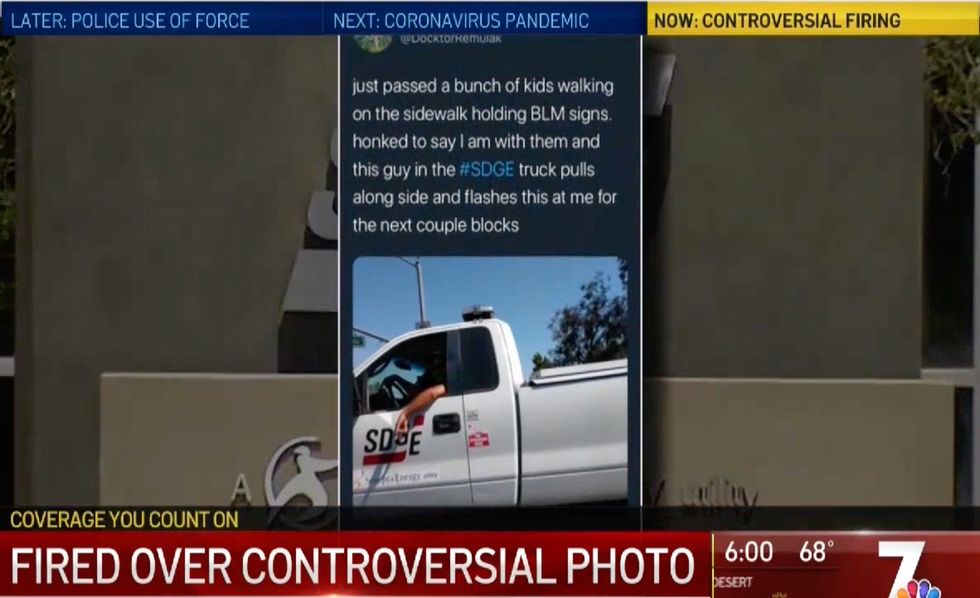 Image source: KNSD-TV screenshot
Cafferty told KNSD that he was simply cracking his knuckles.

"I do that a lot when I'm driving," he said. "It has no racist intent behind it."
Shortly after the tweet with his image went viral, Cafferty was suspended from his job and told that an investigation was underway. A few days later, SDG&E gave him a pink slip and sent him packing.
Cafferty was flummoxed, telling KNSD, "When my supervisor said that I was being accused of doing a white supremacist gesture, that was baffling."
"I was confident that I would be able to — with my character — show SDG&E that I'm not a racist," he added.
"It's scary that you can be charged, tried, and convicted on social media without your permission, without no corroborating evidence of any type," he said.
And now Cafferty is despondent.
"I don't know how long it's going to take me to get over this," he told the station, "but to lose your dream job for playing with your fingers, that's a hard pill to swallow."
The outlet contacted Cafferty's original Twitter accuser about the incident. Apparently he has since realized that he may have ruined an innocent man's life.
The accuser has not only deleted the original post — he has deleted his entire Twitter account. And he told reporters that it's possible he just got "spun up" about the situation and misinterpreted Cafferty's motions. He added that he never intended for Caffery to get canned.
SDG&E released a statement, KNSD reported, saying: "We hold all SDG&E employees to a high standard and expect them to live up to our values every day. We conducted a good faith and thorough investigation that included gathering relevant information and multiple interviews, and took appropriate action."
UPDATE — June 17, 8:20 a.m. ET: SDG&E responded to TheBlaze's report with the following statement:
SDG&E employees are held to a high standard and are expected to live up to our values every day, whether in interactions with fellow employees or the public. We conducted a good faith and thorough investigation that included gathering relevant information and multiple interviews, and took action in line with those values. While we are not able to reveal the full circumstances surrounding our investigation and Mr. Cafferty's separation from the Company, we stand by our decision and will not be commenting any further.
In light of SDG&E's decision, a petition was launched at Change.org to urge the company to give Cafferty his job back.
On June 3rd, Emmanuel Cafferty was falsely accused of displaying a white power hand gesture via social media. Emmanuel had his arm extending out his window and was merely stretching his fingers unaware of any such hand gesture. This resulted in a wrongful termination on June 8th by his employer SDGE. Since these events the accuser, who had made the original post, has repudiated his position and deleted his account, claiming he never intended for Emmanuel to lose his job. Regardless, the damage has already been done. An innocent man has lost his job and the ability to provide for his family. Moreover, his character has been questioned in such uneasy times.

As a hard working man, this was not only losing a job but a lost opportunity in securing his future and providing for his family.

Emmanuel Cafferty was very thankful and excited to be working for a company whom he thought valued their employees, making this all the more difficult to accept. He is a proud Hispanic, San Diego native with a racially diverse family, including daughters of Laos, Italian, and Sioux descent. Furthermore, he has no history of any racist, or otherwise discriminatory, behavior or accusations. Had SDG&E done their due diligence, as they claim, it would've been evident that he is NOT a white supremacist.

We are asking that SDGE do the right thing and give Emmanuel Cafferty his job back and clear his name.
The full petition is available to read and sign here.