© 2023 Blaze Media LLC. All rights reserved.
Five Antifa scumbags gang up on man, beat him silly — and their 'comrades' demand reporter not record attack
'Do not film! Do not film! Do not film this!'
Washington, D.C., and Washington state weren't the only flash points of Antifa thuggery over the weekend.
The black-clad leftists — who gaslight us with their self-described "anti-fascist" credo while engaging in blatantly fascist violence, bullying, and intimidation against anyone who gets in their way with few consequences — decided they would flex their muscles in Sacramento, California.
What happened?
The Proud Boys were protesting there Saturday, and Scott Rodd — the state government reporter for CapRadio News — was there to document the violence when Antifa decided to join the fray.
Rodd noted in a Twitter thread that "today was the most violent of any protest in downtown Sacramento since the election. Mace, batons, fisticuffs. A guy even pulled out a katana." A katana is a Japanese sword with a curved, single-edged blade used for slashing and stabbing — and yes, turns out an Antifa militant was brandishing the Samurai weapon, although Rodd referred to him as a "man on [the] counter-protest side."
One of the most draw-dropping of Rodd's clips showed what he said was a "man with a baton" who was "verbally antagonizing the group of counter protesters" — i.e., Antifa.
And how did the Antifa militants handle the verbal slights? "A number of them rushed him in an alley and beat him," Rodd wrote. It appears to be a five-against-one gang-up — Antifa aren't known for fighting one on one: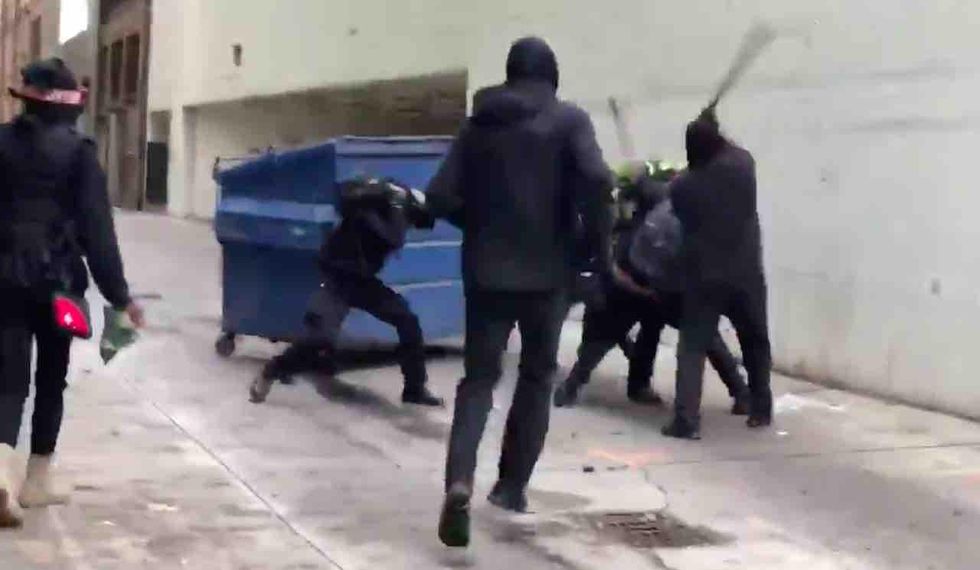 Image source: Twitter video screenshot via @SRodd_CPR
They seem nice.
But that wasn't all. "Multiple counter-protesters blocked me and demanded I not film," Rodd added in his tweet. "I said (through a gas mask) I'm press and just doing my job."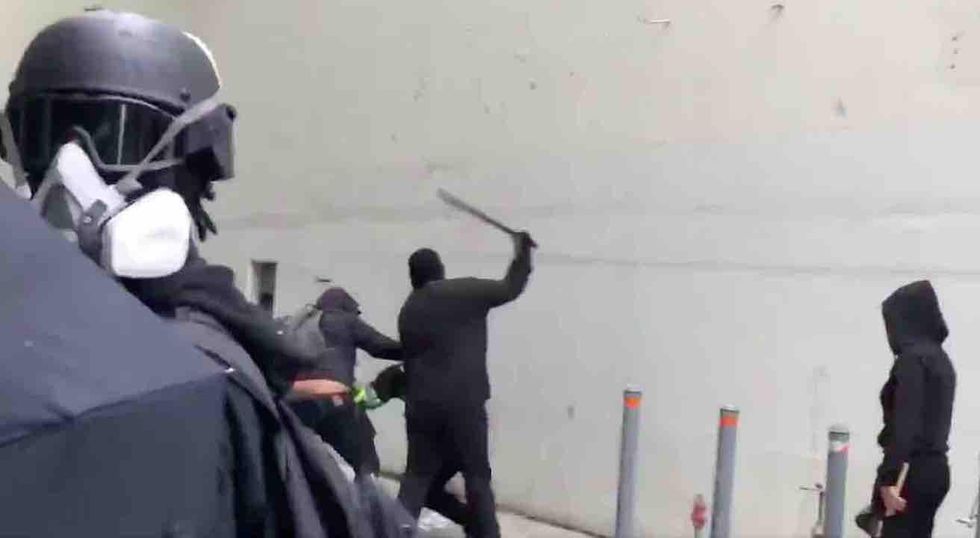 Image source: Twitter video screenshot via @SRodd_CPR
"Do not film! Do not film! Do not film this!" one leftist is heard hollering at Rodd while black umbrellas attempt to block him from recording.
When the beating ends, Rodd captures the image of the victim sprawled on the concrete and struggling to stand: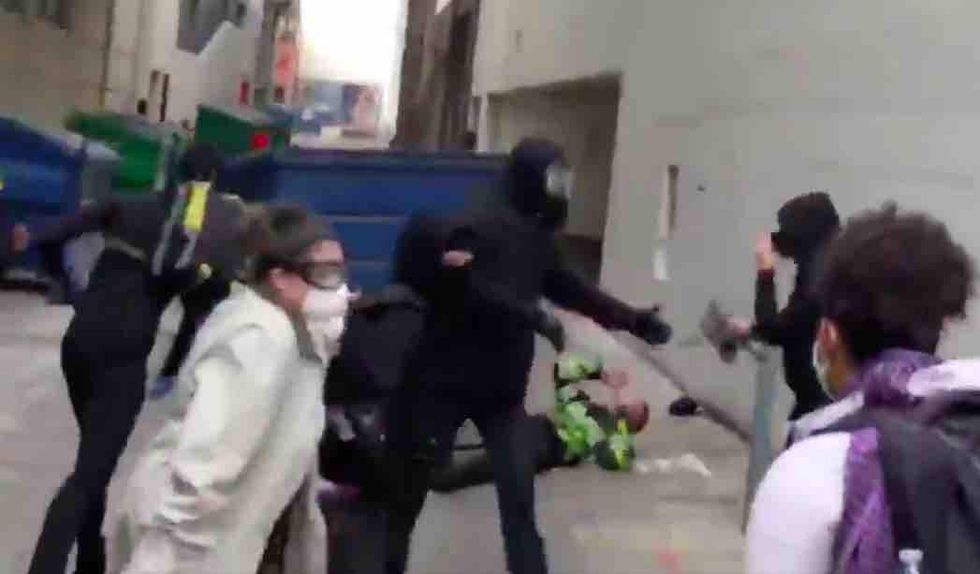 Image source: Twitter video screenshot via @SRodd_CPR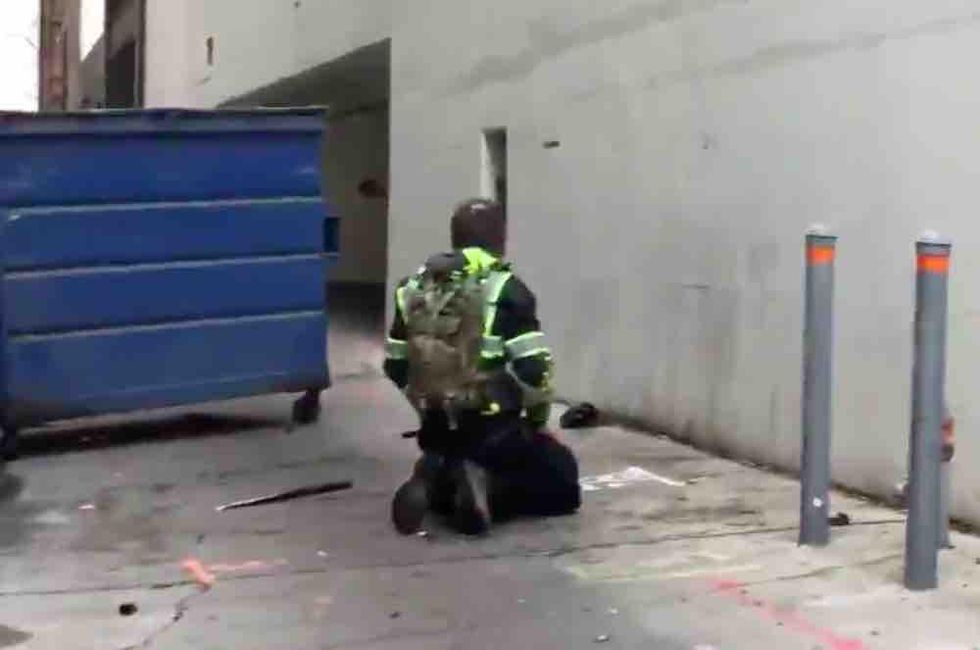 Image source: Twitter video screenshot via @SRodd_CPR
Here's the clip:
One might assume if our anti-fascist friends weren't up to anything violent or illegal — you know, like if they were sitting down over beers and coming together as one with conservatives in their post-election euphoria so we can build back better or something — they wouldn't be demanding that journalists refrain from documenting their actions.
This blatant prevention of First Amendment-protected reporting is an ongoing MO with Antifa and other violent leftist groups such as Black Lives Matter. We saw it in broad daylight in Portland, Oregon, last week when a gang of militant leftists bullied and physically attacked a Portland TV news reporter and videographer who dared enter their "autonomous zone" — and then kicked them out.
Still, there are plenty of folks still demanding cover for Antifa lawlessness, like one guy who warned Rodd that "there can be legal consequences for their comrades if you get too close [with a video camera]. It's a thin line. I have no respect for snitches disguised as journalists. Respect earns respect and trust earns trust."
But another Twitter user wasn't having any of it and shot back, "If your comrades aren't violating LAWS, then there wouldn't be LEGAL consequences! Freedom of the press is a fundamental right, protected by the constitution. If their actions put them in legal jeopardy, thats 100% on them!"
Want to leave a tip?
We answer to you. Help keep our content free of advertisers and big tech censorship by leaving a tip today.
Sr. Editor, News
Dave Urbanski is a senior editor for Blaze News.
DaveVUrbanski
more stories
Sign up for the Blaze newsletter
By signing up, you agree to our
Privacy Policy
and
Terms of Use
, and agree to receive content that may sometimes include advertisements. You may opt out at any time.