TJ Helmstetter, a former associate communications director for the Democratic National Committee, celebrated the Fourth of July by getting tossed from a Washington, D.C., restaurant seemingly for the most patriotic of reasons — "standing up to a Nazi."
Just got thrown out of Hill Country DC for standing up to a Nazi. Don't go there ever again. They support Trump and… https://t.co/MQWtTz5Ipb

— TJ Helmstetter (@TJ Helmstetter) 1562287056.0
So, was it some guy adorned with swastikas and goosestepping to a chorus of "zeig heil"?
Well, no. But it was one of those knuckle draggers wearing a "Make America Great Again" hat — the iconic symbol of President Donald Trump's 2016 campaign:
@daveweigel @HillCountryWDC @HillCountryBBQ Guy wears MAGA hat at my favorite restaurant. I say "hey are you from d… https://t.co/2HzCriQ664

— TJ Helmstetter (@TJ Helmstetter) 1562288180.0
MAGA hats have indeed become like kryptonite to scads of leftists. TheBlaze has reported on numerous instances in which anti-Trump folks flipped out at MAGA-hat wearers, took off or knocked the caps from their heads, or actually stole them as video recorded the incidents.

But wait, there's more!
Rather than leaving well enough alone, Helmsetter said he contacted the manager of the Hill Country barbecue joint and didn't get the answer he wanted:
And he was still upset about the woman who he said poked him in the chest:
And for the record, the Nazi's girlfriend assualted me by jabbing her fingers into my chest repeatedly, and I simpl… https://t.co/Pmc5SCM5Yi

— TJ Helmstetter (@TJ Helmstetter) 1562290115.0
Kurt Schlichter, Townhall senior columnist, thought that was cute:
@TheTJHelm @daveweigel @HillCountryWDC @HillCountryBBQ I've never been beaten up by a girl. What's it like?

— Kurt Schlichter (@Kurt Schlichter) 1562312275.0
Helmstetter even attempted to make a First Amendment case out of the whole deal: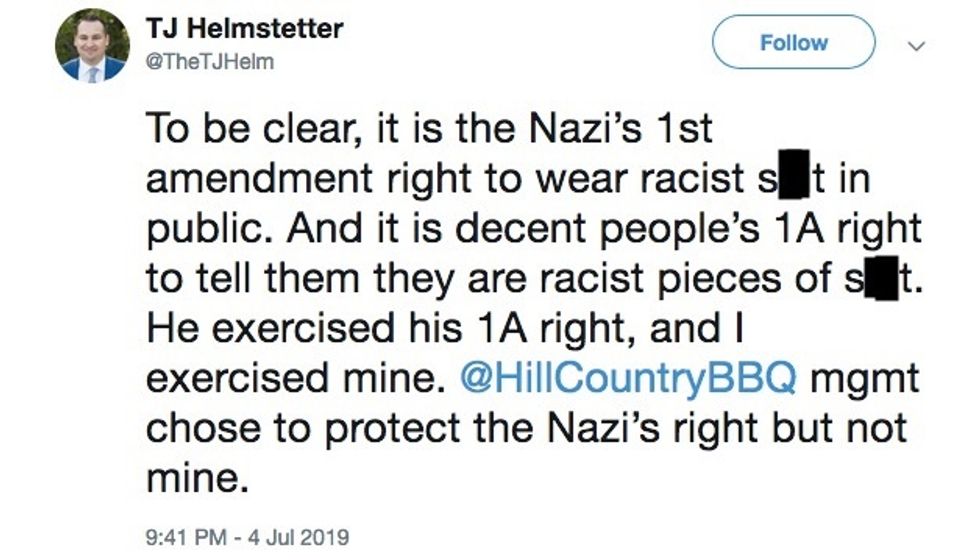 Image source: Twitter, redacted
But our own Jason Howerton offered the following retort: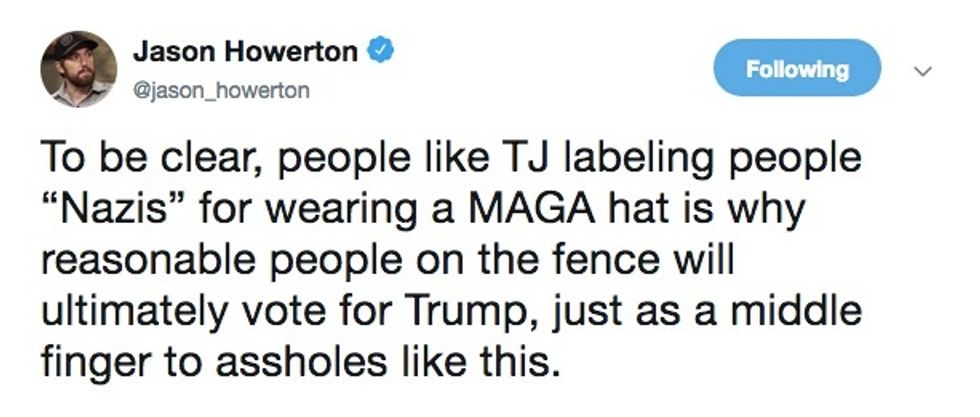 Image source: Twitter
(H/T: Twitchy)