John Della Volpe, director of polling for the Institute of Politics at the Harvard Kennedy School, said that voters under 30 are the reason the "red wave" of Republican victories failed to materialize, and he predicted it a week before the election.
Volpe posted results from a CNN national exit poll of voters that showed those between 18 and 29 broke for Democrats at a 28% margin, far higher than older voters.
"One thing I know already. If not for voters under 30 ... tonight WOULD have been a Red Wave," he tweeted. "GenZ did their job."
Volpe had predicted on MSNBC a week prior to the election that there would be wave of Gen Z voters based on what he saw in his polling surveys.
"I'm not sure whether we'll see a red wave or a blue wave in a couple of weeks," he said on MSNBC. "I am positive we will see a Gen Z wave, especially in the battleground states."
The polling showed that among 19- to 29-year-olds, 40% said they would definitely vote, 16% said they would probably vote, and another 18% said there was a 50/50 chance they would vote. Only 25% said they would probably not or definitely not vote.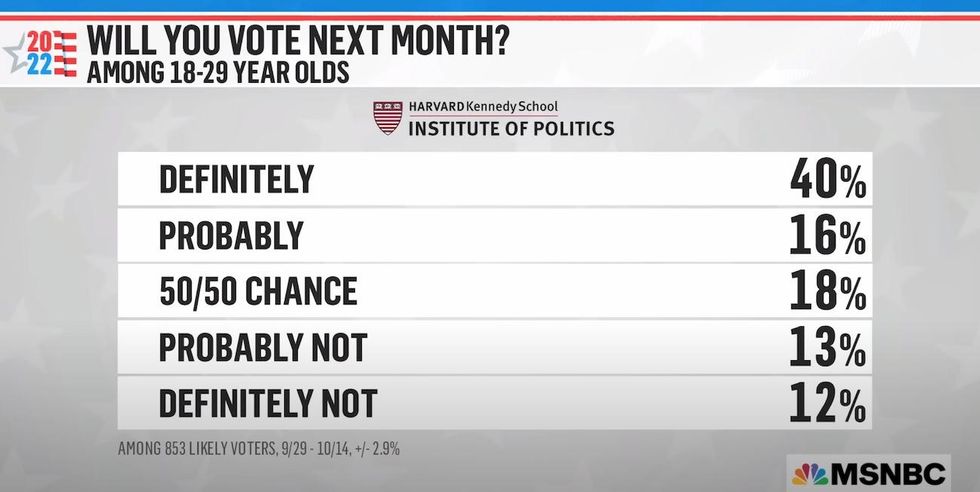 Image Source: MSNBC YouTube video screenshot
Volpe said that historically, polls would show that same age cohort would say they were definitely voting by only about 25%, and of those, only 20-21% would actually turn out. He added that a far higher turnout would be enough to turn about 10 seats from the red column to the blue column based on the results of the 2018 election.
He said the effect was even greater in battleground states when their numbers were added to those of Millennials.
That same poll found that Gen Z voters were far more likely to prefer Democratic congregational candidates than Republican candidates, by 57% to 31% respectively.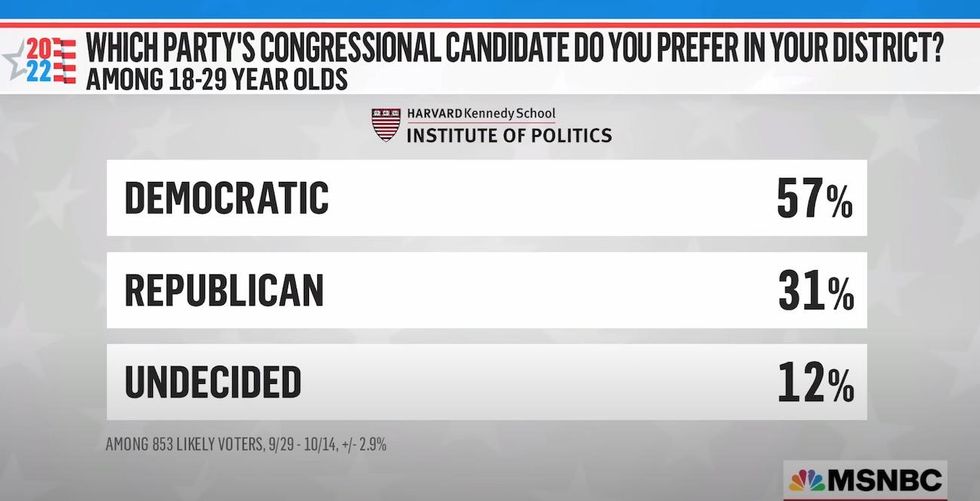 Image Source: MSNBC YouTube video screenshot
That net difference of 26% to Democrats matched nearly perfectly with what the CNN exit polls found, which was a 28% difference siding with Democrats.
Volpe said that the Dobbs decision and a string of legislative victories for Biden had fired up the younger voters just ahead of the midterms.
Here's a video with Volpe's pre-election prediction:
Expect Gen Z Wave At Polls: 40 Percent Of Young Voters Say They Will 'Definitely' Voteyoutu.be