© 2023 Blaze Media LLC. All rights reserved.
George H.W. Bush statue now sits on historically black college campus — and some students are not happy
'I just feel like a lot of his policies did harm to black people'
A statue of late President George H.W. Bush was just unveiled on the campus of Hampton University — a historically black college in Virginia — and some students aren't happy about it.
The Bush statue sits in Legacy Park among a number of other statues — including Dr. Martin Luther King Jr., Rosa Parks, andformer President Barack Obama — all of which represent those who are "considered part of the Hampton family, as well as friends, who have studied, worked and demonstrated support of Hampton's mission of academic excellence," WVEC-TV reported.
What did students have to say?
But student Kyra Robinson isn't pleased that Bush is among the statues.
"I just feel like a lot of his policies did harm to black people," she told the station, adding that Hampton "should definitely be uplifting more black figures" instead.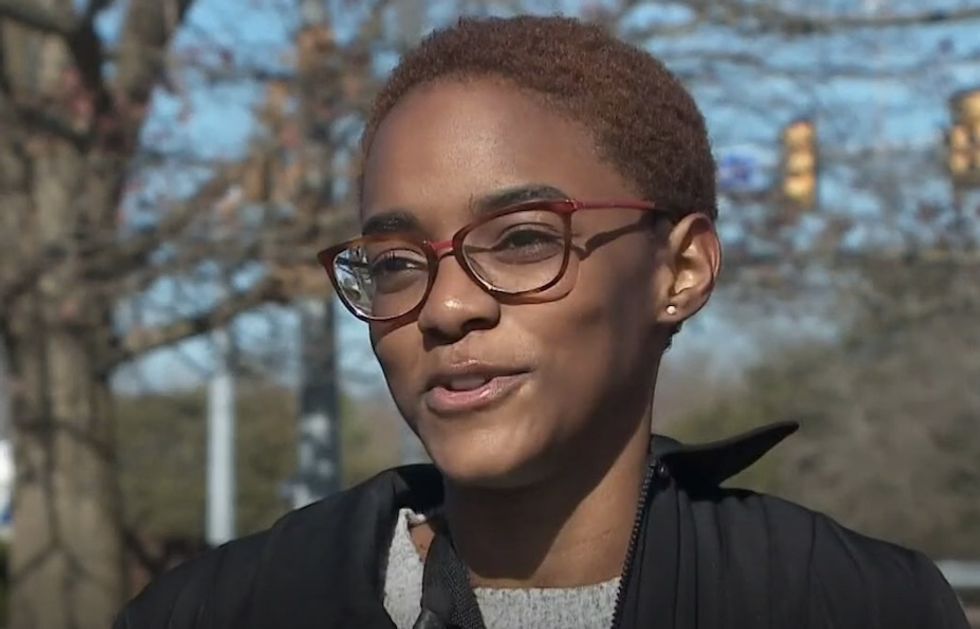 Kyra RobinsonImage source: WVEC-TV video screenshot
Student Randall Williams told WVEC that the campus community should have been more informed about the identities of statues before they were unveiled and deserve an explanation as to why Bush was chosen.
"Because some of those statues are definitely deserving, but when you have someone like George H.W. Bush — who is honorable, do not get me wrong he is honorable — but as far as the other people up there and what they mean to the campus, I think that students and alumni deserve an explanation," he told the station.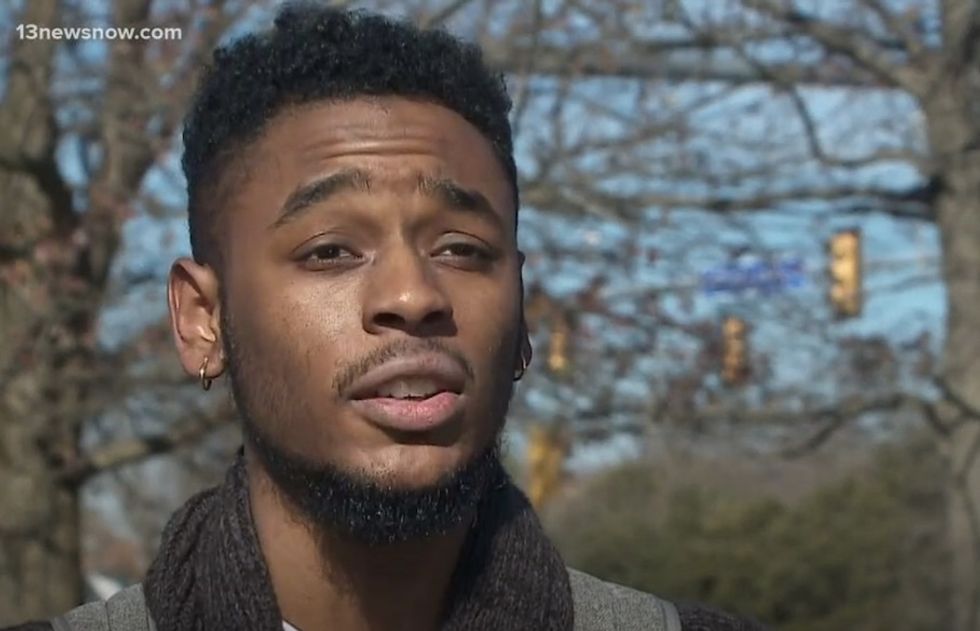 Randall WilliamsImage source: WVEC-TV video screenshot
As it turns out, Bush's contributions to Historical Black Colleges and Universities are detailed on Hampton's website along with other figures who received statues in Legacy Park. Among Bush's highlights are increases in HBCU federal funding and student recruitment for part-time and summer federal positions, as well as that he founded the United Negro College Fund chapter at Yale University during his college days.
More opposition
According to Inside Higher Ed, a good deal of anger toward Bush stems from the controversial Willie Horton attack ad used in his 1988 presidential run, which some say stoked fear among whites at the prospect of voting for Democratic nominee Michael Dukakis.
Believe it or not Bush gave the 1991 Hampton commencement address — but a number of students raised their fists in the air when he was being introduced and then sat down abruptly when "Hail to the Chief" was played as he took the stage, the New York Times reported.
Still, a week after Bush's death at age 94 last year, longtime Hampton President William Harvey called the Republican a "vastly under-appreciated friend" of black colleges, the Philadelphia Tribune noted.
"I believe in giving people their credit when it is due," Harvey added to the paper. "President Bush was not only a good friend of mine, but he was an extraordinary person who believed it was crucial that African Americans have access to education. I think that's something that we must acknowledge."
When Bush gave the commencement address at Hampton, two-thirds of the graduates participated in a silent protest during the ceremony.

What did the college have to say?
A Hampton spokeswoman issued the following statement to WVEC regarding the statue controversy:
Legacy Park pays tribute to 13 iconic individuals who have supported Hampton University's mission of providing high-quality academics and the development of character in all who are and have been associated with this great institution. This is a noteworthy group of men and women, Black, White, and Native American, who hail from all walks of life — Dr. Martin Luther King, Rosa Parks, William Howard Taft, Mary Jackson, Barack Hussein Obama, Susan B. La Flesche, Mary Peake, George H.W. Bush, Jerome Holland, Reuben Burrell, Frederick Douglas, Dr. William R. Harvey and General Samuel Chapman Armstrong. The privately funded park, commissioned by Hampton University's Board of Trustees, recognizes the significant support from all who are represented and it will be visited and enjoyed for generations.
(H/T: The College Fix)

Want to leave a tip?
We answer to you. Help keep our content free of advertisers and big tech censorship by leaving a tip today.
Sr. Editor, News
Dave Urbanski is a senior editor for Blaze News.
DaveVUrbanski
more stories
Sign up for the Blaze newsletter
By signing up, you agree to our
Privacy Policy
and
Terms of Use
, and agree to receive content that may sometimes include advertisements. You may opt out at any time.