An Illinois man was savagely stomped by a group of males in a seemingly random but sustained beatdown at a St. Louis train stop on Memorial Day — all in front of his wife.
"My husband's head was gushing blood," Deyona Kunselman told Hearst Illinois regarding the nighttime attack against her husband Lee.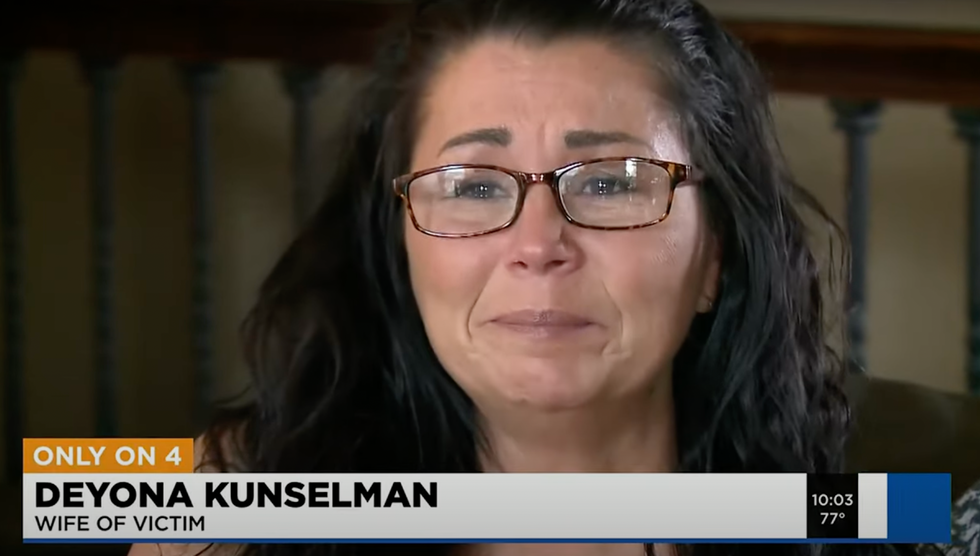 Image source: YouTube screenshot
What are the details?
The couple from Glen Carbon was enjoying a night out with friends at an Illinois casino, KMOV-TV reported, and then they got on a MetroLink train to downtown St. Louis to sing karaoke. The village of Glen Carbon is about 20 minutes northeast of St. Louis.
At the 8th and Pine stop, a nightmare unfolded.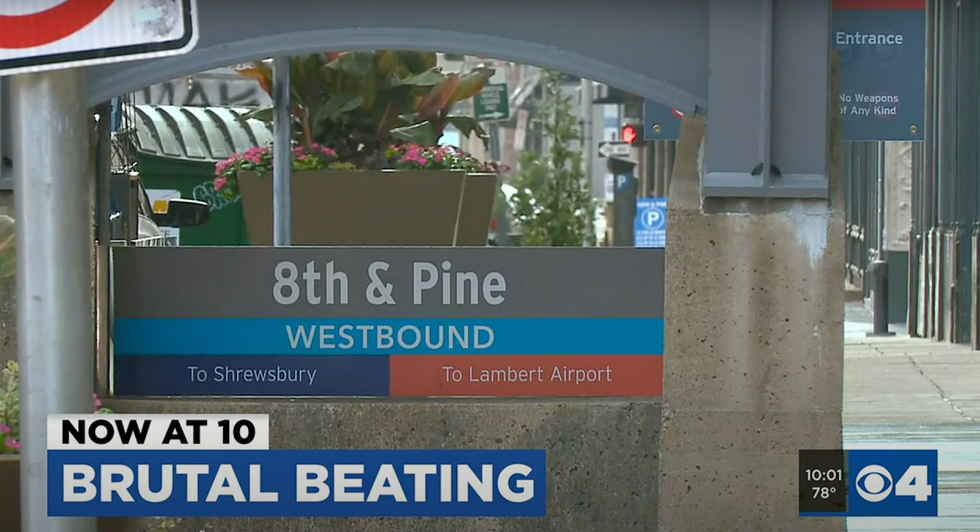 Image source: YouTube screenshot
"When we went to get off the MetroLink ... a group of individuals, four to five, just attacked us as soon as the doors opened," Lee Kunselman — whose badly bruised left eye appeared swollen shut — recounted to KMOV of the assault against him and another man.
Kunselman told the station one of the attackers "shoved me so hard he almost shoved me off my feet ... and said, 'Get off of me,' and as soon as he did that, then they all jumped in and started pouncing on me."
"I thought he was going to die because they kept stomping on his head so hard," Deyona Kunselman added to KMOV.
She noted to Hearst Illinois that they were with another couple at the time, and the other husband was "getting beat by another guy with his fists. My friend and I could only watch it. We were screaming, 'Stop! Stop!' They finally stopped. I guess maybe it went for about five minutes. They ran … we grabbed our husbands off [the platform] and called 911."
What happened next?
Kunselman suffered a concussion and needed at least 12 stitches to reattach his eyelid, KMOV reported. Deyona Kunselman told Hearst Illinois he can't work at the moment and "still can't see out of his left eye."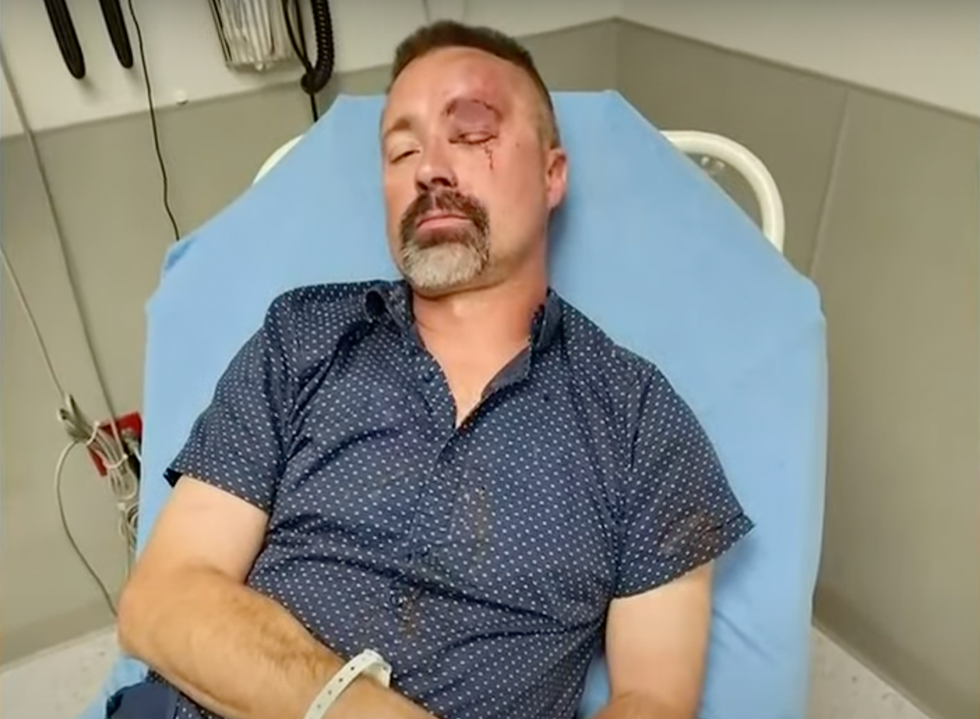 Image source: YouTube screenshot
She added to Hearst Illinois that she called 911 but never saw emergency personnel at the train station: "We rushed our husbands to the hospital. We did not wait around. My husband wanted to get out of St. Louis. We waited and waited. Nobody came. We finally got an Uber. While I was in the Uber I received the call from the MetroLink police. My husband's head was gushing blood … even an ambulance wasn't getting there. Uber showed up quicker than the ambulance. I wasn't going to wait around."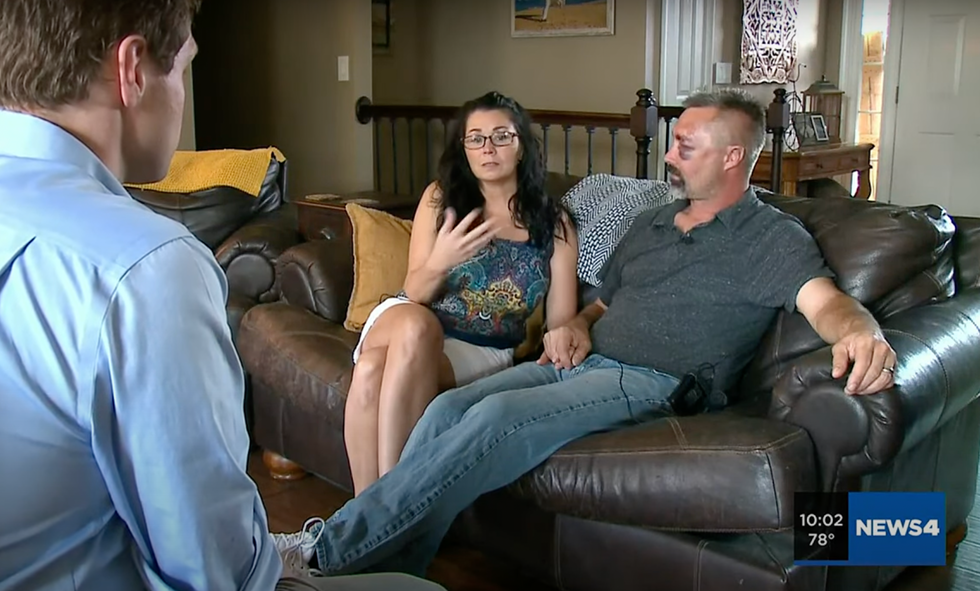 Image source: YouTube screenshot
The other man who was attacked suffered a broken nose and a fractured eye socket, the outlet added.
What about the suspects?
Deyona Kunselman on Thursday noted to KMOV that St. Louis police told her four suspects have been identified.
A MetroLink officer has been in touch with her since the incident, Hearst Media said, adding that authorities found security camera video of the attack.
Deyona Kunselman described the four or five attacking males as tall, thin, in their 20s, and African-American, Hearst Media added.
A Metro spokesperson told KMOV that they began working with police Tuesday.
Anything else?
KMOV added that the attack on Lee Kunselman "appears to be truly random. He said he doesn't remember everything, maybe he bumped a guy accidentally, but nothing to warrant getting stomped on."
He added to the station that the attackers "didn't give any reason" for their actions: "They didn't have any weapons on them, they didn't ask us for any money, they didn't try to take anything from us."
Deyona Kunselman told Hearst Media that "in the beginning when we got on the train, I do remember one gentleman … he approached us briefly and just said, 'Hey, you got any money for food?' and we ignored him. So he went back to where the other gentlemen were sitting, and that was that."
As for taking another ride on the train, that's out of the question for the time being.
"I think it's just traumatizes us right now," Deyona Kunselman told KMOV. "Maybe later, but right now, no."
In fact, the couple told the station they won't get back on the MetroLink train unless there's security on every train. "If there was somebody there in some kind of uniform, I don't think it would have happened," Deyona Kunselman said.
'I thought he was going to die' Man beaten in seemingly random attack in Downtown St. Louisyoutu.be
Like Blaze News? Bypass the censors, sign up for our newsletters, and get stories like this direct to your inbox. Sign up here!