Left-wing U.S. Rep. Ilhan Omar (D-Minn.) added more controversy to her already contentious political resume by accusing Covington (Kentucky) Catholic High School students of a horrible "rape" comment amid the headline-grabbing interaction between them and a Native American man on the steps of the Lincoln Memorial last week.
President Donald Trump on Tuesday morning tweeted his support for the students, calling them "symbols of fake news and how evil it can be" after additional video debunked initial reports that student Nick Sandmann got in Nathan Phillps' face and that Covington students surrounded the older man.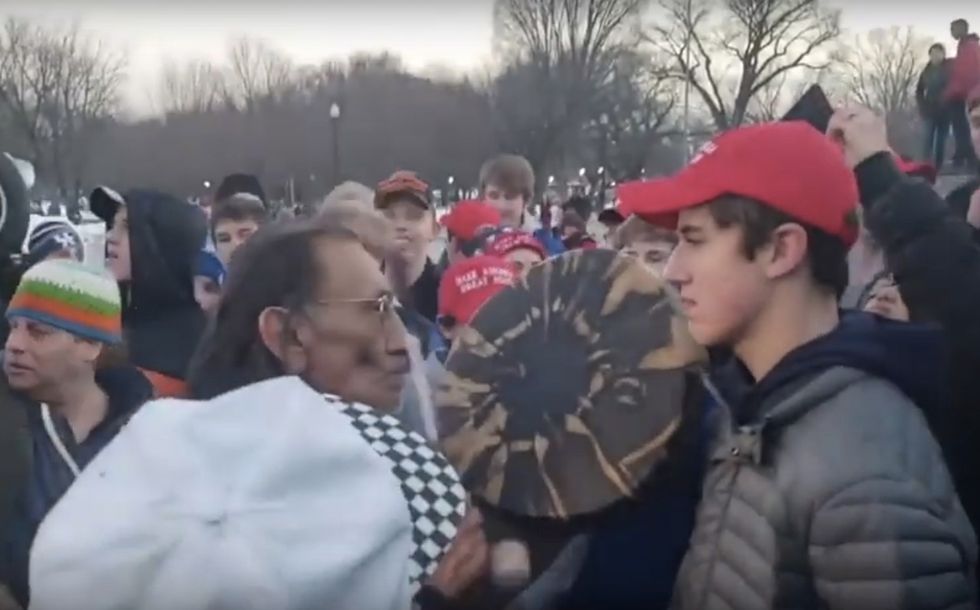 Image source: YouTube screenshot
With that, Omar — who last week claimed without evidence that Trump appears to be blackmailing Republican Sen. Lindsey Graham (S.C.) — added another doozy in a response to Trump's tweet:

She wrote that the Covington "boys were protesting a woman's right to choose & yelled 'it's not rape if you enjoy it'" and "were taunting 5 Black men before they surrounded Phillips and led racist chants" and that "Sandmann's family hired a right-wing PR firm to write his non-apology."

Omar deleted her tweet Wednesday morning, the Washington Free Beacon reported, after the outlet asked her office to comment on it.
Why do you suppose Omar deleted her tweet?
It isn't clear why Omar deleted her incendiary tweet, but it turns out that while someone did yell "it's not rape if you enjoy it," reports indicate a Covington student wasn't the perpetrator.
And:
Certainly anyone — particularly a Catholic school student — saying such a thing isn't acceptable, but neither is smearing Covington students.
The hits just keep on coming
Oh, and Omar's reference to Covington students "taunting" black men? Video showed that it was the other way around. While the students were waiting for their bus, members of the Black Hebrew Israelites were caught on camera verbally harassing the boys with racist and homophobic slurs.
By the way, the Cincinnati Enquirer noted that the Southern Poverty Law Center's magazine called the Black Hebrew Israelites a hate group that is "becoming more militant."
"Around the country, thousands of men and women have joined black supremacist groups on the extremist fringe of the Hebrew Israelite movement, a black nationalist theology that dates to the 19th century," the outlet added, citing the SPLC.
What else do we know about Omar?
Omar — a Muslim — apologized Tuesday for her infamous 2012 tweet that stated, "Israel has hypnotized the world, may Allah awaken the people and help them see the evil doings of Israel," the Hill reported. The outlet added that the newly minted congresswoman said she didn't realize her words at the time would offend Jewish people.
She also co-authored a proposal to let her wear a religious headscarf (hijab) on the House floor, which the Democratic-controlled body passed as part of larger rules package earlier this month.
More background on the Covington-Native American incident
After the Black Hebrew Israelites harassment, the Covington students — a number of whom were wearing MAGA hats — reacted with chants used at their school's athletic events. Soon video showed Phillips walking up to the students while beating a drum and chanting himself. He stopped in front of Sandmann, and the pair stared at each other.
An initial video showing only the pair in a standoff — with a caption that read, "This MAGA loser gleefully bothering a Native American protester at the Indigenous Peoples March" — went viral as a result of a suspicious Twitter account that the social media platform suspended Monday, CNN Business reported. A tech expert added to CNN that a network of anonymous accounts worked to make that clip go viral.
Still, journalists and others accused the students of surrounding, mocking, and trying to intimidate Phillips when he was the one who approached them — and Sandmann, in particular, has been excoriated for smiling at Phillips in apparent disrespect.
Sandmann denied that in a detailed statement blasting "outright lies" about him and his classmates.
In the meantime, a number of journalists and other notable figures reversed their initial positions and apologized for jumping the gun on the false narrative about the students — while others simply deleted their incorrect posts castigating the students over the incident.
Covington Catholic High School canceled classes Tuesday after receiving threats due to the misleading video but reopened Wednesday with a police presence, Fox News reported.
Glenn Beck breaks down the timeline of events in the video below: