Covington (Kentucky) Catholic High School — whose students are at the center of a misleading viral video showing them and a Native American man in a standoff on the steps of the Lincoln Memorial last week — canceled Tuesday classes after receiving threats, WXIX-TV reported.
"After meeting with local authorities, we have made the decision to cancel school and be closed on Tuesday, January 22, in order to ensure the safety of our students, faculty and staff," according to a letter from Principal Robert Rowe, the station said.
"All activities on campus will be cancelled for the entire day and evening," the letter added, WXIX said. "Students, parents, faculty, and staff are not to be on campus for any reason. Please continue to keep the Covington Catholic Community in your prayers."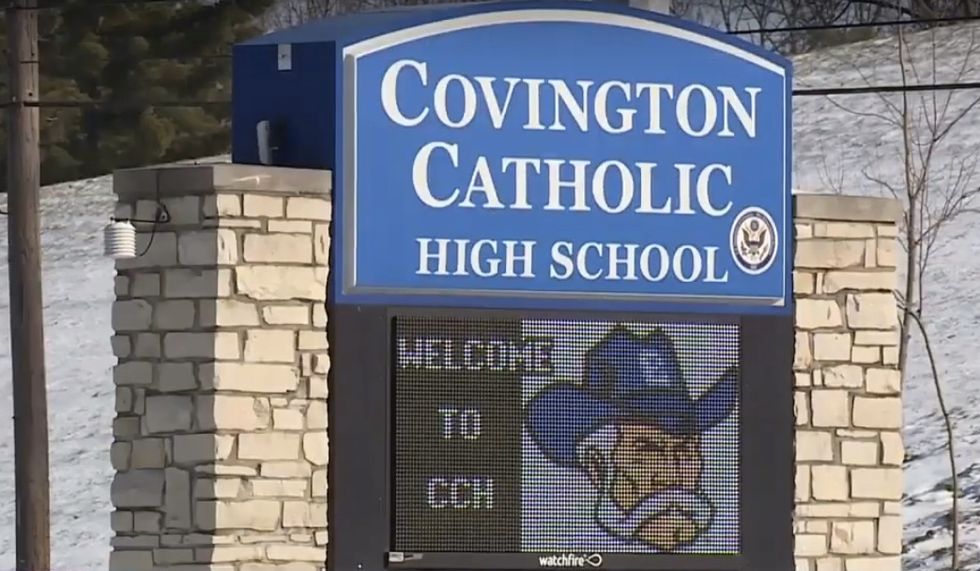 Image source: YouTube screenshot
The station said extra security was to be in place when students returned to campus Tuesday following threats against the school and students over the weekend.
What's the background?
Journalists pounced on the misleading video of Friday's incident, claiming that student Nick Sandmann got in the Native American man's face and that Sandmann's Convington classmates surrounded Nathan Phillips — who was beating on a drum and chanting — and were mocking and trying to intimidate him when apparently all he wanted to do was head up the Memorial steps.
But additional video emerged showing that, in fact, it was Phillips who approached Sandmann and his classmates, and he had plenty of room to head up the steps prior to the face-to-face standoff.
The Covington students had attended the March for Life, which coincided with the Indigenous Peoples March, and Sandmann said in a detailed statement blasting "outright lies" that beforehand a group of black protesters made "hateful" remarks to him and his fellow students, calling them "racists," "bigots," "white crackers," "faggots," and "incest kids." Additional video bears out Sandman's claims.
In the meantime, CNN Business reported that Twitter suspended a suspicious account that spread the misleading video — and a tech expert added that a network of anonymous accounts worked to make the video go viral. The video's caption read, "This MAGA loser gleefully bothering a Native American protester at the Indigenous Peoples March," the cable news network said.
A number of journalists and other notable figures reversed their initial positions and apologized for jumping the gun on the false narrative — while others simply deleted their incorrect posts castigating the students over the incident.
Regardless, the American Indian Movement Chapter of Indiana and Kentucky was scheduled to hold a protest at 10 a.m. Tuesday outside the Diocese of Covington, WXIX reported.
Here's a WXIX report on developments that aired prior to classes being canceled Tuesday:
Anything else?
An entertainment company cut ties with one of its workers after he tweeted that he wanted the Covington students and their parents to die.
Two Covington students spoke out against the media Monday via a YouTube video, saying they've been the victims of doxxing and death threats and that "some of these threats include that we should all be locked in the school and it should be burned to the ground, the school being bombed, school shooting threats."

CBS News correspondent David Begnaud noted in a video segment that the incident did not take place as originally reported: