Legendary comedian and original "Monty Python" member John Cleese said "woke attitudes" are having a "disastrous effect" on comedy, and that he's seeing writers and comics censoring themselves over fear of getting canceled.
What are the details?
Cleese — a keynote speaker at last week's FreedomFest conference in Las Vegas — said during an interview with Fox News Digital that it's all spelling "the death of creativity."
Asked if comedians in 2022 feel free to be funny, Cleese told the cable network "no."
"Why, you go to Molière and Louis XIV. I mean Molière had to be a bit careful. And there will always be limitations," he revealed to Fox News. "I mean in England, until some ridiculous late date like 1965, all plays had to be submitted to ... the Lord Chamberlain, and he would read it, and there were hilarious letters ... saying, 'You may only say f*** once' ... 'and you cannot say bugger. But you can say...' this sort of ridiculous negotiating ..."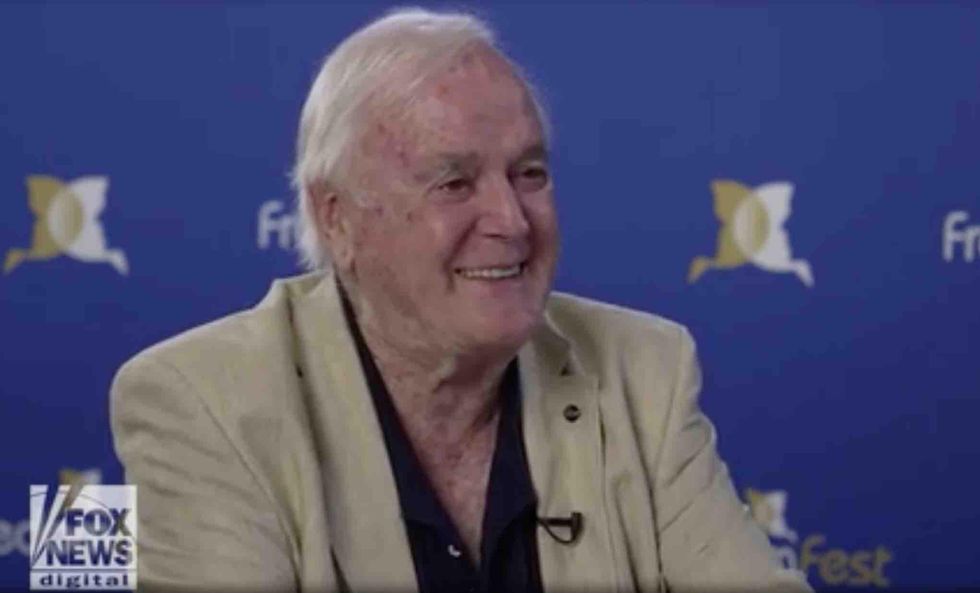 Image source: Fox News video screenshot
The 82-year-old added to the cable network that "a lot of comedians now ... when they think of something, they say something like, 'Can I get away with it? I don't think so. So and so got into trouble, and he said that, or she said that.' You see what I mean? And that's the death of creativity." He added that "at the moment, this is a difficult time, particularly for young comedians; but you see my audience is much older, and they're simply not interested in most of the woke attitudes. I mean, they just think that you should try and be kind to people ... no need to complicate it, you know?"
Cleese — a longtime opponent of woke culture and political correctness — also told Fox News that as a result of wokeness, criticism interferes with creativity, and they're "definitely in opposition to each other."
"You can do the creation and then criticize it, but you can't do them at the same time," he explained to the cable network. "So if you're worried about offending people and constantly thinking of that, you are not going to be very creative. So I think it has a disastrous effect."
Cleese added that "everything is more ... politicized now," including American late-night comedy television, Fox News said, adding that while he "adores" Stephen Colbert, the far-left host's audience is "more obviously politically aligned than it used to be."
"It wasn't like this when I first got to America," Cleese recalled to the cable network. "When I first got to America in the 60s … two things happened. First of all, I very much admired the cross-the-[political]-aisle friendships and thought, 'We don't have that in England.' We have real battles between the Tories and the Labour ... and [in America] this was destroyed by Newt Gingrich, quite deliberately, for purposes of power. I think that's a tragedy."
The comedic veteran also acknowledged to Fox News that he doesn't even watch comedy anymore.
"I don't go to comedies much because when you spent your life in comedy — by the time you get to 55 years in comedy — you've heard most of the jokes," he told the cable network. "And you watch people, you think, 'Yeah, that's funny,' but I have better things to do this evening than to watch comedy. I don't need to be entertained. I'd rather read a book."