Left-winger Joy Behar — arguably the most outspoken co-host of "The View" — said on Wednesday's show that the "white guys" on the Alabama Senate who voted for state's abortion ban should be sterilized.

"Can we look at the panel of men who did this? Gee, what do they have in common?" she asked as thumbnail photos of the 25 Republicans who voted for the bill was flashed onscreen.
"They're all men. All white guys," Behar noted to the delight of the audience.
Snip, snip, snip
Then Behar hit where it hurts: "Maybe we should make it a law that they should all be required to get a vasectomy, that group in particular. That would solve the problem."
The audience howled as Behar mimed a snip-snip-snip scissor motion with her fingers.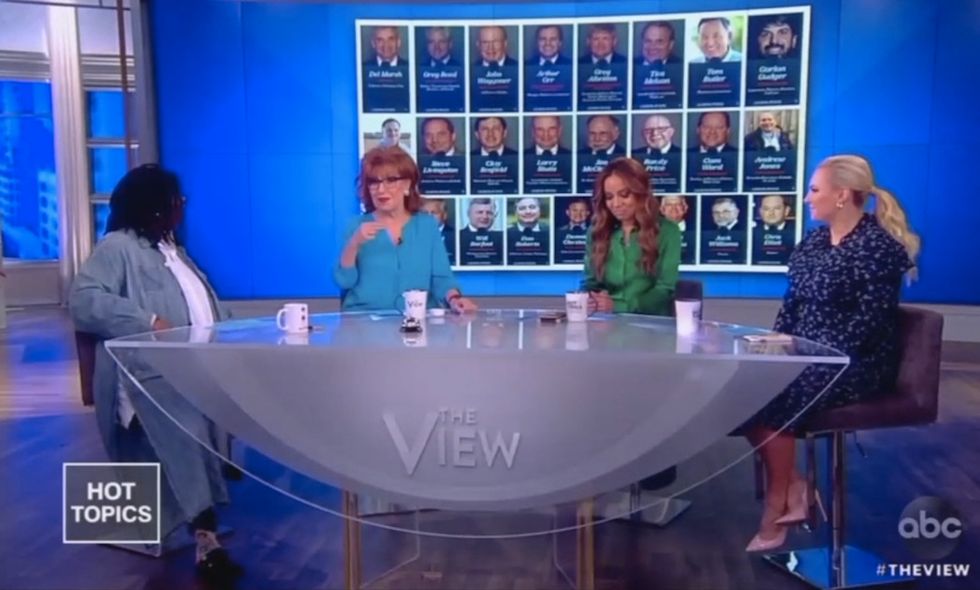 Image source: MRC-TV video screenshot
'What happens if you're an atheist?'
Co-host Whoopi Goldberg didn't like that the Bible was brought up around the abortion bill:
You know, one of these gentlemen went on to sort of make a biblical reference ... What happens if you're an atheist? What if you do not subscribe to other people's religious beliefs? The thing about this country is — not was, is — that we're all allowed to practice the religion of choice and not to practice if it's not part of your life. So I don't know why you are having to deal with someone's else's religious choices.
Having it both ways
Co-host Sunny Hostin, a Catholic, argued that she's pro-life because of her religion but supports the pro-choice position as an attorney — and co-host Meghan McCain called her out:
That is not the position of the Catholic Church. So how you reconcile your faith and your attendance at a Catholic church with your beliefs is your own personal decision. But don't present it like the Catholic Church is in agreement with what you said. They are not.
(H/T: Life News)