In the wake of the 16-count grand jury indictment against actor Jussie Smollett over allegations he filed a false police report amid orchestrating a fake racist, homophobic attack against himself in January, production sources told TMZ that "Empire" cast and crew members are concerned the show won't be renewed for another season.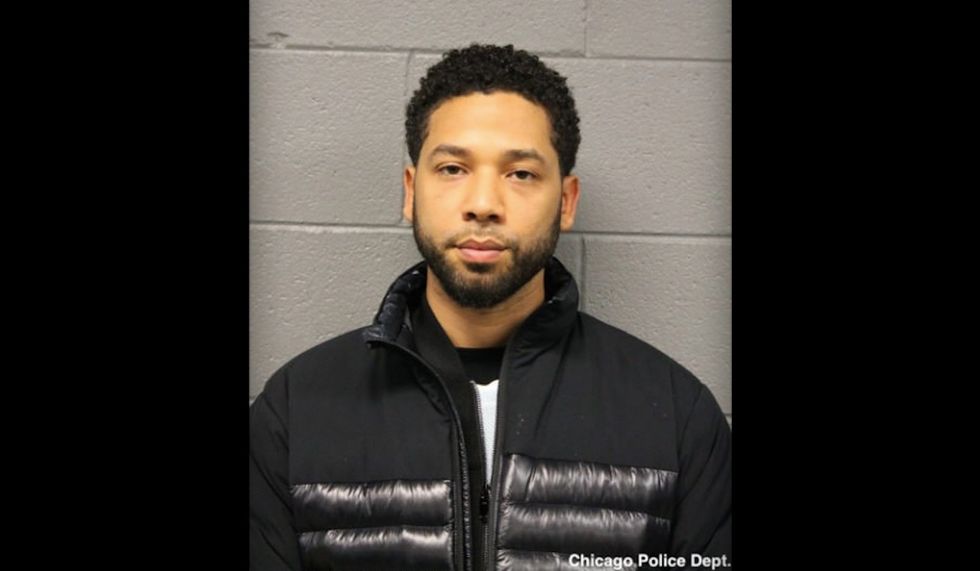 Image source: Chicago police
A Fox spokesman Tuesday told TheBlaze he had "no comment at this time" on the matter.

Longtime "Empire" personnel expected to get word on the show's fate about two weeks ago, TMZ said, adding that in years past Fox renewed the program in January. However, last year — Season 4 — the renewal didn't happen until a few weeks before the last episode in May, TMZ added.
The outlet said production sources indicated Smollett's case and how it develops will play a big role in the future of "Empire."
"Empire" executive producers announced that Smollett's character, Jamal, will be removed from the final two episodes of the season "to avoid further disruption on set." The show returns to the screen Wednesday night, and TMZ sources said Jamal will be "out of the country."
The outlet added that its sources indicated that even if "Empire" is renewed for another season, studio executives have reservations about Smollett returning. A recent report said "Empire" crew members responded with disgust when cast members asked them to sign a card showing support for Smollett.
What else?
Smollett claimed two masked men jumped him in a Chicago street at about 2 a.m. Jan. 29 in near zero temperatures, put a noose around his neck, poured a bleach-like substance on him, and yelled "This is MAGA country!" — a reference to President Donald Trump's 2016 campaign slogan, "Make America Great Again." No video was ever found of the alleged attack.
In his high-profile interview with ABC News' Robin Roberts last month, Smollett said he was "pissed off" at assertions that his claims were a hoax — but that's exactly what Chicago Police Superintendent Eddie Johnson said they were the day Smollett was arrested about a week after the Roberts interview.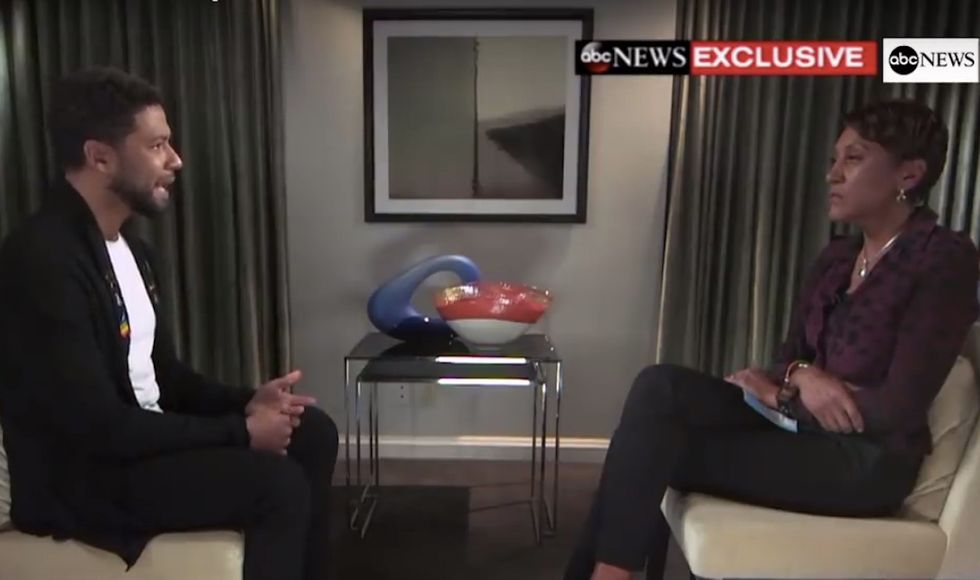 Image source: YouTube screenshot
Brothers Olabinjo and Abimbola Osundairo told police Smollett paid them to stage the attack. Smollett maintained his innocence after his felony arrest. An attorney for the Osundairo brothers said Smollett betrayed their trust:
Here's a clip of Smollett arriving Tuesday for a hearing in Chicago: