Jussie Smollett put himself back in the spotlight by blasting a social media post that compared the former "Empire" actor to a black girl who admitted Monday to lying about white boys attacking her and cutting off her dreadlocks.
Smollett — who denied he orchestrated a racist, anti-gay attack against himself in January despite Chicago police arresting him and charging him with felony disorderly conduct for filing a false police report — responded to an Instagram post Monday from celebrity gossip outfit "The Shade Room."
'Jussie really is a trendsetter'

In the post, Derrick Jaxn — a social media guru who also is black — noted below a photo of the girl who lied about her cut dreadlocks that "Jussie really is a trendsetter."
How did Smollett respond?
Smollett soon hit back:
With all due respect, brother, y'all can clown me all you want, but my story has actually never changed, and I haven't lied about a thing. Y'all can continue to be misinformed, internalized sheep, who believe what actual proven liars feed you, or you can read the actual docs. Either way, Imma be alright. I know me and what happened. You don't. So carry on. All love.
Jaxn later commented, "Justice for Jussie."

How did others react?
Comments on the post were mixed. Many backed Smollett and said they still believe him while others took issue with the actor and the girl who lied about her dreadlocks being cut.
"I do not like when fellow black people use the whole racism issue for clout or whatever," one commenter wrote.
What's the background?
Smollett claimed masked men yelled "MAGA country" — a reference to President Donald Trump's 2016 campaign slogan, "Make America Great Again" — at him, put a noose around his neck, and poured liquid on him that smelled like bleach. The alleged attack took place on a Chicago street at 2 a.m. Jan. 29 amid near-zero temperatures; no video of the alleged attack has been found.
Chicago Police Superintendent Eddie Johnson later said Smollett paid Nigerian brothers Ola and Abel Osundairo $3,500 with a check to pull off the "staged" attack — and then brutally took Smollett to task after the actor's arrest, saying he "took advantage of the pain and anger of racism to promote his career."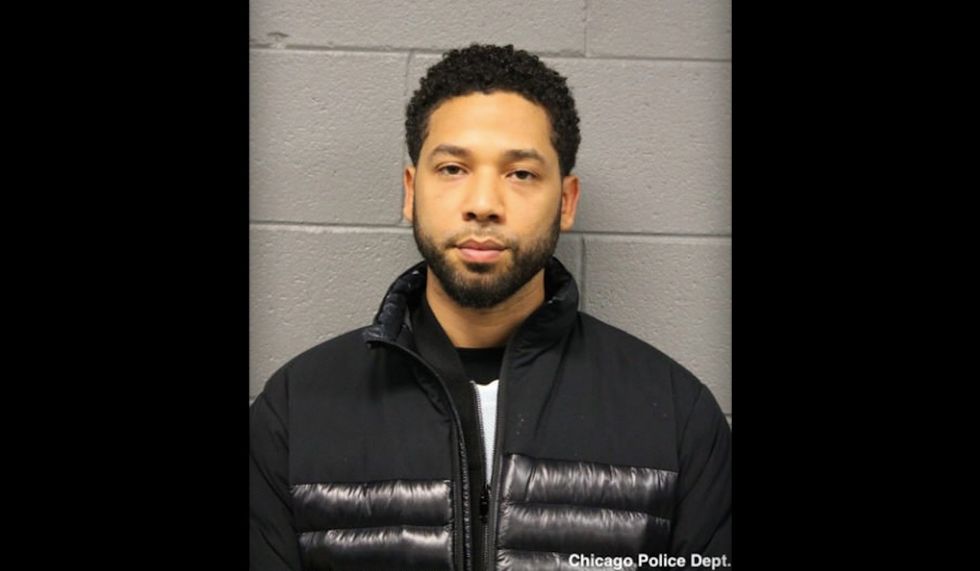 Image source: Chicago police department
A grand jury in early March indicted Smollett with 16 counts of disorderly conduct in connection with the staged-attack allegations. But a few weeks later all the charges against Smollett were dropped.
Then-Chicago Mayor Rahm Emanuel angrily blasted the dropped charges against Smollett and called it "not on the level." A civil complaint from the city of Chicago against Smollett says police logged more than 1,800 overtime hours investigating his attack claims, which cost the city $130,106.15, NBC News said.
Associations from every police department in Cook County announced "no confidence" in Cook County State's Attorney Kim Foxx. In addition, the Illinois Prosecutors Bar Association accused Foxx of making "repeated misleading and deceptive statements to the public" and having "failed in her most fundamental ethical obligations to the public."
It was widely reported that Foxx recused herself from the Smollett case after rumblings that she interfered in the investigation — but then it came to light that she never actually recused herself at all.
In June, a Cook County judge ordered the appointment of a special prosecutor, saying "the unprecedented irregularities identified in this case warrants the appointment of independent counsel to restore the public's confidence in the integrity of our criminal justice system."
But it came to light Monday that the special prosecutor, Dan Webb, wrote a $1,000 check to Foxx's campaign in 2016. Still, Webb's affidavit on the matter noted that Foxx's attorney "made it clear that he and Kim Foxx do not consider this political contribution an issue, and stated that Kim Foxx will not claim any conflict of interest, or have any other objection related to this contribution."