The Jussie Smollett plot keeps getting thicker.
Since the stunning announcement Tuesday that prosecutors dropped all 16 charges against the "Empire" actor alleging he staged a racist, homophobic attack against himself in late January and filed a false police report in order to further his career, we now turn to the head of the office that brought the charges against Smollett.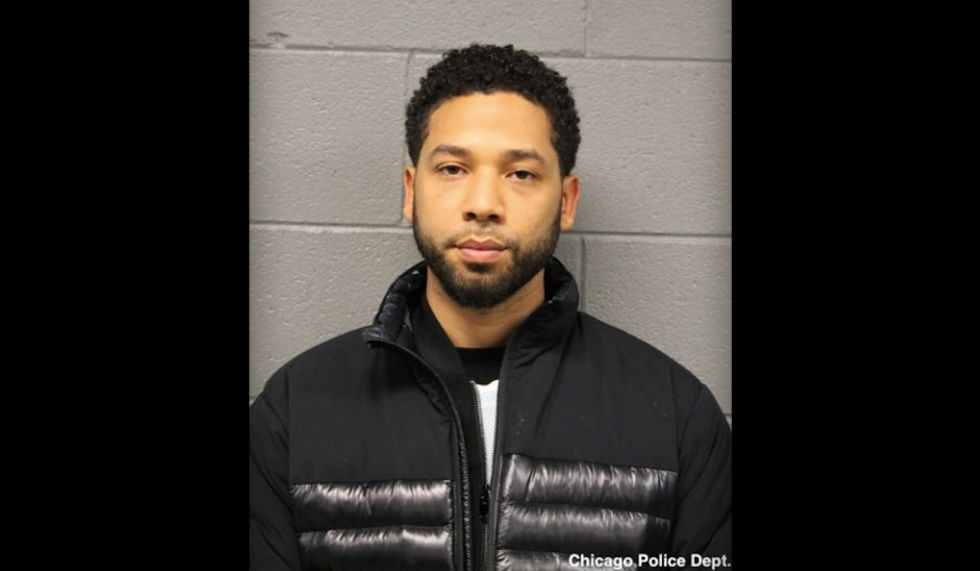 Image source: Chicago Police Department
It was widely reported that Cook County State's Attorney Kim Foxx recused herself from the Smollett case after rumblings that she interfered in the investigation. Foxx, you see, asked Chicago Police Superintendent Eddie Johnson to let the FBI investigate Smollett's allegations after the former chief of staff to former first lady Michelle Obama told Foxx that Smollett's family was concerned about the police probe, WMAQ-TV reported. A Smollett relative also exchanged texts with Foxx, the Chicago Tribune reported.
But now it turns out that Foxx never actually recused herself at all — in a "legal sense" anyway, according to the paper.
Uh, what?
The paper said that while the term "recusal" was used when it was announced Foxx was moving from the Smollett case, a Foxx spokeswoman added that "it was a colloquial use of the term rather than in its legal sense."
"The state's attorney did not formally recuse herself or the office based on any actual conflict of interest," Tandra Simonton told the Tribune in a statement. "As a result, she did not have to seek the appointment of a special prosecutor under [state law]."
But the paper added that an internal memo sent Feb. 13 by Foxx's chief ethics officer, April Perry, didn't characterize Foxx's recusal as colloquial; rather that Foxx "is recused" from the Smollett probe. The Tribune said there was no explanation tied to the "is recused" announcement.
Foxx's explanation
Foxx told the paper she never would've involved herself in the case had she known Smollett would later be the suspect rather than the victim.
"I've never had a victim that turned into a suspect ... In hindsight as we see [how] all of it has played out, you know, is there regret that I engaged with the family member? Absolutely," she said.
She added to the Tribune that office employees, including Perry, "internally" use the term "recusal" to describe when the state's attorney distances herself from a case: "We also use the phrase 'wall-off' ... build a wall, do not talk to the state's attorney about this case."
In the end, Foxx told the paper, that was sufficient to meet ethical standards without withdrawing the entire office from the case. Now freed from having to turn things over to a special prosecutor, Foxx handed the case to her first assistant, Joseph Magats, a 29-year veteran of the office, the Tribune said.
Magats — who said it was his decision alone to drop Smollett's charges — told WBBM-TV, "I do not believe he is innocent."
He added to the Tribune that prosecutors in the last month agreed verbally with Smollett's defense that they would dismiss the actor's charges in exchange for Smollett performing community service and forfeiting his $10,000 bond. Meanwhile Smollett's attorneys adamantly declared no deal was made, and the actor maintained his innocence.
Jussie Smollett: "I've been truthful and consistent on every single level since day one...This has been an incredib… https://t.co/5ZJP8PCZly

— CBS News (@CBS News) 1553616838.0
Foxx insisted to the Tribune that she played no role in the dismissal of Smollett's charges and added that she made the informal recusal a week before Smollett's charges were filed — and that a formal recusal or public announcement about it would have tipped off Smollett that he was being considered a suspect, the Tribune reported.
"Me saying publicly and me moving our office out of it while the investigation was ongoing would signal that [the] investigation had changed outwardly," she added to the paper.
What else?
Foxx also told the Tribune her office often handles cases in a similar fashion for defendants with nonviolent backgrounds — but the paper said a number of Chicago attorneys disputed Foxx's claim.
"It's frustrating to me that the reliability of the work of the people of this office has been challenged," Foxx told the Tribune. "What happened with Jussie Smollett and having this type of diversion is something we offer to people who do not have his money or his fame."
But Charlie de Mar of WBBM-TV noted the following:
Internal emailing circulated throughout the State's Attorneys office today. Office looking for examples of other… https://t.co/I8NAXbo6pT

— Charlie De Mar (@Charlie De Mar) 1553726356.0
Criminal defense attorney Dawn Projansky told the Tribune that "most people usually have to apologize, pay full restitution, do community service, and then maybe their case is dismissed. Maybe. Or it's reduced to a misdemeanor." Of the Smollett dismissal, she told the paper that it was "just too fast and ... it didn't follow the proper procedures of any case."
ABC News' senior national correspondent Terry Moran issued a "celebrity justice" tweet concerning Smollett on Tuesday, saying "Cook County clerk's office tells ABC they were shocked that no written motions were filed with the court in connection with today's surprising dismissal in the Smollett case. On top of that, the case has been wiped off their database as if it never existed."
Celebrity justice: Cook County clerk's office tells @ABC they were shocked that no written motions were filed wit… https://t.co/Qq59TLkhHh

— Terry Moran (@Terry Moran) 1553656713.0
Chicago Mayor Rahm Emanuel and police superintendent Johnson blasted the decision to drop Smollett's charges, with Emanuel going so far as to say it was a "whitewash of justice" and that "from top to bottom, this is not on the level ... there needs to be a level of accountability throughout the system, and this sends an unambiguous message that there is no accountability, and that is wrong."
Magats took issue with Emanuel's "whitewash of justice" accusation.
"Not true, it's just not," he told WBBM. "It's not a whitewash, [Smollett] did community service, he has forfeited his bond, it's just not a whitewash."
A spokesman for the Rainbow PUSH Coalition — founded by the Rev. Jesse Jackson — told WBBM that Smollett performed a total of 16 hours of service over two days.
The kicker
When asked if she believes Smollett is innocent, Foxx replied to WBBM on camera, "You know, I think that the charges that were filed — and again, I was recused at the time of the charges — were appropriate. I believe that the outcome — him having to forfeit the $10,000, having to do community service based on the allegations, and again, the class-4 felony and no [criminal] background are an outcome that we could expect with this type of case."