Rapper Kanye West took some heat throughout 2018 for his public support for President Donald Trump, and in October, he announced that he was "distancing himself from politics" and that he felt that he had been "used to spread messages I don't believe in."
In particular, he distanced himself from being associated with the "Blexit" T-shirt campaign promoted by pro-Trump activist Candace Owens. The campaign sought to use West's name to encourage black voters to leave the Democratic Party. West claimed that his name had been misappropriated for the campaign and that he wanted "nothing to do with it."
Now, West appears ready to flaunt his support for Trump in public again. In a series of tweets, West praised Trump, criticized the Democratic Party, and talked about the controversy his "Make America Great Again" hat caused.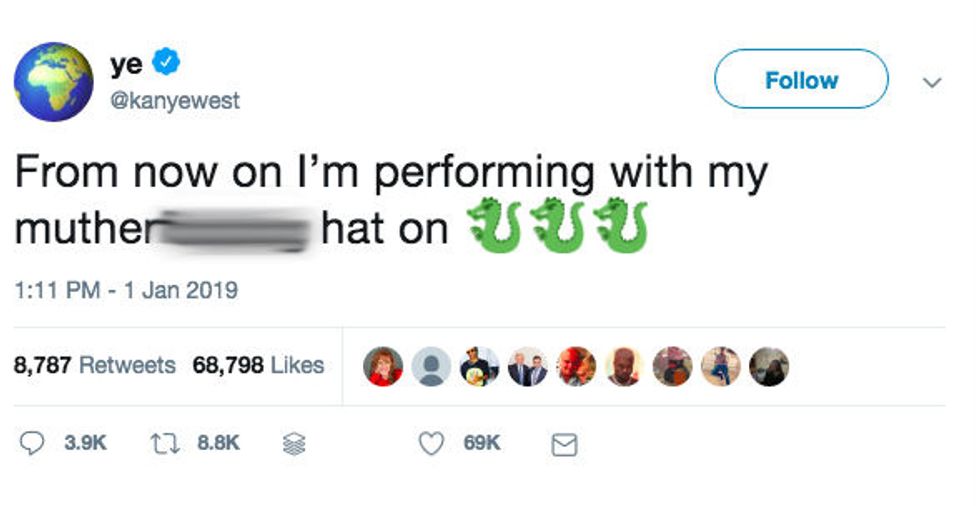 Image source: Twitter screenshot
In the past, West has tweeted disagreement with some of Trump's policies, including his immigration policies, but he has always reveled in the symbolic freedom of showing public support for Trump regardless of what others in show business might say. Also, he has joined with his wife Kim Kardashian in encouraging President Trump to support initiatives like criminal justice reform, including the pardon of drug offender Alice Johnson.