Far-left comedian Kathy Griffin was berated on Twitter after she appeared to imply that Democratic U.S. Rep. Alexandria Ocasio-Cortez of New York is not a United States citizen.
What are the details?
Griffin replied to Ocasio-Cortez's infamous tweet last week about visiting her ill grandmother in Puerto Rico that included photos of her home in disrepair and blaming former President Donald Trump for lack of Hurricane Maria relief.
Critics immediately hit back at Ocasio-Cortez, given she makes almost twice the average U.S. salary as member of Congress and reportedly owns a Tesla and rents two apartments — all of which would seem to point to AOC having the means to help out her "abuela."
But Griffin was not in the aforementioned camp and heaped gooey praise on the congresswoman — and managed to look rather silly in the process:
"Thank you for continuing to do a great job," Griffin wrote back to AOC. "You represent Americans better than we represent ourselves."

Say what?
More than a few folks had a field day with Griffin for apparently implying that Ocasio-Cortez — who was born in the U.S. — is not an American citizen:
Oh, and then there was this response: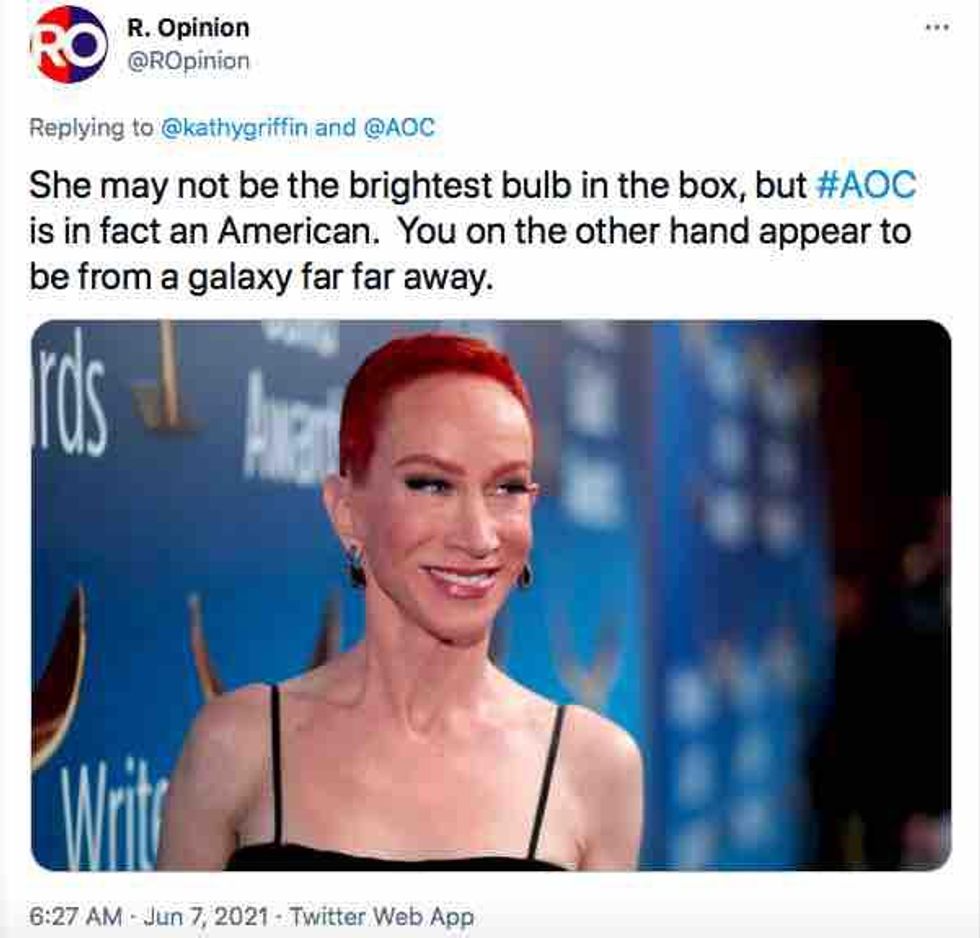 Image source: Twitter
Anything else?

Some commenters also just couldn't help bringing up the hilarious subplot of the AOC "abuela" debacle: The Daily Wire's Matt Walsh managed to attract huge donations — primarily, one would assume, from his conservative followers — to help out AOC's grandmother when all the congresswoman could muster was a blame game.
And, as we soon learned, Grandma's family reportedly refused what eventually amounted to over $100,000 in donations. Who woulda thunk it?
"Thanks AOC for ensuring your dear abuela lives in trash after denying her 100K that conservatives raised to better her life," one commenter pointed out. "Guess you can keep waiting for the ... powerful State to take care of her; you and Kathy are so smart."