Far-left talking head Keith Olbermann has been getting pummeled on Twitter for trying to connect a story about a hero student who died after charging at the Michigan high school shooter this week to what Olbermann termed the "Trumpist Fascism" of the shooter's mother — as well as Barstool Sports and its founder, Dave Portnoy.
What are the details?
Barstool Sports ran a story Wednesday about Tate Myre — a 16-year-old football player for Oxford High School — who was killed after reportedly charging at and trying to disarm the fellow student who also fatally shot two other classmates.
After Barstool posted a tweet about the piece, Olbermann barged in and — with a handful of words — essentially stole the spotlight from Myre by making the story about former President Donald Trump and the alleged "Trumpist Fascism" of the shooter's mother, Barstool Sports, and Portnoy.
He followed that up with a tweet highlighting excerpts from a Daily Beast story that points a finger at the shooter's parents.
How did folks react?
Olbermann's accusatory tweet to his nearly 1 million followers elicited a massive "ratio" — meaning that comments (about 11,000 as of Thursday morning) far outnumbered likes (about 5,700 as of Thursday morning).
While a number of folksactuallyagreed with Olbermann, many commenters were angry at and disgusted with the leftist pundit — including Portnoy himself:
Here's a sampling of the rest of the outrage directed toward Olbermann:
Olbermann doubles down
For all of Olbermann's faults, he's not one to shy away from the spotlight or criticism — and amid the firestorm around him, he simply doubled down: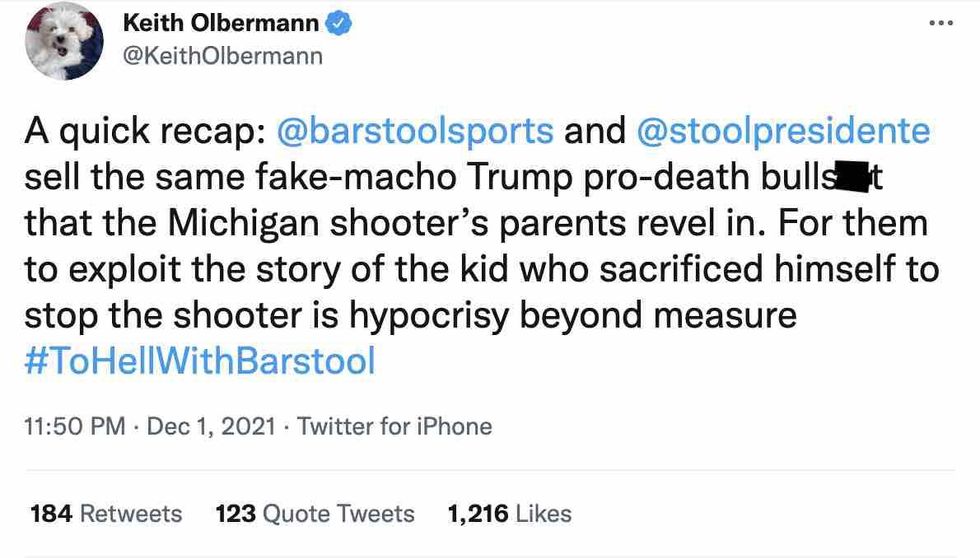 Image source: Twitter (redacted)
And previous to his tweet about "Trumpist Fascism," Olbermann posted the following:
Anything else?
As you probably already know, this wasn't the first time Olbermann elicited large-scale outrage: