Golden State Warriors head coach Steve Kerr in a furious address to the media Tuesday blamed Republican U.S. senators for the mass killing of elementary school students and teachers in Uvalde, Texas, saying GOP elected officials are holding Americans "hostage" and crave "power" as they refuse to pass universal background checks on gun purchases.
"I'm not gonna talk about basketball," Kerr said as he took a seat in front of a microphone ahead of a playoff game against the Dallas Mavericks, adding that "any basketball questions don't matter."
What else did Kerr say?
Kerr — his voice shaking and his breathing labored — then recounted the recent mass killing of "elderly black people" in Buffalo and the shooting of "Asian churchgoers" in southern California while commenting on the unfolding tragedy at Robb Elementary School "400 miles from here."
The coach then slammed his hand on the table and hollered, "When are we gonna do something?" after which he clenched his teeth against his upper lip in a brief scowl.
"I'm tired," Kerr continued, now pounding his fist. "I'm so tired of getting up here and offering condolences to the devastated families that are out there. ... I'm tired of the moments of silence. Enough!"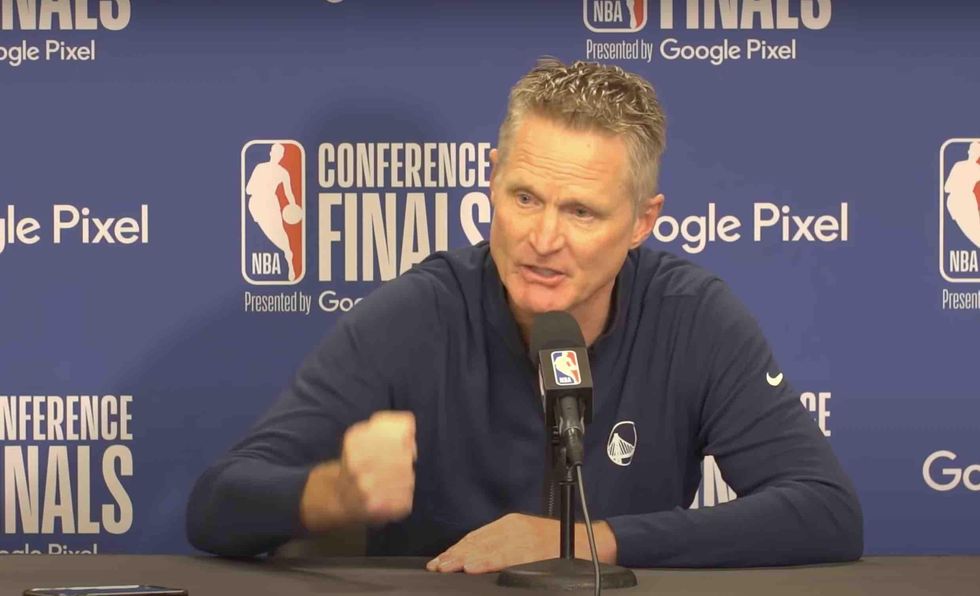 Image source: YouTube screenshot
Blaming Republicans
Kerr then lit into Republican U.S. senators without specifically mentioning their political party: "There's 50 senators right now who refuse to vote on H.R. 8, which is a background check rule that the House passed a couple years ago. It's been sitting there for two years. And there's a reason they won't vote on it — to hold on to power."
He did name Republican Senate Minority Leader Mitch McConnell and his Capitol Hill colleagues "who refuse to do anything about the violence and school shootings and supermarket shootings; I ask you, are you going to put your own desire for power ahead of the lives of our children and our elderly and our churchgoers? Because that's what it looks like."
Kerr added that he wanted "every person here, every person listening to this to think about your own child or grandchild or mother or father or sister, brother — how would you feel if this happened to you today? We can't get numb to this. We can't sit here and just read about it and go, 'Well, let's have a moment of silence ...' [while] 50 senators are gonna hold us hostage. You realize that 90 percent of Americans regardless of political party want ... universal background checks — 90 percent of us! We are being held hostage by 50 senators in Washington who refuse to even put it to a vote despite what we, the American people, want."
Concluding his remarks, Kerr banged the table again with the edge of his hand, saying the Republican senators "won't vote on it because they wanna hold on to their own power! It's pathetic!" He then rose from his seat and walked away while saying, "I've had enough!"
Steve Kerr Comments on the Tragic Shooting in Uvalde, Texas youtu.be
It's worth noting that Kerr's father, Malcom Kerr, was assassinated in 1984 by two gunmen when he was president of American University in Beirut.

It's also worth noting that Kerr in 2020 supported students and parents in Oakland who called for the school district to eliminate its police force.