The LA Pride parade over the weekend in Los Angeles featured whips cracking against bodies, bare breasts, and bulging crotches — all in full view of little children who were gathered in the crowd with presumably approving parents.
What are details?
In at least one case, an adult appeared to attempt to force a decidedly unwilling child to watch the festivities:
In another clip, a mom was still smiling with two tykes in tow after a parade participant — an individual dressed in a rainbow bodysuit surrounded by shirtless men in short shorts with bulging crotches — announced that sexual lubricant was available.
"Happy Pride! We have bandanas and lube!" the individual on a microphone said after which the video camera panned to the smiling mother and two children in the crowd:
Another clip showed at least one men cracking a whip against another man's body, and most of them dressed themselves in what appeared to be bondage, discipline, dominance, and submission attire.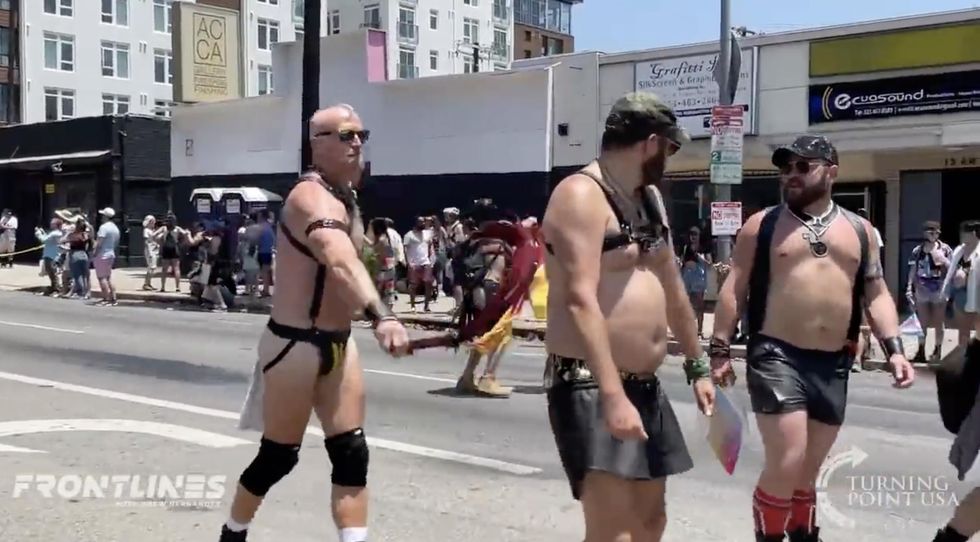 Image source: Twitter video screenshot via @DrewHLive
As they strolled down the street, video journalist Drew Hernandez recorded the moment a toddler stared at the spectacle.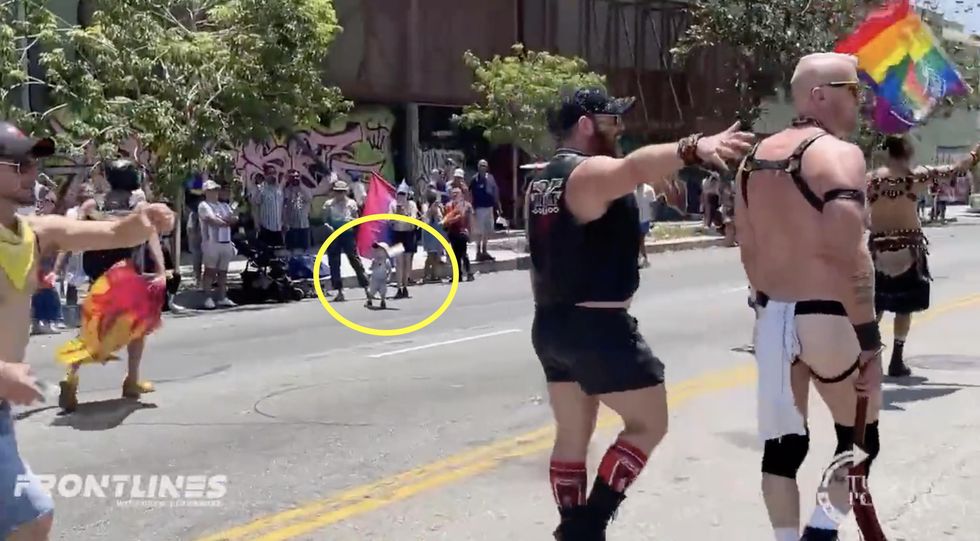 Image source: Twitter video screenshot via @DrewHLive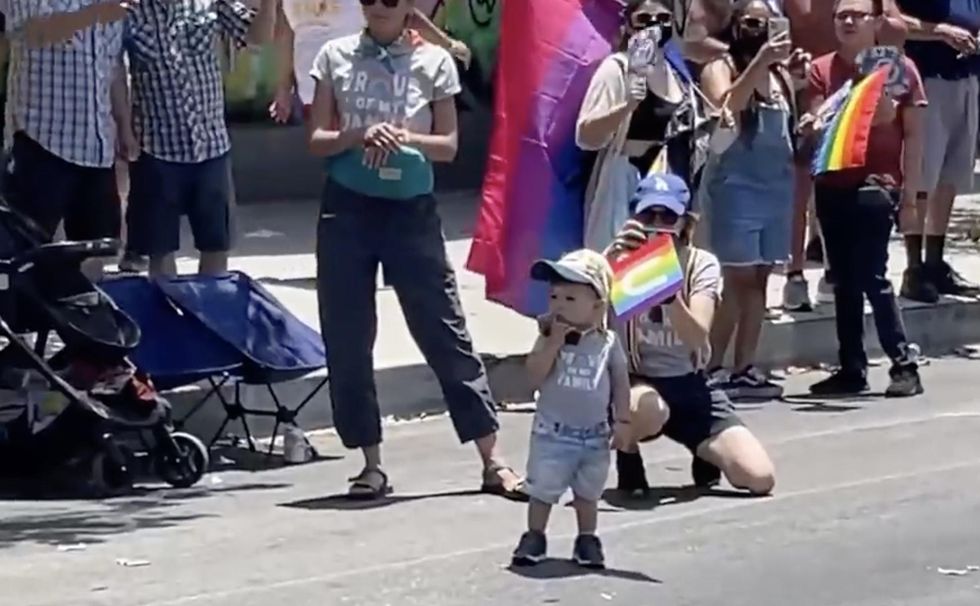 Image source: Twitter video screenshot via @DrewHLive
Later in the clip, a whip cracked on the street as participants in dog masks sauntered on by — and with every crack of the whip, the adoring crowd let out hoots and hollers.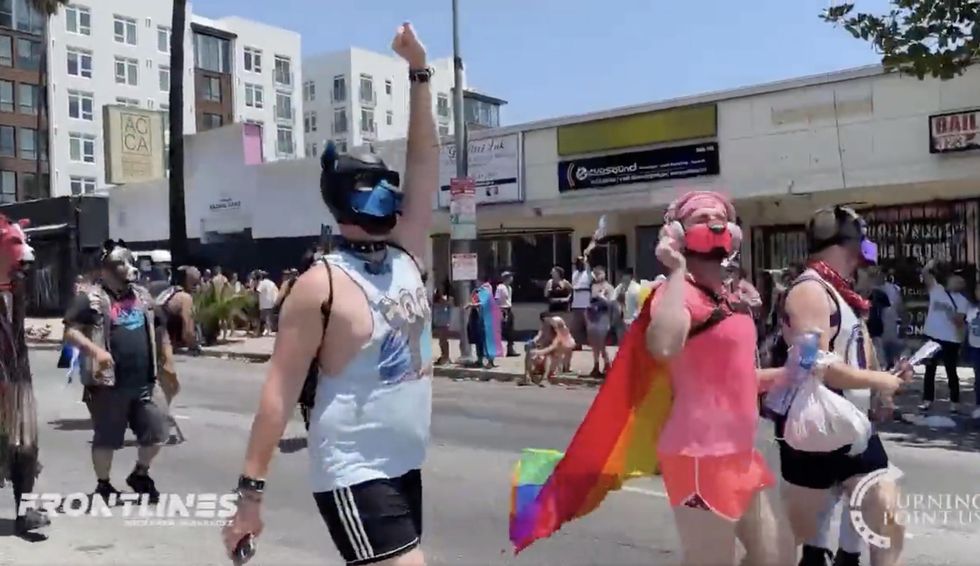 Image source: Twitter video screenshot via @DrewHLive
Yet again, another minor is taking it all in: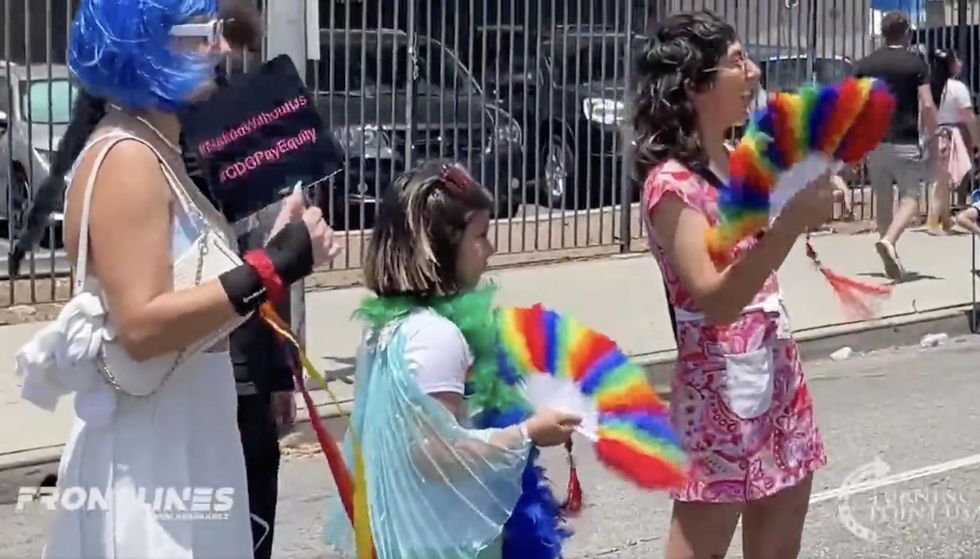 Image source: Twitter video screenshot via @DrewHLive
Here's the clip:
Oh, and there were bare and nearly bare breasts aplenty — in front of kids.
How are folks reacting?
As you might guess, Twitter users commenting on Hernandez's videos were not in any way down with the parade, particularly the fact that apparently parents had no problem bringing their kids along for a look, too:
"Why do people feel the need to expose their kids to this depravity?" one commenter asked.
"What I don't understand is the desire for the LBGTQ+ community to be accepted as a normal part of society, and then this is how some represent themselves," another user said. "This widens the gap between their cause and those from whom [they're] trying to gain acceptance."
"I am 100% for LGBTQIa+ rights, but this is not appropriate," another commenter declared.
But not everyone agreed:
"You know what my kids learned at Pride? To ask questions, and we had a great conversation," another commenter said. "Hiding children from bodies and people's expression of them just leads to more questions. We knowingly have opportunities to share and not be afraid of differences. This is what we teach."
"I'd much rather have my kids see people promote sexuality than guns and an overwhelming fear of everyone different from them," another user wrote.
(H/T: The Post Millennial)