What are the details?
About a week after his Rittenhouse tweet, James got annoyed at Boston Celtics' center Enes Kanter for wearing shoes depicting James bowing to Chinese President Xi Jinping, who places a crown on James' head:
Boston Celtics player Enes Kanter wore sneakers tonight \u2014 while playing against the Lakers \u2014 with LeBron James bowing down while China\u2019s dictator puts a crown on his head.pic.twitter.com/E1L4ZyPWrF

— Clay Travis (@Clay Travis) 1637378287
Kanter has publicly criticized brutal regimes like China — and also has taken aim at James, who has a highly lucrative endorsement deal with Nike.
Before the game, Kanter posted photos of his shoes on Twitter and wrote the following message to James: "Money over Morals for the 'King.' Sad & disgusting how these athletes pretend they care about social justice. They really do 'shut up & dribble' when Big Boss says so. Did you educate yourself about the slave labor that made your shoes or is that not part of your research?"
James replied after the Celtics' victory over the Los Angeles Lakers that Kanter "always kind of had a word or two to say in my direction, and as a man, if you got an issue with somebody, you really come up to him. He had his opportunity tonight. I seen him in the hallway; he walked right by me."
James ejected, fined for 'some bulls**t'
A few days later James received a one-game suspension after striking and bloodying the face of Detroit Pistons' Isaiah Stewart:
Lakers\u2019 LeBron James ejected for this blow to face of Pistons\u2019 Isaiah Stewartpic.twitter.com/fsRtNJgekF

— Ben Golliver (@Ben Golliver) 1637541647
James later referred to the suspension as "some bulls**t," Reuters reported, after which the league publicly warned him against "using profane language during media availability."
The outlet said James' one-game ban kept him off the court against the New York Knicks, who beat the Lakers 106-100 Tuesday.
'LeSnitch' and 'LeKaren' are born
The very next day James was back in action in a road game against the Indiana Pacers — and James' troubles began where they left off.
But this time King James was upset at heckling fans rather than opposing players.
So upset, in fact, that he dragged a referee over to a couple sitting in the front row, pointed them out, and seconds later security was escorting a man and woman from the arena.
And Twitter ripped James — mocking him as "LeSnitch" and "LeKaren" for his crybaby antics:
LeSnitch back to his old tricks! He'll call fouls on people who aren't even in the game, cry to the officials. It's what he does. He whines to the league when things don't go his way. Nuggets fans remember what happened in the playoffs.https://twitter.com/TheNBACentral/status/1463701744358150150\u00a0\u2026

— Terry Wayne Carpenter, Jr. (@Terry Wayne Carpenter, Jr.) 1637858750
Wait. He got heckling fans kicked out of an opponent's arena? That's just embarrassing. LeKaren.https://twitter.com/ActionNetworkHQ/status/1463701481308123139\u00a0\u2026

— Ben (@Ben) 1637814650
The unnamed spectators seemed to take it well — the contest was almost over anyway: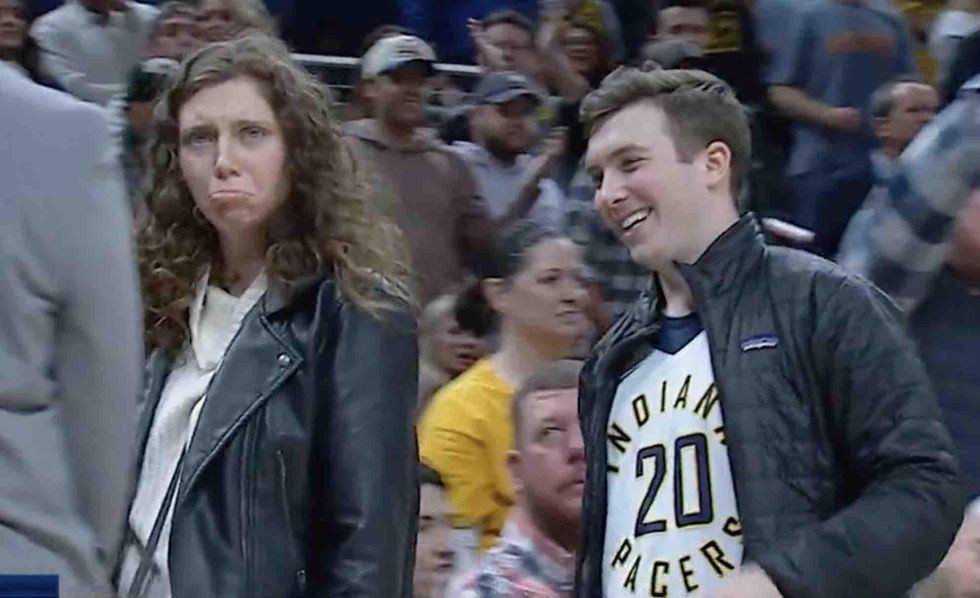 Image source: Twitter video screenshot via @ActionNetworkHQ
But that wasn't all.
Prior to James getting the spectators ejected — which occurred during overtime — he made an obscene gesture with just over a minute left in the fourth quarter after draining a 3-point shot that gave his Lakers a six-point lead.
The following is video of James making the gesture for all the Pacers' fans to see:
LeBron James Does a WILD CELEBRATION after Hitting DEEP CLUTCH 3youtu.be
Maybe that's what the soon-to-be-ejected fans were annoyed about.
Anyway, the NBA was upset, too, and fined James $15,000 for the gesture, which NBC Sports said was a "big balls" dance made famous by former NBA player Sam Cassell.
James ended up scoring 39 points as the Lakers won 124-116 over the Pacers.
Maybe LeBron had a chance to chill over Thanksgiving.
(H/T: The Daily Wire)