© 2023 Blaze Media LLC. All rights reserved.
Leftists lose it when Sen. Kyrsten Sinema ignores one of her 'constituents' harassing her in airport — and speaks to Republican Sen. Tim Scott instead
Leftists appear to be growing increasingly frustrated that harassing Democratic U.S. Sen. Kyrsten Sinema to get her onboard with President Joe Biden's "Build Back Better" spending bill isn't working.
What's the background?
Of course, the nation watched as a left-wing activists followed the Arizona senator into a restroom Oct. 3 and recorded the harassment on video while Sinema was in a stall. Biden brushed off the encounter as something that "happens to everybody." A day later, a leftist confronted Sinema on an airplane — and again, the incident was captured on video. Piling on, left-wing feminist website Jezebel applauded the bullies who went after the female lawmaker.
What happened this time?
In a video posted Monday to Twitter, a woman who claimed she's one of Sinema's constituents confronted the senator in an airport and walked with Sinema, peppering her with questions.
The only words Sinema offered the persistent woman were "please don't touch me" when she got a bit too close.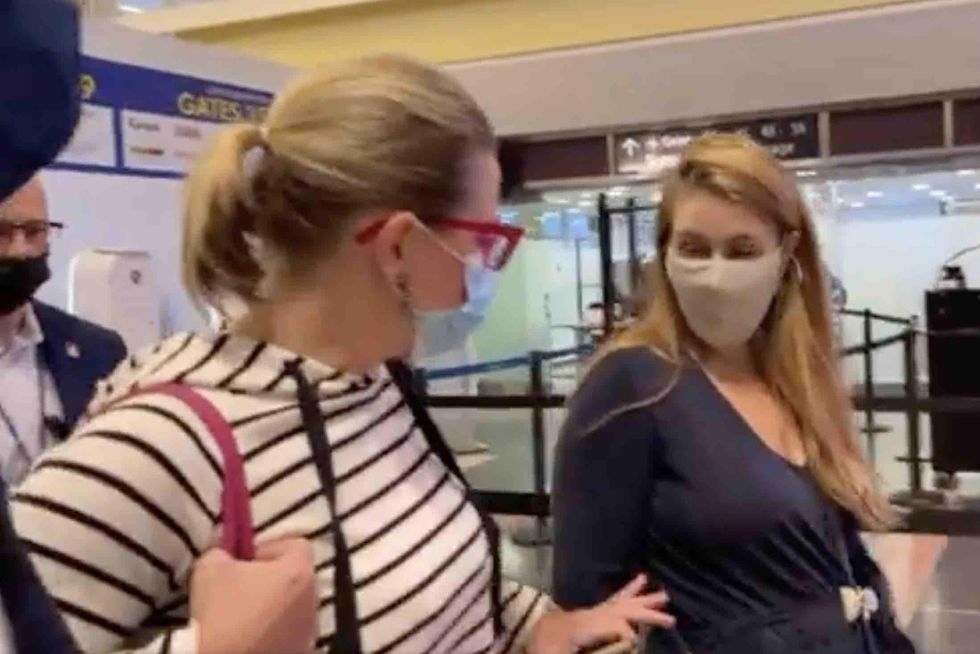 Image source: Twitter video screenshot via @Peoples_Watch_
The woman denied touching Sinema and told her, "I know you're meeting with dozens of lobbyists and talking with corporate donors about the package" — presumably meaning Biden's massive spending bill.
"How many times will you meet with constituents?" the woman continued. "How many times have you met with constituents in negotiating bills that are like this?"
Image source: Twitter video screenshot via @Peoples_Watch_
Sinema ignored the woman and instead told a man she was walking next to, "Sorry about this" — and that man was none other than Republican U.S. Sen. Tim Scott of South Carolina, who seemed quite understanding as he called the harassment "par for the course."
The woman didn't give up: "Why won't you meet with my family who are constituents for you? I can have them meet you next week. Every single year in Arizona it's getting hotter and hotter. We're breaking records. ... People are suffering. Your constituents are suffering. What are you gonna do about climate change?"
As Sinema and Scott ascend an escalator, the woman calls out, "Please answer me, senator. My family, my house! We're from Tucson! We're constituents!"
Once again @kyrstensinema ignores concerned advocate fighting for healthcare for her family in Arizona. #BuildBackBetterpic.twitter.com/GK5t5mHCuc

— People\u2019s Watch (@People\u2019s Watch) 1635198995
How are leftists reacting?
Of course, leftists are angry that Sinema is ignoring their harassment — but the salt got rubbed on the wound when Sinema opted to talk to Scott in the airport instead of the woman badgering her.
To wit:
Oh, and the woman who was trying to talk to Sinema appears to have identified herself on Twitter as Chloe Stryker; her bio indicates she's with far-left political group MoveOn.org and worked on U.S. Sen. Bernie Sanders' presidential campaigns.
Stryker commented, "Still can't believe she was apologizing to Sen. Tim Scott of all people for my presence in asking her very reasonable questions."
Want to leave a tip?
We answer to you. Help keep our content free of advertisers and big tech censorship by leaving a tip today.
Sr. Editor, News
Dave Urbanski is a senior editor for Blaze News.
DaveVUrbanski
more stories
Sign up for the Blaze newsletter
By signing up, you agree to our
Privacy Policy
and
Terms of Use
, and agree to receive content that may sometimes include advertisements. You may opt out at any time.