We've come to expect rapturous crowds packing arenas for one of President Donald Trump's high-octane rallies here in the United States — but in India?

Yes, sir.
But the crowd in Ahmedabad didn't fill an arena — it packed out a stadium with over 100,000 people Monday, the vast majority of whom wore white baseball caps with a "Namaste Trump" logo across the front, Politico said.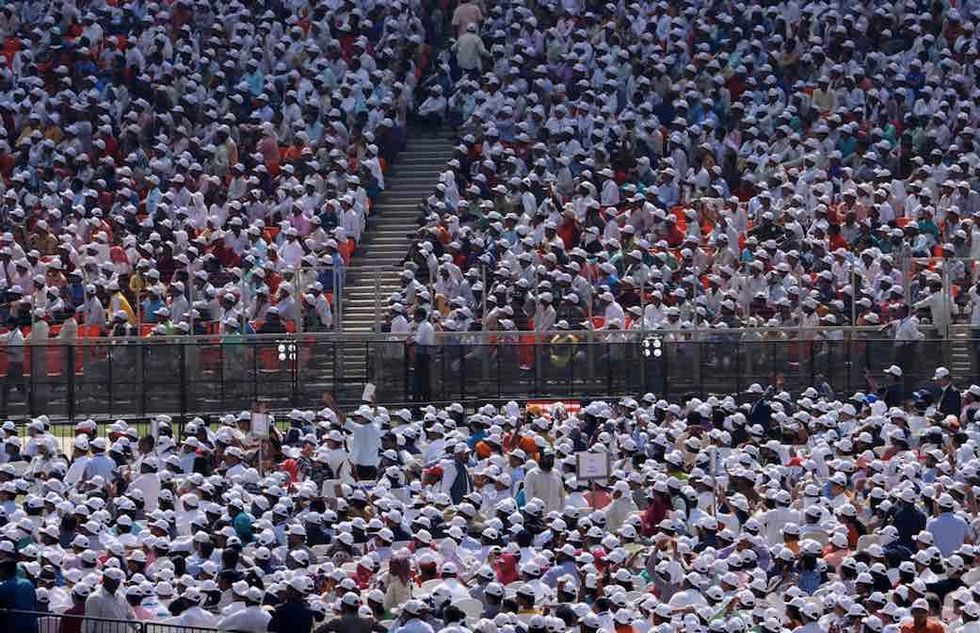 Photographer: T. Narayan/Bloomberg via Getty Images
And what does "namaste" mean? Well, India's Prime Minister Narendra Modi explained that it's "very deep. This is a word from the oldest languages of the world — Sanskrit. It means that we pay respect to not only to the person but also to the divinity inside him."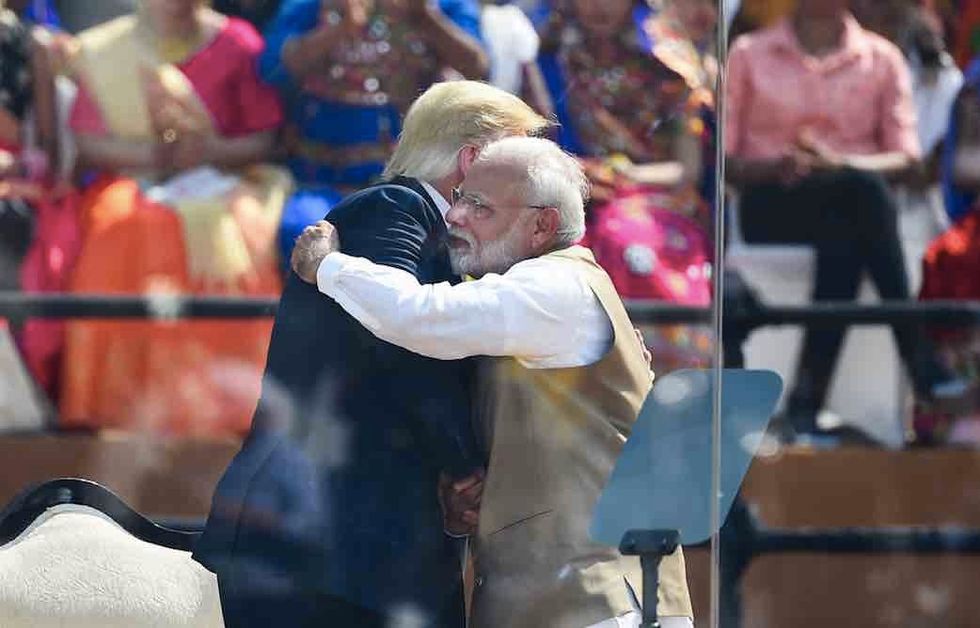 India's Prime Minister Narendra Modi embraces U.S. President Donald Trump during "Namaste Trump" rally on Feb. 24, 2020.Photo by MONEY SHARMA/AFP via Getty Images
Perhaps the most surreal scene was a CNN clip of the massive crowd as the Village People's disco-era hit "Macho Man" blasted over the loudspeakers. Cue leftists choking on their soy burgers and hemp milk in 3 ... 2 ... 1:

India plays "Macho Man" by Village People as Trump enters Sardar Patel Stadium in Ahmedabad, which is packed with 1… https://t.co/aOh0knmOft

— Ryan Saavedra (@Ryan Saavedra) 1582536273.0
Politico noted that when Trump finally appeared on stage, the crowd "burst into a deafening, rapturous applause."
"Namaste Trump!" Modi shouted to the crowd, which repeated it back to a "beaming Trump," the outlet added.
'Trump is my favorite'
"Trump is my favorite," Gautam Patel, wearing a "Trump, Make India Great Again" baseball cap, according to Politico. "I like Trump. He's straightforward, outspoken. … He's got the verbal diarrhea, but that's OK. … He tells how it is. I love him."
Patel is a businessman who grew up in India but now lives outside Chicago and planned his vacation to India around the rally, the outlet said, adding that he supports Trump because he helped push through the 2017 tax cuts and due to his opposition to illegal immigration: "I elected him and I will elect him again."
Suresh Patel, 67, who splits his time between Jersey City, New Jersey, and Anand, India, told Politico that "my friends, my family, maybe every Patel likes Trump." While Patel can't vote since he's a green card holder, the outlet said his wife and three adult children are all U.S. citizens and voted for Trump: "I'm feeling proud. It's the meeting of the world's oldest democrat and the world's biggest democracy."
Daksha Dalal, 66, —a federal government retiree from Kansas City, Kansas, who was spending the winter in India and attending the rally with her husband — told Politico that "we are registered Democrats, but we have changed our views lately."
Trump is scheduled to head to the capital city of New Delhi Monday night after a private tour of the Taj Mahal, the outlet noted.