Just weeks before U.S. Women's soccer captain Megan Rapinoe leads her team to defend their World Cup title in France, the star athlete defended her national anthem protests in a new interview that is generating buzz and controversy.
What did she say?
Rapinoe told Yahoo! News in an interview published this week that she will "probably never sing the national anthem again" in protest of the Trump administration.
"I'll probably never put my hand over my heart," she said. "I'll probably never sing the national anthem again."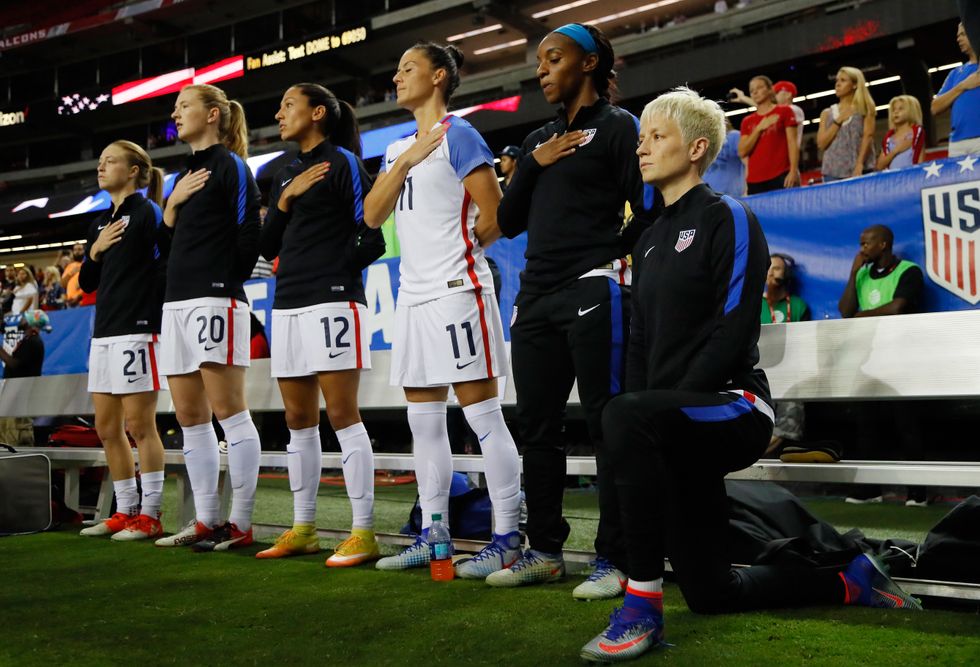 Kevin C. Cox/Getty Images
The openly gay soccer star triggered a wave of controversy in September 2016 after she knelt during the national anthem before a soccer match, becoming the first white athlete to follow in former NFL quarterback Colin Kaepernick's footsteps. The protest is a demonstration against rampant police brutality in the U.S.

Now, Rapinoe said, her very existence has become the protest, characterizing herself as "a walking protest" against President Donald Trump.
"I feel like it's kind of defiance in and of itself to just be who I am and wear the jersey, and represent it," she told Yahoo! Sports. "Because I'm as talented as I am, I get to be here, you don't get to tell me if I can be here or not.
"So it's kind of a good 'f-you' to any sort of inequality or bad sentiments that the administration might have towards people who don't look exactly like him," she continued, "which, God help us if we all looked like him. Scary. Really scary. Ahh, disturbing."
Rapinoe called the president "sexist," "misogynistic," "small-minded," "racist, "not a good person," and claimed his administration does not "value all Americans equally."
Anything else?
Rapinoe has remained steadfast in her protest of the national anthem despite pushback from the United States Soccer Federation, which released a statement in the initial days of her protest condemning the demonstration.
"As part of the privilege to represent your country, we have an expectation that our players and coaches will stand and honor our flag while the national anthem is played," the statement said.
Meanwhile, Rapinoe, along with the entire 28-member U.S. Women's National Soccer Team, filed a lawsuit against the USSF in March accusing the organization of "institutionalized gender discrimination."
The defending World Cup champions are demanding equal pay and equal treatment. Despite being much less successful, the U.S. Men's National Soccer Team is better compensated and plays fewer games, the lawsuit alleges.