A Wisconsin school district has accused a trio of 8th-grade boys of sexual harassment for using incorrect pronouns while addressing another student.
Kiel Area School District filed a Title IX complaint against the three Kiel Middle School students and launched an investigation, WLUK-TV reported.
'This has got to be a gag, a joke'
Rosemary Rabidoux, one of the parents of the accused students, told WLUK she couldn't believe it when she found out.

"I immediately went into shock! I'm thinking, sexual harassment? That's rape, that's inappropriate touching, that's incest," Rabidoux recalled to the station. "What has my son done?"

She added to WLUK that her 13-year-old son Braden is "being allegedly charged with sexual harassment for not using proper pronouns. I thought it wasn't real! I thought this has got to be a gag, a joke -- one has nothing to do with the other."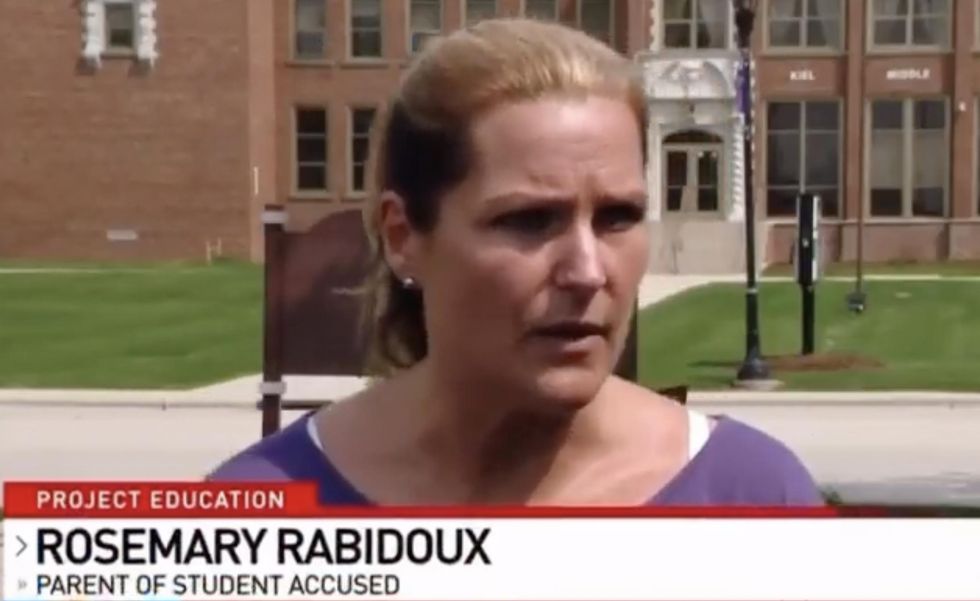 Image source: Twitter video screenshot via @LibsofTikTok
The district claimed the boys weren't referring to the student's requested pronouns of "they" and "them," WBAY-TV reported.
The Wisconsin Institute for Law and Liberty — which is now defending the accused students — told WLUK the student made the preferred pronouns announcement in March.
However, an improper pronoun use incident allegedly occurred in April, WLUK said.
"She had been screaming at one of Braden's friends to use proper pronouns, calling him profanity, and this friend is very soft-spoken and kind of just sunk down into his chair," Rabidoux told WLUK. "Braden finally came up, defending him, saying 'he doesn't have to use proper pronouns; it's his constitutional right to not use [them]; you can't make him say things.'"
When the WLUK reporter suggested some might say such a reaction indicates Rabidoux and her son are anti-LGBTQ.
"Not at all. Not at all!" Rabidoux replied to the station's reporter. "My children have been raised to love everybody equally."
Lawsuit looming?
Rabidoux reached out to Wisconsin Institute for Law and Liberty after finding out her son was being investigated, WLUK reported.
"Title IX sexual harassment typically covers things like rape, dating violence, quid pro quo sexual favors — really egregious stuff," the law firm's deputy counsel Luke Berg told the station. "There's nothing even remotely close to that alleged in this case."
Berg added to WLUK that pronoun misuse isn't part of the school district's policy or Title IX.
"The charge against students for sexual harassment is an extreme abuse of the Title IX process," he told the station. "It's totally inappropriate and is totally being mishandled by the school district."
The law firm issued a letter to district administrators asking them to drop the Title IX complaint and investigation, WLUK said. The boys' families want a response from the district by next Friday, WBAY said, adding that their attorney said if the boys' records aren't cleared and they are punished, legal action against the district is a strong possibility.
What did the school district have to say?
WLUK said the school district issued a statement on the matter, saying that it "prohibits all forms of bullying and harassment in accordance with all laws, including Title IX" and that it will "continue to support ALL students regardless of sex (including transgender status, change of sex or gender identity)."