Madison L'Insalata, Miss Staten Island, decided to take action after learning that the local Pride Center was denied participation in the borough's St. Patrick's Day Parade, WABC-TV reported.
"I thought this might be a good time to really make a statement and take a stand," she told the station, "and I wanted to announce that I would be marching in the parade with rainbow colors and showing that and coming out and saying that I was bi because I wanted people to see the colors, and I wanted there to be discussion, and I wanted people to talk. I wanted there to be change."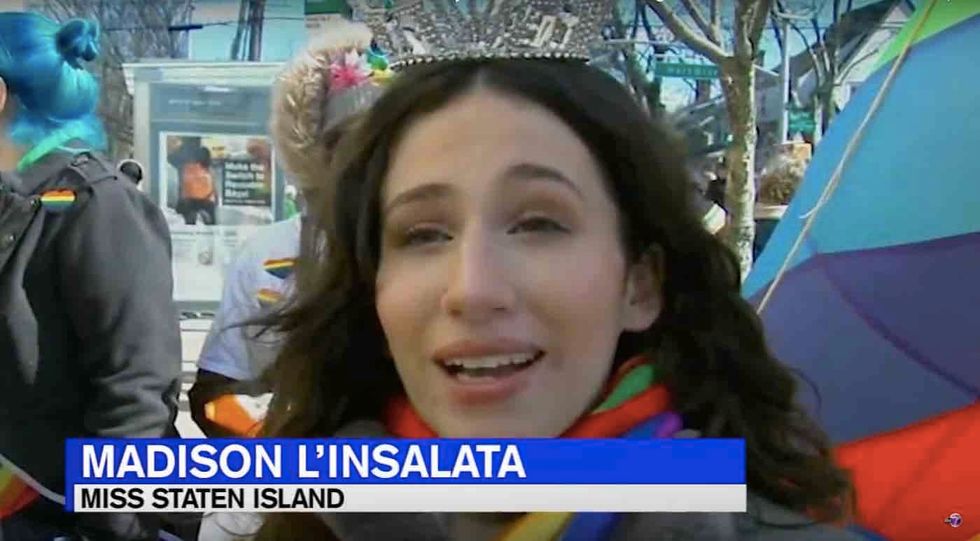 Image source: YouTube screenshot
What happened next?

A few hours after she came out publicly as bisexual, L'Insalata told WCBS-TV that parade organizers banned her from marching.
Jim Smith, director of Miss Staten Island Scholarship Pageants, called her with the news late Saturday night after parade organizer Larry Cummings told him that L'Insalata and another pageant queen who supported her were banned from Sunday's festivities, WCBS added.
"I was like stunned by the whole thing," Smith told the station. "I wasn't prepared. He just said we're worried about her safety, like he's doing us a favor."
How did L'Insalata react?

While watching the parade from the sidewalk decked out with her "Miss Staten Island" sash and sparkling tiara, L'Insalata told WABC she doesn't buy the safety concerns.
"It seems like it might have more to do with me coming out as bi and saying that I'd be wearing my rainbow scarf that I have here, and them not being OK with that," she told the station.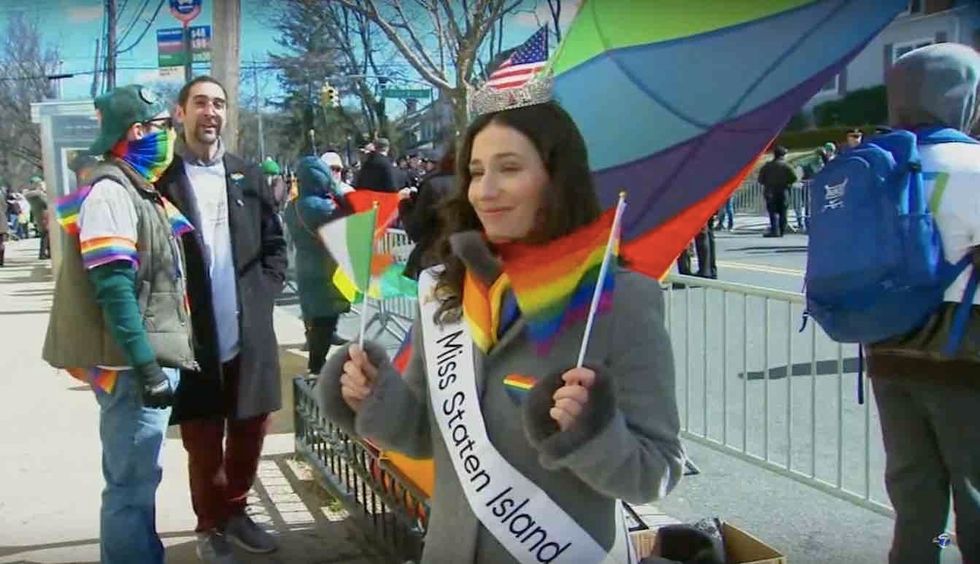 Image source: YouTube screenshot
L'Insalata was Miss Richmond County two years ago and has marched in the parade before. She said she tried to march with pride flags but was told not to.

What did Cummings have to say?
Cummings couldn't be reached for comment on the L'Insalata controversy, but he told the Staten Island Advance last month in regard to the borough's Pride Center ban that "it's a non-sexual identification parade, and that's that. No, they are not marching."
When asked if the Pride Center would ever be allowed to march in the parade, Cummings told the paper, "Don't try to keep asking a million friggin' questions, OK? The fact of the matter is that's what it is, OK? And that's that."
How did others react?
Far-left New York City Mayor Bill de Blasio and a handful of borough elected officials indicated they would skip the parade in protest, the Advance reported, among them state Rep. Max Rose (D), state Sen. Diane Savino (D), Councilwoman Debi Rose (D), and Republican Borough President James Oddo.