© 2023 Blaze Media LLC. All rights reserved.
'Mama bear just sprung into action': Instincts kick in for mother, daughter who fight intruder in their store — and it's all caught on video
A mother and daughter battled back against an intruder who entered their Southern California store Sunday evening and tried to steal catered food they prepared, KABC-TV reported.
What are the details?
Carol Garnier — a chef and owner of Prepped with Love in Westminster — told the station the man, possibly a transient, got inside the store around 7:45 p.m. after her last customer departed.
However, the door didn't lock after the last customer left, KABC said, and surveillance video shows the intruder entering the store and heading straight for the prepared food inside the glass-door refrigerator.
Mary Dao, Garnier's daughter, reacted quickly, telling the station that "my instincts just kick[ed] in. I don't even know how I knew how to grab that table and push it against him, but it's just all of the adrenaline. I just did what I had to do."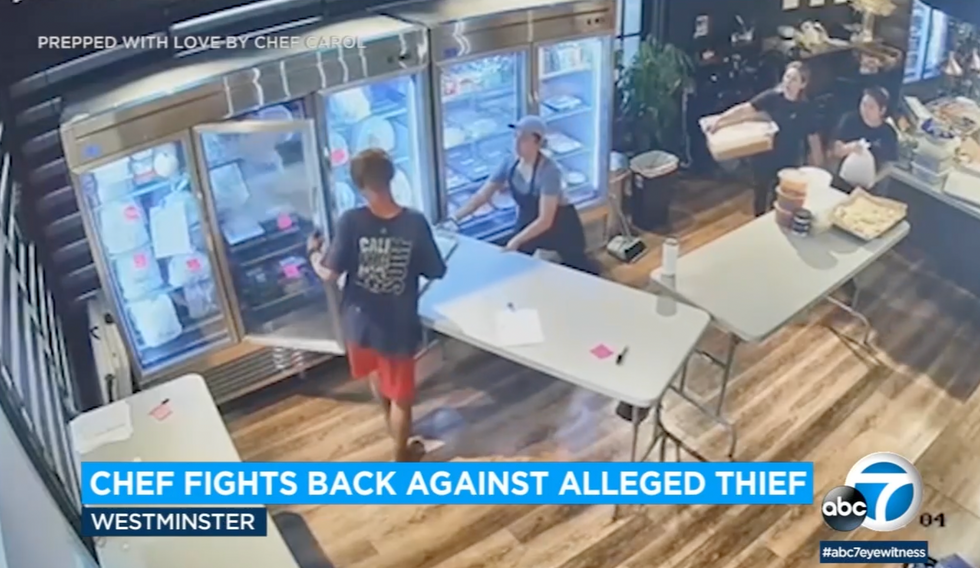 Image source: KABC-TV video screenshot
Once Dao began pushing the table against the intruder as he grabbed an item from the refrigerator, her mother ran over to help.
Image source: KABC-TV video screenshot
'Mama bear just sprung into action'
"Mama bear just sprung into action to protect my property, my daughter, and anything further to be damaged," Garnier told KABC.
Image source: KABC-TV video screenshot
Garnier and Dao repeatedly pushed a table against the intruder, and it appeared that prevented him from getting any closer. The clip does show him throwing a beer can at Dao's face, the station said, adding that she wasn't injured.
Image source: KABC-TV video screenshot
"I didn't want him to enter and get behind the counter — that's where our knives are," Garnier told the station, "or go deeper into the fridge and get all of the meals."

It would have been a lot simpler, she said, if the man had just requested some food.
"If you just ask, I am more than happy to make you something to eat," Garnier added to KABC. "But the fact he didn't say anything ... he just came in and just aggressively tried to steal our food is what got me."
Dao is of the same mindset, telling the station, "I was ready to get down and use my hands if I needed to. We've been working hard, making food all day, and that belonged to somebody. They paid for that, and you just can't come in here and take what's not yours."
Image source: KABC-TV video screenshot
Anything else?
Garnier told KABC they filed a report with Westminster police, who added to the station that they recognize the intruder in the video and are actively looking for him.
Want to leave a tip?
We answer to you. Help keep our content free of advertisers and big tech censorship by leaving a tip today.
Sr. Editor, News
Dave Urbanski is a senior editor for Blaze News.
DaveVUrbanski
more stories
Sign up for the Blaze newsletter
By signing up, you agree to our
Privacy Policy
and
Terms of Use
, and agree to receive content that may sometimes include advertisements. You may opt out at any time.